FOX NEWS FIRST: FBI searches for suspects in bomb scare, on alert for possibly more packages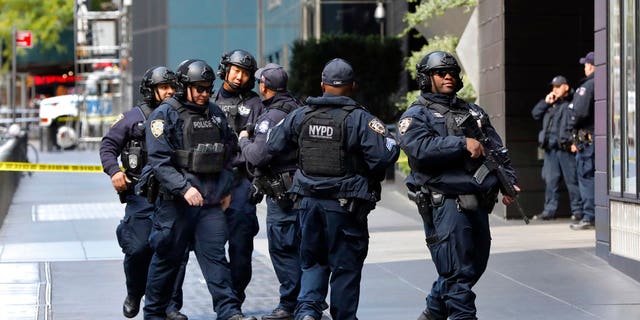 Welcome to FOX News First. Not signed up yet? Click here.

Developing now, Thursday, Oct. 25, 2018
THE LEAD STORY - FBI SEARCHES FOR SUSPECTS IN MAIL BOMB THREATS - The FBI said Wednesday evening that it had identified seven suspicious packages addressed to prominent Democratic political figures over the previous three days that contained "potentially destructive devices' and warned additional packages could have been mailed to other locations ... The nation was put on edge Wednesday amid reports of suspicious packages targeting leading Democratic critics of the Trump administration. The FBI initially said it had recovered five packages that were similar in appearance and bore the return address of an office for Rep. Debbie Wasserman Schultz, D-Fla. The packages were addressed to billionaire George Soros, Hillary Clinton, former President Barack Obama, former CIA Director John Brennan -- care of CNN -- and former Attorney General Eric Holder. The FBI later confirmed that it had recovered two packages addressed to U.S. Rep. Maxine Waters, D-Calif., that were similar to the five others.
Law enforcement officials involved in the investigation have told FOX News that the similarity between the packages has led them to believe that a single individual or group could be responsible. President Trump condemned the threatening mailings Wednesday afternoon from the White House, saying that "acts or threats of political violence of any kind have no place in the United States of America." He was joined by Vice President Mike Pence, who tweeted: "These cowardly actions are despicable & have no place in this Country." White House press secretary Sarah Sanders added: "These terrorizing acts are despicable, and anyone responsible will be held accountable to the fullest extent of the law."
TRUMP CONDEMNS THREAT ... BUT IT'S NOT ENOUGH FOR DEM LEADERS, CNN PRESIDENT: At a campaign rally in Wisconsin on Wednesday evening, President Trump decried any threats of political violence as "an attack on our democracy itself," saying "We want all sides to come together in peace and harmony" -- and he also took aim at the media, charging that they are contributing to the problem ... His comments came just hours after apparent explosive devices were sent to a series of top Democratic politicians, including former President Barack Obama, former Attorney General Eric Holder and former Secretary of State Hillary Clinton.
"My highest duty as president is to keep America safe," Trump told his audience at the Central Wisconsin Airport in Mosinee. "The federal government is conducting an impressive investigation, and we will find those responsible, and we will bring them to justice, hopefully very quickly." He continued: "Those engaged in the political arena must stop treating political opponents as being morally defective. The language of moral condemnation ... these are arguments and disagreements that have to stop. No one should carelessly compare political opponents to historical villains. It's got to stop. We should not mob people in public spaces or destroy public property.
But House Democratic Leader Nancy Pelosi and Senate Democratic Leader Chuck Schumer criticized Trump in a joint statement, saying the president's words "ring hollow until he reverses his statements that condone acts of violence. Hours after CNN's New York City headquarters was evacuated over an explosive device Wednesday, the network's president, Jeff Zucker, issued a statement condemning Trump and White House press secretary Sarah Sanders, saying they "should understand their words matter." Zucker blasted what he called the administration's "continued attacks on the media."
FBI investigators have yet to publicly identify a motive behind the threatening packages.
CARAVAN WATCH: The caravan of Central American migrants, which has grown to approximately 7,200 people, according to United nations estimates, is reportedly in southern Mexico, about 1,000 miles from the closest U.S. border ... The caravan's journey and dramatic growth has generated headlines, attracted President Trump's wrath and reignited the immigration debate less than two weeks before Nov. 6 midterm elections. Trump has blamed Democrats for what he says are weak immigration laws, and he claimed that MS-13 gang members and unknown "Middle Easterners" were hiding among the migrants.
The president later acknowledged there was "no proof" of the claim Middle Easterners were in the crowd. But he tweeted Wednesday that the U.S. "will never accept people coming into our Country illegally!" Extreme heat and the political wear and tear of the long journey may be whittling down the migrant caravan. Officials say nearly 1,700 migrants have already dropped out and applied for asylum in Mexico.
WALL STREET SEEKING CALM: U.S. stocks posted sharp losses Wednesday, reflecting concerns over corporate profit outlooks and geopolitical tensions ... In overnight trading, equity futures seemed to stabilize with Dow, S&P and Nasdaq futures all in the green. However, the Dow tumbled 608 points, or 2.4 percent, to 24,583.42. The S&P 500 dropped 84.6 points, about 3 percent, to 2,656. The tech-heavy Nasdaq was down 329 points, or 4.4 percent, at 7,108. The selling picked up during the final hour of trading with the Dow Jones Industrial Average closing near session lows. Meanwhile, the Nasdaq finished in correction territory.
AS SEEN ON FOX NEWS
AVOID RUSH TO JUDGMENT - "I have had many threats myself over the years. My heart goes out to anyone ever threatened. Anybody today, anybody tonight. No conservative that I know would ever support this horrible act." – Sean Hannity, in his opening monologue on "Hannity," speaking out against the bomb scares sent to several high-profile Democrats and slamming CNN President Jeff Zucker's statement attacking President Trump. WATCH
2018 MIDTERMS
DeSantis, Gillum swing hard at each other in final Florida debate.
Arizona troopers' union pulls support from Democrat opposing GOP's McSally in Senate race.
Colorado baker at center of gay wedding cake case appears in campaign ad opposing Dem governor hopeful.
Full Coverage: 2018 midterms.
TRENDING
Ohio mom goes viral for crocheting elaborate Halloween costumes for sons.
Parents of Arizona boy whose classmates ditched birthday party regret sharing viral photo.
Disney World, Disneyland custodians claim parks are popular spots to scatter ashes.
THE SWAMP
CIA's Haspel listened to recording of Saudi writer's alleged killing: report.
Chinese, Russian spies listening to Trump's phone conversations: report.
Legal drama threatens construction of Obama Presidential Center.
ACROSS THE NATION
Man who ran against House Speaker Ryan tried to buy radioactive material in murder plot: reports.
Florida middle school girls plotted to kill up to 15 students, drink their blood, police say.
N.J. man's fall leads to $1M hospital lottery pool win.
MINDING YOUR BUSINESS
Nokia to cut jobs in focus on 5G.
Stu Varney: The left knows America doesn't want an open border.
Budweiser parent cuts interim dividend, 3Q net profit fall
Widespread food recalls hit Whole Foods, Walmart and Trader Joe's.
UBS 3Q profit boosted by investment banking.
Why the number of IPOs is falling, according to Nasdaq's CEO.
Why Steelers star Le'Veon Bell has forfeited $6M in salary this season.
FOX NEWS OPINION
Mike Huckabee: Vote to elect the leaders you want – or stop complaining.
Rep. Jim Jordan: Congress should examine free speech restrictions by social media companies and others.
Capri S. Cafaro: I'm a Democrat and I'm sticking with my party – Here's why.
HOLLYWOOD SQUARED
Roseanne Barr-less 'The Conners' loses 25 percent of viewers from series premiere.
'Modern Family' finally reveals the character the show killed off.
Chelsea Handler confuses Native American candidates in tweet.
DID YOU HEAR ABOUT THIS?
NASA's Parker Solar Probe snaps Earth pic as its speeds to the Sun | NASA's alien-hunter mysteriously goes dark.
World War II shocker: Auschwitz museum gets Nazi death camp conductor's baton.
An entire Hawaiian island has vanished beneath the waves.

STAY TUNED
FOX Nation is coming! - Sign up now and find out more about its exciting launch!
On Facebook:
Check out 'FOX News Update,' our new Facebook-exclusive news program!
On FOX News:

FOX & Friends, 6 a.m. ET: Special guests will include: House Majority Whip Steve Scalise; Brandon Judd, president of the National Border Patrol Council; White House press secretary Sarah Sanders; Michelle Malkin, Jason Chaffetz.
The Story with Martha MacCallum, 7 p.m. ET: An exclusive interview with Department of Homeland Security Secretary Kirstjen Nielsen.
On FOX Business:
Mornings with Maria, 6 a.m. ET: Special guests include: Jessica Ehrlich, Democratic strategist; Mark Hurd, Oracle CEO; Matt Braynard, Republican strategist; Mike Murphy, Rosecliff CEO and managing partner.
Varney & Co., 9 a.m. ET: Sen. John Kennedy, R-La.; Steve Hilton, host of "The Next Revolution"; Kayleigh McEnany, RNC spokeswoman.
Cavuto: Coast to Coast, Noon ET: John Yoo, former Justice Department attorney.
Making Money with Charles Payne, 2 p.m. ET: Mike Murphy, founder and managing partner of Rosecliff Ventures; Mitch Roschelle, partner at PwC; Terry Turchie, former Deputy Assistant Director of the Counterterrorism Division of the FBI; Kevin Kelly, Benchmark managing partner.
Countdown to the Closing Bell with Liz Claman, 3 p.m. ET: Paul Reilly, Raymond James CEO; Ron Johnson, Enjoy CEO.
On FOX News Radio:
The FOX News Rundown podcast: Over the past few days, various suspicious packages containing bombs were found targeting certain public officials and former lawmakers. U.S. Reps. Rick Crawford, R-Ark., and John Delaney, D-Md., have condemned the acts of alleged terrorism and discuss whether the divisiveness leading up to midterms played a key role in these threats. He was once a "Never-Trumper" but after the tense Kavanaugh hearings, Nathanael Blake, senior contributor for the Federalist, has changed his mind. Blake explains why he has now decided to back the President in his recent op-ed. Plus, commentary by FOX News medical correspondent, Dr. Marc Siegel.
Want the FOX News Rundown sent straight to your mobile device? Subscribe through Apple Podcasts, Google Play, and Stitcher.
The Brian Kilmeade Show, 9 a.m. ET: The multiple mail bomb scares, growing political incivility, midterms, and the migrant caravan will be among the topics of debate with the following guests: Martha MacCallum; Sen. John Cornyn, R-Texas; Jason Chaffetz; Chris Wallace; and Steve Hayes.
#OnThisDay

1994: Susan Smith of Union, S.C., claims that a black carjacker had driven off with her two young sons (Smith later confessed to drowning the children in John D. Long Lake, and was convicted of murder.)
1983: A U.S.-led force invades Grenada at the order of President Ronald Reagan, who says the action is needed to protect U.S. citizens there.
1910: "America the Beautiful," with words by Katharine Lee Bates and music by Samuel A. Ward, is first published.
FOX News First is compiled by FOX News' Bryan Robinson. Thank you for joining us! Enjoy your day! We'll see you in your inbox first thing Friday morning.