Disney World, Disneyland custodians claim parks are popular spots to scatter ashes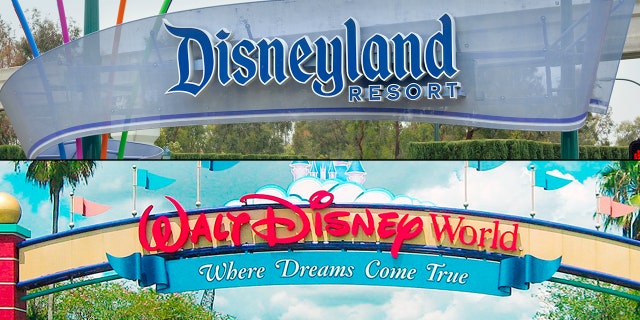 Walt Disney World and Disneyland have allegedly been outed as one of the most popular places for families to scatter their loved one's ashes.
According to The Wall Street Journal, custodians at the famous theme parks are claiming that not only do guests bring their family's ashes to scatter – they do so often enough to prompt a special code word for it: HEPA cleanup, referring to an ultrafine vacuum cleaner.
DISNEY WORLD OFFERING NEW FLEXIBLE PRICING PLAN STARTING IN OCTOBER
Disney custodians told the outlet that it happens once a month, and that some places are more popular than others.
"The Haunted Mansion probably has so much human ashes in it that it's not even funny," one Disneyland custodian told the Journal.
Human ashes are also reportedly spread in flower beds, landscaping around the park, and in water rides like Pirates of the Caribbean, the Dumbo ride moat, and It's a Small World.
COUPLE VISITS DISNEY WORLD, DISNEYLAND ON SAME DAY: 'IT WAS INCREDIBLE'
A representative for Disney did not immediately return Fox News' request for comment, but a spokesperson told the Wall Street Journal that the spreading ashes at the park is "strictly prohibited and unlawful. Guests who attempt to do so will be escorted off property."
Anaheim Police Department spokesman Sgt. Daron Wyatt told the Wall Street Journal that spreading ashes at the popular theme park is considered a misdemeanor and confirmed officers have responded to calls "regarding ashes" at Disneyland before.
Typically guests sneak in the contraband in pill-bottles or plastic bag hidden in purses or backpacks, the Journal reports. When inside, guests secretly sprinkle their loved ones throughout the park.
FOLLOW US ON FACEBOOK FOR MORE FOX LIFESTYLE NEWS
Though there are no confirmed reports of anyone being caught in the act, once ash residue is discovered on a ride, Disney workers are reportedly forced to shut down the ride and inform guests there have been "technical difficulties." Managers then allegedly ride through and look for evidence of ashes, while employees turn people away before custodians come in with the vacuums.
It should come as no surprise that the Disney parks attract people who want to spend eternity at the Happiest Place on Earth — the locations are also popular spots for other big life moments like proposals, weddings and birthdays.