GOP candidate received letter threatening his 7 children, reports say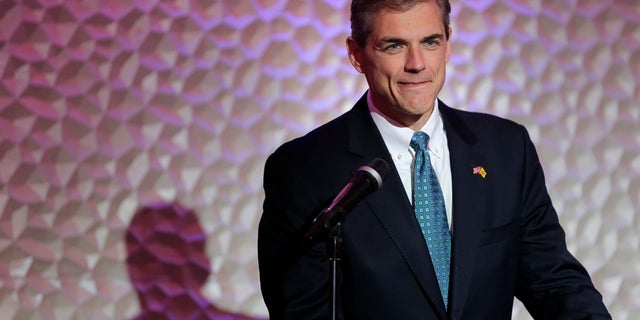 A Republican running for Congress in New Jersey received a written threat that mentioned his seven children, his campaign said Wednesday, around the same time suspicious packages were reported sent to former President Barack Obama, the Clintons and CNN.
In a letter sent Tuesday to candidate Jay Webber's law office in Whippany, he was warned to drop out of the race, Politico reported.
"What the f--- is wrong with you … s---bag?" the typed letter said. "You BETTER hope that you don't win! Or else. How many kids do you have… 7? Unlucky 7. This is what we think of you. Time to get out of politics."
The letter also accused Republicans of stealing from Social Security and Medicare and running up the national debt.
Webber, a five-term state assemblyman, has integrated his wife Johanna and their seven children into his campaign, even featuring them in campaign ads, NJ.com reported. The letter was reported to the New Jersey State Police for investigation.
"Criticizing a candidate on the issues is part of politics," Webber tweeted Wednesday. "Threatening my children is not. We are thankful for the support of law enforcement as we work to find whoever is behind this gutless act. We will not be intimidated as we work to make #NJ11 better for everyone."
The letter arrived a day after Webber's campaign tweeted that the political left is "unhinged." A video that accompanies the tweet shows defaced Webber campaign signs and prominent Democrats like Nancy Pelosi, Hillary Clinton and Maxine Waters advocating pushback against Republicans.
Webber is locked in a competitive race against Democrat Mikie Sherrill, a former Navy helicopter pilot and former federal prosecutor, in a bid to replace retiring Republican Rodney Frelinghuysen.
His conservative record has earned him the support of President Trump, NorthJersey.com reported.
Sherrill called the incident "absolutely appalling."
"This is absolutely appalling," she said in a statement. "No one who decides to run for public office should feel that, by doing so, they are putting their family in danger. I condemn this in the strongest terms and hope law enforcement determines who was behind this and holds them accountable."
The letter comes amid a rash of suspicious packages sent to Democratic figures.
CNN's New York City bureau was evacuated Wednesday when "a live explosive device" was found in its mailroom. Others who received packages include liberal billionaire George Soros and U.S. Rep. Debbie Wasserman Schultz, former chairwoman of the Democratic National Committee.