NASA's Parker Solar Probe snaps Earth pic as its speeds to the Sun
NASA has released an image of the Earth captured by the Parker Solar Probe on its historic journey to the Sun.
The picture was captured on Sept. 25 by Parker's Wide-field Imager for Solar Probe (WISPR) instrument.
When the image of the Earth was taken, Parker Solar Probe was about 27 million miles from Earth. The average distance between the Sun and Earth is 93 million miles.
WEIRD SOLAR SCIENCE: HOW NASA'S PARKER PROBE WILL DIVE THROUGH THE SUN'S ATMOSPHERE
The probe blasted off on its odyssey atop a United Launch Alliance Delta IV Heavy rocket in the early hours of Aug. 12, 2018.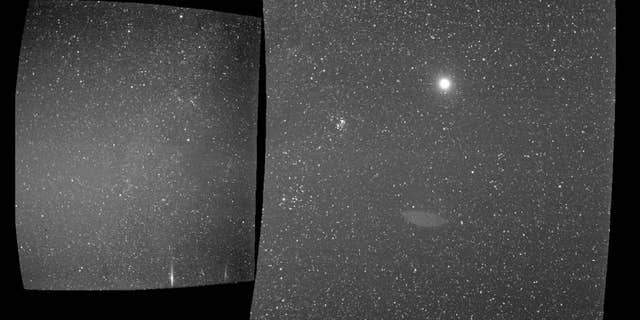 The $1.5 billion mission will take humanity closer to the Sun than ever before. Parker will be the first spacecraft to fly through the Sun's corona, the outermost part of the star's atmosphere. It is expected to arrive at the Sun in November.
To withstand the heat of nearly 2,500 degrees Fahrenheit, the probe is protected by a special 4.5-inch-thick carbon-composite shield.
UNITED LAUNCH ALLIANCE PREPS FOR THE RETURN OF MANNED SPACE MISSIONS FROM CAPE CANAVERAL
Parker will face "brutal" heat and radiation during the epic journey that will take it to within 3.8 million miles of the Sun's surface, according to the space agency. This is seven times closer than the previous closest spacecraft, Helios 2, which came within 27 million miles of the Sun in 1976.
Harnessing Venus' gravity, Parker will complete seven flybys over seven years to gradually bring its orbit closer and closer to the Sun. On its closest approach in 2024, the probe will be traveling at approximately 430,000 mph, setting a new speed record for a manmade object.
Correction: An earlier version of this story said that Parker Solar Probe was launched atop an Atlas V rocket. This has been changed to Delta IV Heavy rocket.
The Associated Press contributed to this article. Follow James Rogers on Twitter @jamesjrogers