Ohio mom goes viral for crocheting elaborate Halloween costumes for sons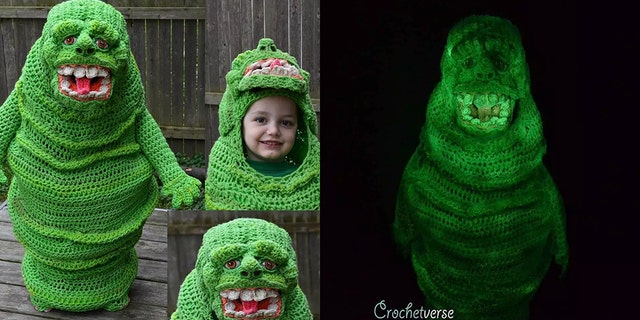 This Ohio mom is tricking out her sons' Halloween costumes in the most elaborate fashion – and social media is loving it.
Stephanie Pokorny of Cleveland has been crocheting since she was 16.
"I learned from my grandma who used to crochet things all the time for veterans and church groups," Pokorny told Fox News. "I have always been crafty."
MAN'S HANDMADE KNIT SWEATERS OF FAMOUS LANDMARKS ARE WINNING OVER THE INTERNET
But since having children, Pokorny has upped her craft game with some of the most elaborate – and time-consuming – creations that are blowing away social media.
Pokorny, a mother of four sons, said she has always made her children costumes, but did not start creating such intricate designs until her two youngest sons, Jack, 3, and Jacob, 6, were born.
"One time Jack was the caterpillar from 'Alice and Wonderland,'" Pokorny told Fox News. "And Jacob was Clint Eastwood from 'A Few Dollars More.'"
Now that the boys are getting older, Pokorny said they have started picking out their own costumes, which she obliges – even when they're a little bizarre.
"Last year, Jack wanted to be a Mickey Mouse pizza," Pokorny said. "[I said], 'What's a Mickey Mouse pizza?' But that's what he wanted. So, I made him a Mickey Mouse pizza."
Pokorny's creativity seems to run in her family, though.
TWITTER'S VIRAL 'SEXY HALLOWEEN COSTUME' TREND MAY BE MOST REVEALING
"My mom used to make my costumes for me when I was little," Pokorny said. "One year I was this really elaborate Missy Piggy. And another year I was Rapunzel with this long wig."
"Halloween has been a love since probably before I knew what making crafts was," she added.
As far as the time investment, Pokorny said it can take anywhere from 25 hours to 40 hours for the more detailed outfits.
"This year Jacob wanted to be predator after watching the movie with his dad. That costume took around 40 hours to complete," she said.
She said she usually starts creating the costumes two weeks before Halloween and does it all free hand.
"I make patterns and sell them, but I never have a pattern for the costumes. They're all in my head," she said.
Pokorny, who has won competitions with her other crochet designs, said she does it out of a love for crochet and will continue to create costumes as long as she can.
"Making the costumes is like my fun down time," she said.
FOLLOW US ON FACEBOOK FOR MORE FOX LIFESTYLE NEWS
And as far as spending all that time for one night, Pokorny assures Fox News that is not the case.
"My kids love to dress up all year," she said. "We have a massive costume bin that never goes away. So, in summer, there may be a Predator and Slimer out playing in the yard – which is great. I want to encourage my sons to play and enjoy these costumes as much as they want."
Until next year when Pokorny inevitably will crochet up something even more impressive.