Explosive devices mailed to Obama, Hillary Clinton, others prompt security scare
Packages containing suspected explosive devices were intercepted en route to some of the most prominent political figures in the country – including former President Barack Obama and Hillary Clinton – putting law enforcement on high alert Wednesday and prompting evacuations and sweeps of several facilities.
CNN's New York office was among those evacuated due to the discovery of an apparent explosive device. Law enforcement officers said the incidents appear related, and the devices appear to be pipe bombs. A law enforcement official directly involved in the investigation tells Fox News that the devices have similar packaging, labelling and postage -- leading investigators to believe that one person or group is responsible.
In his first public remarks on the packages which largely targeted Democratic figures, President Trump said Wednesday afternoon that the devices are being inspected, "and a major federal investigation is now underway."
"We have to unify. We have to come together," Trump said, at a bill-signing for opioid legislation. "Acts or threats of political violence of any kind have no place in the United States of America."
Senate Democratic Leader Charles Schumer and House Democratic Leader Nancy Pelosi issued a joint statement Wednesday afternoon saying that "Trump's words ring hollow until he reverses his statements that condone acts of violence.
"Time and time again, the President has condoned physical violence and divided Americans with his words and his actions," said Schumer and Pelosi. "[E]xpressing support for the Congressman [Greg Gianforte] who body-slammed a reporter, the neo-Nazis who killed a young woman in Charlottesville, his supporters at rallies who get violent with protestors, dictators around the world who murder their own citizens, and referring to the free press as the enemy of the people."
In the latest incident, a law enforcement source told Fox News that U.S. Capitol Police are investigating a suspicious package addressed to Democratic California Rep. Maxine Waters. The package is at the Capitol Hill screening facility in Maryland.
The rapidly evolving security scare went public when the Secret Service confirmed Wednesday morning its officers had "intercepted" two suspicious packages identified as "potential explosive devices" sent to Obama and Clinton.
CNN employees, shortly afterward, were evacuated from their New York office, due to a suspicious package at the Time Warner Center reportedly addressed to ex-CIA director John Brennan (who is an analyst for NBC). At a New York press conference, NYPD Commissioner James O'Neill said officers on the scene identified what "appeared to be a live explosive device" as well as an envelope containing white powder, which is now being investigated.
Meanwhile, the focus turned to Sunrise, Fla. as the building housing the office of Rep. Debbie Wasserman Schultz, D-Fla., the former Democratic Party chairwoman, was evacuated over a suspicious package.
One source told Fox News that all the packages in question had a return address affiliated with that location. The package discovered at Wasserman Schultz's office, according to another law enforcement source, was originally sent to ex-Attorney General Eric Holder under the wrong address -- and then returned to Wasserman Schultz' office due to the return label.
In a statement, Wasserman Schultz said she was "deeply disturbed by the way my name was used." She added that a second office, in nearby Aventura, was evacuated "in an abundance of caution."
"We will not be intimidated by this attempted act of violence," she said. " ... Today, my staff and I will hug each other and our loved ones tightly, and tomorrow get back to work serving the people I was elected to represent."
Some of the scares turned out to be false alarms.
In San Diego, the building housing the offices of Sen. Kamala Harris, D-Calif., and the San Diego Union-Tribune was evacuated due to a suspicious package. But police later said the package was merely "abandoned property," and a Harris spokeswoman said the "suspicious packages" were not addressed to the senator or their office. New York Democratic Gov. Andrew Cuomo also announced at a press conference that a "device" was sent to his Manhattan office. But it was later reported the device was a hoax, and unrelated.
This comes after an explosive device was found Monday evening in the mailbox of liberal billionaire George Soros.
The discovery of the packages injected more tension into the country's already-fraught political environment, in which lawmakers on both sides of the aisle have been publicly accosted and faced a steady stream of threats, all coming days before the midterms.
"What we saw here today was an effort to terrorize," New York Mayor Bill de Blasio said of the events in Manhattan. "This clearly is an act of terror."
As teams across the country investigate, White House Press Secretary Sarah Sanders, in a written statement, condemned what she described as the "attempted violent attacks" against the Clintons and Obama.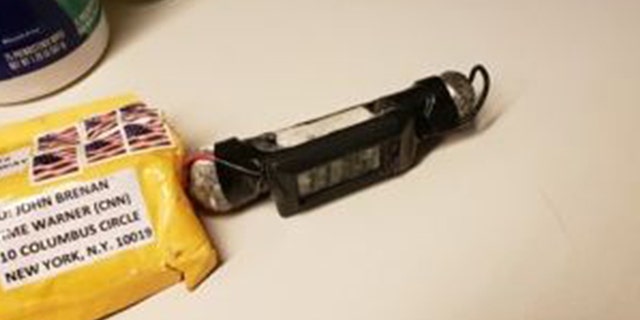 "We condemn the attempted violent attacks recently made against President Obama, President Clinton, Secretary Clinton, and other public figures. These terrorizing acts are despicable, and anyone responsible will be held accountable to the fullest extent of the law. The United States Secret Service and other law enforcement agencies are investigating and will take all appropriate actions to protect anyone threatened by these cowards," she said, joined by Trump and Vice President Pence, who at a separate event said those responsible will be "brought to justice."
The news of the packages to Clinton and Obama unfolded quickly Wednesday morning. It first emerged that the FBI was investigating one suspicious package found by the home of Bill and Hillary Clinton in Chappaqua, New York. But in a statement, the Secret Service said after that package addressed to Hillary Clinton was caught late Tuesday, a second package addressed to Obama's residence "was intercepted by Secret Service personnel in Washington, DC" on Wednesday morning.
"The packages were immediately identified during routine mail screening procedures as potential explosive devices and were appropriately handled as such. The protectees did not receive the packages nor were they at risk of receiving them," the Secret Service said in its statement.
The Secret Service said it has launched a "full scope criminal investigation that will leverage all available federal, state, and local resources to determine the source of the packages and identify those responsible."
Speaking at an event early Wednesday afternoon, Hillary Clinton said her family is fine and "grateful" for the work of the Secret Service which caught the package before it got to their home. She said this is a "troubling time."
Sources told Fox News that former President Bill Clinton was at home in Chappaqua when the suspicious package was found, but that it was screened in Westchester County--not at the Clinton residence. A spokesperson for Hillary Clinton told Fox News that the former secretary of state has been in Florida for the last several days.
"I stand with all Americans in condemning today's attempted acts of domestic terrorism. As we continue to learn more, Americans are united in gratitude for the first responders — the Secret Service, the Postal Service, and other law enforcement — who protect our leaders and public figures from such unconscionable acts," Senate Majority Leader Mitch McConnell, R-Ky., said.
In New York, the New Castle Police Department and the Westchester County Police are assisting in their investigation into the first suspicious package.
"The matter is currently under federal investigation," a spokesman for the New Castle Police Department said in a statement to Fox News.
The FBI's New York Field Office tweeted Wednesday morning that the investigation is ongoing.
According to The New York Times, the explosive device in Chappaqua was found by a technician who screens mail for the Clintons. Chappaqua is approximately 20 minutes from Bedford. Both towns are about one hour outside of New York City.
Fox News' John Roberts, Bret Baier, and Samuel Chamberlain contributed to this report.