FOX NEWS FIRST: Voters head to polls; Trump's final pitch; Why Dems aren't overwhelming midterm favorites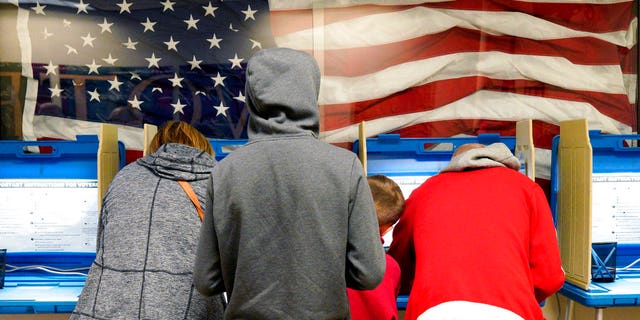 Welcome to FOX News First. It's Election Day - go out and vote!
Not signed up yet for FOX News First? Click here.

Developing now, Tuesday, Nov. 6, 2018
THE LEAD STORY - TIME TO VOTE: It's finally here. After hundreds of campaign rallies, billions of dollars in donations, a nonstop blitz of TV advertising and polling that's been in full swing since summer, Election Day has arrived – and with it, voters' midterm verdict on whether Republicans should hold or lose their grip on power in Washington ... Democrats have been working toward this day since the moment President Trump was sworn in. They've waited two long years for the shot to win enough seats in Congress to cripple the 45th president's agenda. In the end, the elections will go one of three ways: Republicans hold both chambers, Democrats take the majority in both, or the parties split the House and Senate. Either of the latter two scenarios would be problematic for Trump, immediately putting a damper on his agenda.
By the numbers, 35 Senate seats, 36 gubernatorial seats and 435 House seats are up for grabs on Tuesday. The stakes couldn't be higher. Trump himself has been campaigning non-stop in recent days, telling voters they must keep Democrats from taking back control of the House and Senate, or his agenda could be in jeopardy. The party of the president has historically lost seats in their first midterm elections.
Here's the lay of the land on Election Day:
For Democrats, their best shot at winning back control of a body of Congress is in the House, where they need to net 23 seats for a majority. Whether they flip the House or not, Democrats are still expected to gain seats in the chamber, given the favorable political environment for Democrats.
Republicans currently hold a slim 51-49 majority in the Senate, and Democrats have long aimed to win back control. But it will be more difficult for Democrats to be victorious in the Senate by netting two seats in part because of the large number of incumbent Democrats running for re-election in states won by Trump in 2016.
Republicans currently control 33 governorships, with Democrats holding 16. But with 36 seats up this year, Democrats are likely to pick up at least some seats. According to the Fox News Gubernatorial Power Rankings, Republicans are favored to control at least 22 seats by the end of the night and Democrats are favored have at least 20 seats, with 8 additional toss-up races.
Election watchers could be in for a long night. The first polls, on the East Coast, close at 7 p.m. ET. After polls on the West Coast close at 11 p.m. ET, the last will close in Alaska at 1 a.m. ET. - Reported by Alex Pappas (@AlexPappas on Twitter)
TRUMP'S CLOSING ARGUMENT: President Trump on Monday night touted his administration's progress during his first two years in office as he gave a final push for Republican candidates hours before Election Day ... Speaking to FOX News host Sean Hannity in Cape Girardeau, Mo., Trump criticized the Obama administration's path and said that, "if their agenda kept going forward" the economy would have deteriorated. "We were going down. It was very bad when I took it over and if we didn't open it up and cut regulations, the whole Obama thing would've collapsed," the president said on FOX News Channel. "It would've been a disaster."
Hannity's interview with the president was cut short as host Laura Ingraham, of "The Ingraham Angle," interjected — asking Trump what he wants to tell Americans who seek "calm and unity" among a divided nation. "Well I think success will do that," he said. "I think we have to get over this election, see how it comes out. It'll be an interesting time. And I really think we have to do that first." - Reported by Nicole Darrah (@nicoledarrah on Twitter)
HOWARD KURTZ: WHY AREN'T DEMS RUNAWAY FAVORITES? - As the media are awash in predictions and prognostications about today's elections, one question I find fascinating is this: Why haven't the Democrats run away with this thing? ... After all, if Donald Trump is as terrible a president as the press has been proclaiming for nearly two years, the opposition party should be riding a wave of revulsion to victory. The Dems are favored to win the 23 seats needed to win the House, and some pundits are saying they'll take considerably more, but the fact that even the minimum outcome is in doubt shows a far more competitive election than was forecast a month or two ago.
So perhaps Trump, and the Republican candidates following his lead, are better at electoral politics than the wise guys thought. And you can't blame it all on "fear-mongering," even though the president has chosen to close on immigration rather than the booming economy ... A provocative theory comes from Ross Douthat, the conservative New York Times columnist and a sharp Trump critic. He cites the often-vast "gulf" between "the hysteria of liberals who write about politics for a living and the relative calm of Democrats who practice it.
FACEBOOK CRACKDOWN: Facebook on Monday evening said it identified about 30 accounts and 85 Instagram accounts flagged by law enforcement as having possible ties to foreign entities ... The social media giant said in a statement that it became aware of accounts that may be "engaged in coordinated inauthentic behavior" on Sunday evening. The accounts were blocked and a further investigation is underway. "Almost all the Facebook Pages associated with these accounts appear to be in the French or Russian languages, while the Instagram accounts seem to have mostly been in English — some were focused on celebrities, others political debate," the statement read. - Reported by Benjamin Brown (@bdbrown473 on Twitter)
SATURDAY NIGHT LOW: Pete Davidson, the 'Saturday Night Live' actor who joked that a former Navy SEAL's eye patch made him look like a "hit man in a porno movie" reportedly improvised the last couple of lines of the attempt at laughter ... TMZ, citing sources, said the line about Texas Republican congressional hopeful, Dan Crenshaw, looking like a hitman was written into the script. But Davidson added the part about his injury on his own.
Davidson stirred up controversy during SNL's "Weekend Update" when he said Crenshaw's photo was "kinda cool," but that viewers might be "surprised he's a congressional candidate from Texas and not a hitman in a porno movie." He added, "I'm sorry, I know he lost his eye in the war or whatever." - Reported by Bradford Betz (@bradford_betz on Twitter)
TUNE IN FOR AN ELECTION 'EXPERIENCE': Stay with FOX News Channel as the place to be for comprehensive coverage of the midterms on election night ... Starting at 6 p.m. ET Tuesday, anchors Bret Baier and Martha MacCallum will watch all of the key races that will decide which party controls the House and Senate. As race calls stream in from the FOX News Decision Desk, viewers will see live updates on the projections for the balance of power in Congress. Bill Hemmer will break down the vote totals as the returns come in from the electronic "Bill-board," while Harris Faulkner will keep track of the critical battles on the data-driven "Key Race Tracker." In addition, Shannon Bream will debut the Fox News Voter Analysis, a survey of early and Election Day voters conducted in all 50 states.
Plus, FOX News will boost its coverage with the following: An interactive viewing party outside the studio at "FOX Square," where fans will be able to watch and interact with the latest coverage alongside FOX News reporter Carley Shimkus, who will get reaction from the crowd. And, starting at 9:00am ET on Election Day, "The FOX Nation Election Experience" will offer viewers a sneak peek at the new, on-demand subscription-based streaming service. Those who attend can meet the FOX Nation stars and enjoy live music, book signings, food and premium giveaways.

AS SEEN ON FOX NEWS
PHONE BOOTH POLITICS - "These rallies are the envy of 'Official Washington.' They're jealous. Joe Biden can't fill a phone booth because he's looking for someone to punch out." – Rush Limbaugh, at a Trump rally in his hometown of Cape Girardeau, Mo., on the eve of the midterms. WATCH
2018 MIDTERMS
Kavanaugh report's biggest bombshells: Grassley probe reveals details behind mistaken identity claims, more.
Missouri Sen. Claire McCaskill admits she doesn't 'really care' whether Dems retake the Senate.
Beto O'Rourke, Ted Cruz make last-minute appeal to Texas voters.
Kansas GOP aims to keep governor's seat red.
FOX News Full Coverage: 2018 Midterms.
TRENDING
NASA posts photo of crashed 'flying saucer from outer space.'
Burger King slams Kanye West over tweet about McDonald's.
Victoria's Secret model sports $1M bra.
ACROSS THE NATION
Pilot in Texas helicopter crash that left newlyweds dead was 'very experienced': officials.
Two California death row inmates found dead inside their cells in possible suicides.
Floyd Mayweather announces MMA bout for New Year's Eve.
MINDING YOUR BUSINESS
Jittery investors await midterm elections.
Stock futures point lower ahead of midterm election
Midterms and marijuana: These four states will vote on legal pot.
Kennedy: Confidence doesn't win elections, voting does.
Midterm election ads: Democrats focus on health care, Republicans talk taxes.
Midterms and the economic issues at stake.
Toyota lifts full-year profit forecast.
Lowe's to close underperforming stores in U.S., Canada.
FOX NEWS OPINION
Leslie Marshall: These are the two things that get every voter to the polls.
Ed Rollins: Election Day 2018 will end a midterm election unlike any we've ever seen. Here's what's next.
David Bossie: Election Day is finally here – President Trump needs your support.
HOLLYWOOD SQUARED
People magazine names Idris Elba 2018's Sexiest Man Alive.
Guns N' Roses singer Axl Rose slams Trump campaign with lewd message.
Harvey Weinstein's attorneys seek to get sexual assault case against him dismissed.
DID YOU HEAR ABOUT THIS?
Electric high-tech 'Iron Man' motorcycle bike revealed for $120,000.
Mysterious interstellar object could be 'lightsail' sent from another civilization.
Viral video shows fisherman shot with ink while trying to reel in squid.
STAY TUNED
FOX Nation is coming! - Sign up now and find out more about its exciting launch on Nov. 27!
DETAILS: How to sign up now to become a FOX Nation Founding Member!
On Facebook:
Check out 'FOX News Update,' our Facebook-exclusive news program!
On FOX News:

FOX & Friends, 6 a.m. ET: Special guests include: GOP Indiana Senate candidate Mike Braun; U.S. Rep. Marsha Blackburn, GOP Tennessee Senate hopeful; Judge Andrew Napolitano.
Your World with Neil Cavuto, 4 p.m. ET: Special guests include: Richard Trumka, president of the AFL-CIO; Michael Dukakis, former Massachusetts governor and presidential candidate.
America's Election Headquarters, starting at 6 p.m. ET - Bret Baer and Martha MacCallum will anchor FOX News' live coverage and analysis as the midterm election results all night.
On FOX Business:
Mornings with Maria, 6 a.m. ET: Special guests include: Ed Rensi, former CEO of McDonald's USA; Doug Wead, presidential historian; Haley Barbour, former RNC chair; Ed Rendell, former Pennsylvania governor; Richard Trumka, AFL-CIO president; Mike Huckabee; Ken Langone, Home Depot co-founder; Lee Carter, president of maslansky + partners; Scott Hutchins, Green Party candidate for New York's 12th Congressional District; Ken Driessen, Independent candidate for Wisconsin's 7th Congressional District.
Varney & Co., 9 a.m. ET: Eric Trump; Sean Spicer, former White House press secretary under President Trump; Joe Lieberman, former U.S. senator from Connecticut and Democratic VP nominee; Fred Fleitz, former National Security Council Chief of Staff; Ronald Colburn, former National Deputy Chief of the U.S. Border Patrol.
Cavuto: Coast to Coast, Noon ET: Sam Skinner, former White House chief of staff under President George H.W. Bush; Alberto Gonzales, former U.S. Attorney General under President George W. Bush.
Making Money with Charles Payne, 2 p.m. ET: Texas Attorney General Ken Paxton; Michael Barnes, administration policy adviser under President George W. Bush.
Countdown to the Closing Bell with Liz Claman, 3 p.m. ET: Evan Bayh, former Indiana governor; former U.S. Sen. George Allen, R-Va.
On FOX News Radio:
The FOX News Rundown podcast: Election Day is finally here. Both Democrats and Republicans have been pushing their campaign messages to voters and now it's up to voters to make their final decision at the polls today. FOX News political analyst and co-host of "The Five," Juan Williams, and former Reagan campaign manager, Ed Rollins, give us preview of Tuesday's midterm elections. On Monday, Secretary of State Mike Pompeo announced that sanctions on Iran were back on, saying Iran's economy will "crumble" under pressure if the regime doesn't agree with the modified nuclear agreement. Benjamin Hall, FOX News' foreign affairs correspondent, discusses the international reaction to the reimposed sanctions. Plus, commentary by "Media Buzz" host Howard Kurtz.
Want the FOX News Rundown sent straight to your mobile device? Subscribe through Apple Podcasts, Google Play, and Stitcher.
The Brian Kilmeade Show, 9 a.m. ET: Election Day special with the following guests: WDBO's Joe Kelley; KFTK's Dave Glover; Allen West; Gov. Rick Scott, GOP Florida Senate candidate; Ron DeSantis, Republican gubernatorial candidate for Florida; U.S. Sen. John Kennedy, R-La.; Brit Hume; Tucker Carlson; Chris Wallace.

#OnThisDay

2013: Health and Human Services Secretary Kathleen Sebelius, testifying before the Senate Finance Committee on the nation's health care law, is blistered by Republicans who bluntly challenge her honesty, push for her resignation and demand unsuccessfully that she concede President Barack Obama had deliberately misled the public about his signature domestic program, the Affordable Care Act.
1962: Democrat Edward M. Kennedy is elected senator from Massachusetts.
1860: Former Illinois congressman Abraham Lincoln of the Republican Party is elected president of the United States as he defeats John Breckinridge, John Bell and Stephen Douglas.
FOX News First is compiled by FOX News' Bryan Robinson. Thank you for joining us! Enjoy your day! We'll see you in your inbox first thing Wednesday morning.