Viral video shows fisherman shot with ink while trying to reel in squid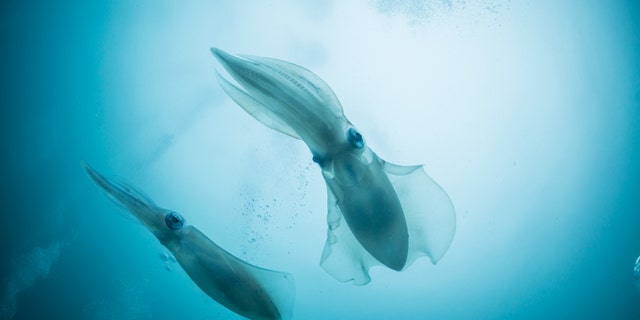 Good aim.
Jarrad Edwards, 35, was fishing with a friend off the coast of St. Kilda, Adelaide, in Australia, when he snagged a squid on his line.
The fisherman took two tries to finally hook the clever cephalopod while his friend Casey Mitchell recorded him in the small fishing boat.
"Got him!" Edwards yells excitedly on the video, as he reels in the crafty creature.
CALIFORNIA TEEN BITTEN BY SHARK OFFERED FREE LIFETIME FISHING LICENSE
Edwards and Mitchell are heard celebrating the catch, but as the squid is drawn in closer to the boat on the line, it suddenly shoots ink directly at Edwards' face.
Edwards, who told The Daily Mail he thought he was "safe" from the ink attack, was shocked by the direct hit.
MICHIGAN OFFICIALS SAY LARGEMOUTH BASS VIRUS CONFIRMED IN LAKE
"I saw the squid inked in the water so I thought I was safe. Little did I know it had a backup plan," Edwards said.
Edwards told the outlet he and Mitchell had been frustrated on not catching any squids before the incident.
"[Casey] was feeling frustrated on not catching any and I gave him a chance, but the squid preferred my jig," Edwards said, noting the pair was planning to head back to shore before the catch.
FOLLOW US ON FACEBOOK FOR MORE FOX LIFESTYLE NEWS
He's not the only Australian fisherman to be left stunned by the antics of a sea creature.
In September, a video went viral showing a kayaker getting slapped by an octopus while it fought with a seal.