Guns N' Roses singer Axl Rose slams Trump campaign with lewd message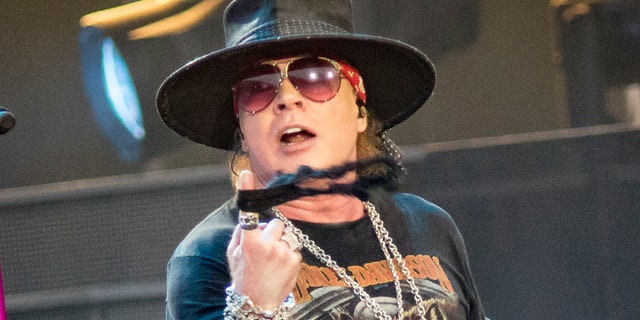 Guns N' Roses frontman Axl Rose slammed the Trump campaign on Sunday, calling them "s---bags" for using the legendary rock band's music during the president's political rallies.
In a Twitter rant, Rose said that the band, "like a lot of artists opposed to the unauthorized use of their music at political events," has formally asked that their music not be used "at Trump rallies or Trump associated events," but claimed that, despite the request, the campaign "is using loopholes in the various venues' blanket performance licenses" and playing music without the artists' permission.
"Can u say s---tbags?!" he tweeted, alongside a poop emoji.
Rose wrote that he felt he needed to "clarify" the band's position on Trump and his campaign, even though he "kinda liked the irony of Trump supporters listening to a bunch of anti Trump music at his rallies."
He elaborated in a second thread of tweets that his "personal position is that the Trump administration along w/the majority of Republicans in Congress n' their donors that support him 4 their own agendas r doing r nation a disservice."
Rose said Trump "will say n' do anything w/no regard for truth, ethics, morals or empathy of any kind, who says what's real is fake n' what's fake is real."
"Most of us in America have never experienced anything this obscene at this level in r lifetimes n' if we as a country don't wake up n' put an end 2 this nonsense now it's something we definitely will all pay hard 4 as time goes on," he tweeted.
Rose isn't the first musician to clash with Trump.
Also on Sunday, Rihanna said Trump's rallies won't blast her music "for much longer" after a reporter tweeted that supporters at an event in Tennessee were dancing to her hit, "Don't Stop the Music."
"Me nor my people would ever be at or around one of those tragic rallies, so thanks for the heads up philip!" she tweeted.
And just last week, Pharrell Williams' lawyer sent Trump a cease-and-desist letter in which the singer claimed he didn't grant the campaign permission to use his song "Happy" at a rally in Illinois.