Victoria's Secret model sports $1M bra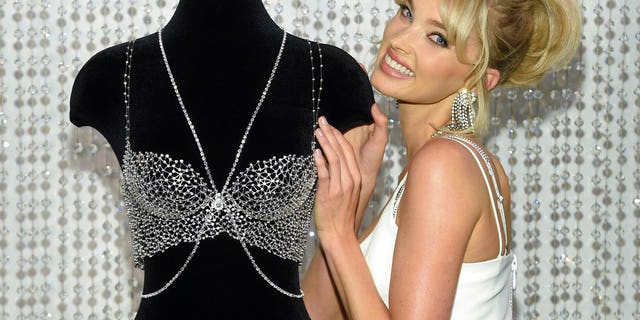 Victoria's Secret unveiled their annual "Dream Angels Fantasy Bra" on Monday, and its shining Swarovski crystals — in addition to its hefty price tag — may blind you.
"Angel" Elsa Hosk will don the $1 million undergarment on Thursday during the 2018 Victoria's Secret Fashion Show, the lingerie company announced.
The bra, which also comes with a body chain, is composed of more than 2,100 Swarovski diamonds "and responsibly sourced topaz," the company said in a news release. It has at least 71 carats on the centerpiece and took over 930 hours to create.
HALSEY, SHAWN MENDES AMONG 2018 VS FASHION SHOW PERFORMER
Hosk, a 29-year-old from Stockholm, Sweden, told People on Tuesday that when she tried on the bra during a fitting, "it was just a sensation that I've never felt before."
"My body was violently shaking. And it wasn't because I was nervous, I was just excited," Hosk said. "It was a cool feeling that I've never felt before. And it was definitely a moment that I'll never forget."
She described the lingerie as "very cool, very simple, modern and so sparkly. If I would have designed it, it would have looked just like this. I put it on and I was like, 'It looks like someone just made magic and put it on my body.'"
MODEL ASKED FOR GOD'S HELP GETTING A SPOT ON THE VICTORIA'S SECRET FASHION SHOW
While the cost of the brassiere is certainly higher than the price of a traditional Victoria's Secret bra, the store said a version of the undergarment will be available to customers on Nov. 29 for $250 at select stores and online.
The Victoria's Secret Fashion Show will air Dec. 2 at 10/9c on ABC.