FOX NEWS FIRST: Mass shooting at California bar; A look at Sessions' potential replacement as attorney general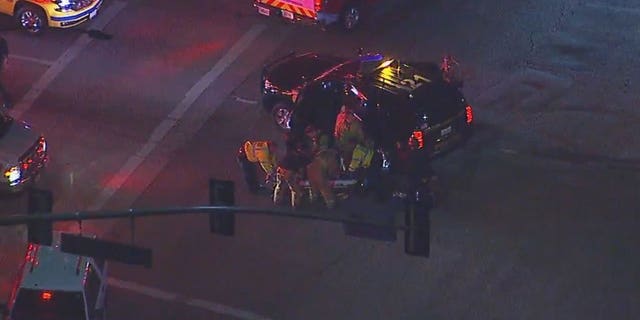 Welcome to FOX News First. Not signed up yet? Click here.

Developing now, Thursday, Nov. 8, 2018
THE LEAD STORY - MASS SHOOTING AT SOUTHERN CALIF. BAR: Authorities in Thousand Oaks, Calif., responded Wednesday to reports of a mass shooting just before midnight at a nightclub hosting a college night. Authorities said at least 11 people were shot, including one deputy at the Borderline Bar & Grill ... Ventura County Sheriff Sgt. Eric Buschow said the gunman was dead inside a Southern California bar. It is unclear how he was killed. Police told the Los Angeles Times that at least 30 shots were fired and the gunman used smoke bombs. It was unclear what type of weapon the shooter used.Thousand Oaks about 40 miles west of Los Angeles ... This is a developing story. Stay with FOX News for updates as the story unfolds.
SESSIONS OUT AS ATTORNEY GENERAL: Jeff Sessions, once one of President Trump's most loyal and trusted advisers before infuriating Trump over his recusal from the Russia investigation, has resigned as attorney general at the request of the president ... "At your request, I am submitting my resignation," Sessions wrote in a Wednesday letter to Trump. The president tweeted that Matthew Whitaker, chief of staff to Sessions, will become the acting attorney general. Whitaker, according to sources, is now overseeing everything at the Justice Department, including the Russia investigation -- despite calls from Democrats to recuse himself. - Reported by Alex Pappas (@AlexPappas on Twitter), Jake Gibson, John Roberts and Chad Pergram
KAVANAUGH COLLEAGUE THE NEXT U.S. ATTORNEY GENERAL? - President Trump is considering a retired federal appeals court judge who also served on the California Supreme Court as the next U.S. attorney general, according to reports ... Janice Rogers Brown, who is African-American and well-liked in conservative circles, served alongside Supreme Court Justice Brett Kavanaugh and spoke to the White House about the job in recent weeks, the Sacramento Bee reported. Brown was appointed to the 11-member U.S. Court of Appeals in Washington, D.C., in 2005 by former President George W. Bush. She was one of the most conservative voices on the court. Democrats blocked her confirmation for two years because of her views, including those criticizing government programs aimed at helping low-income Americans. - Reported by Louis Casiano
NEW QUESTIONS ABOUT THE RUSSIA PROBE: Attorney General Jeff Sessions' resignation — and the announcement that his Chief of Staff Matthew Whitaker immediately took over his role overseeing the Department of Justice — rocked Washington and immediately prompted speculation about how the change in leadership could affect Special Counsel Robert Mueller's investigation ... Trump, after all, had largely blamed Sessions for Mueller's appointment and the special counsel team later probed the AG for hours as part of their investigation into Russian meddling in the 2016 presidential election.
Now Whitaker leads everything at the Justice Department — including the Russia probe. Once a U.S. attorney for the Southern District of Iowa, Whitaker also served as a legal commentator at CNN until he joined the DOJ in September 2017. During his tenure at the network and roughly a month before he joined the Justice Department, Whitaker penned an op-ed titled "Mueller's investigation of Trump is going too far," in which he wrote that Mueller's delving into the Trump Organization's finances, separate from the president's election in 2016, was "deeply concerning to me." - Reported by Nicole Darrah (@nicoledarrah on Twitter)
THE WHITE HOUSE VS. CNN'S JIM ACOSTA: CNN chief White House correspondent Jim Acosta's press pass to access the White House was suspended "until further notice" Wednesday, hours after he engaged in a contentious back-and-forth with President Trump ... White House press secretary Sarah Sanders claimed the suspension of Acosta's press credentials stemmed from his "placing his hands on a young woman just trying to do her job as a White House intern."
The CNN reporter, during a news conference at the White House earlier Wednesday, got into a heated debate with Trump after he asked the president about the migrant caravan. Trump told Acosta to let him do his job. The reporter tried to ask him another question before a female White House intern walked over to him. Trump then told him, "That's enough!" Acosta continued to try to talk as the intern was seen trying to take the microphone from his hand. She grabbed the microphone but Acosta wouldn't give it up and there was brief contact between the two.
CNN said Wednesday night that Acosta's suspension "was done in retaliation for his challenging questions at today's press conference" and claimed Sanders "lied" in her explanation. The White House Correspondents' Association in a statement called the move "unacceptable," and urged the White House to "immediately reverse this weak and misguided action." - Reported by Nicole Darrah
DEMOCRATS CELEBRATING 'POLITICAL FOOL'S GOLD'?: Who were the biggest winners in Tuesday's midterm elections? ... If you believe Democrats - and the mainstream media headlines - you might say the Democratic Party, since it succeeded in taking control of the House. And that means President Trump's legislative agenda may hit nothing but roadblocks for the next two years and he could be bogged down continuous investigations on alleged Russia collusion and more by Democrats who want to impeach him. But one notable Democrat, Bryan Dean Wright, calls his party's victory "political fool's gold" because the power to shape the country and its legislature rests in the Senate.
If the economy continues to flourish, Democrats will continue to face an uphill battle in their quest to make Trump a one-term president in 2020. Plus, if nothing gets accomplished in Congress, President Trump will blame one party - the "obstructionist" Democrats. So, the Democratic Party has to walk a delicate line with its newly regained power in the House. Dems, the pundits agree, must become more than "anti-Trump" party. And oh yes, they find a viable candidate to run against Trump.

AS SEEN ON FOX NEWS
DEMOCRATS' OBSESSION - "Democrats just won back the House of Representatives after eight years. They're thrilled, obviously. Yet they don't appear to have any idea how they did it. As of tonight, there really is no Democratic program or message ... There is only Donald Trump, whom they despise. The entire Democratic platform is him." – Tucker Carlson, in his monologue on "Tucker Carlson Tonight," on his takeaway from the midterm elections. WATCH
2018 MIDTERMS FALLOUT
Republican Brian Kemp declares victory in Georgia gubernatorial race; Democrat Stacey Abrams refuses to concede.
Scott Walker concedes to Democrat Tony Evers in Wisconsin gubernatorial race.
Pelosi brushes off rank-and-file rumblings as she eyes speaker's gavel: 'I'm a good negotiator.'
Democratic presidential hopefuls already jockeying for 2020.
FOX News attracts 7.8 million viewers for most-watched midterms in cable news history.
FOX News Full Coverage: 2018 Midterms Election Results.
TRENDING
'Grumpy Cat 2.0' going viral after being rescued off street.
'Brady Bunch' cast to take part in TV home's renovation: report.
McDonald's customers' $5M lawsuit over unwanted Quarter Pounder with cheese dismissed by judge.
ACROSS THE NATION
South Carolina voter told to remove 'Trump' shirt in order to vote: report.
Virginia drug-dealing mom gets 10-day jail sentence after providing marijuana to three children.
Stealthy hydrogen-powered Chevrolet Silverado military truck breaks cover.
MINDING YOUR BUSINESS
Dow jumps 540 points as investors celebrate midterms.
Midterm result is best-case scenario for investors.
Republican control of Senate to cap socialism: Stu Varney.
Tesla names new chairman to replace Elon Musk.
Gun control advocates score major victory in Washington state.
San Francisco homeless tax passes after push from Salesforce founder Benioff.
Taxes to rise on items in these states after midterm elections.
Tax Cuts 2.0: Prospects post midterms.
Walmart will offer Black Friday deals earlier this year.
HOLLYWOOD SQUARED
Pete Davidson's 'SNL' castmate Kenan Thompson talks Dan Crenshaw joke.
John Legend rips Trump, calls him a 'f------ embarrassment' on Twitter.
'Breaking Bad' film sequel reportedly in the works.
DID YOU HEAR ABOUT THIS?
Creepy orange 'airglow' surrounds the Earth.
Rhino rescue? Scientists may hold key to saving northern white rhinoceros from extinction.
Neil Armstrong collection commands $5.2 million at auction.
STAY TUNED
FOX Nation is coming! - Sign up now and find out more about its exciting launch on Nov. 27!
DETAILS: How to sign up now to become a FOX Nation Founding Member!
On Facebook:
Check out 'FOX News Update,' our Facebook-exclusive news program!
On FOX News:
FOX & Friends, 6 a.m. ET: Special guests include: House Majority Leader Kevin McCarthy; plus, with Democrats set to take control of the House, what is the future of President Trump's border wall?
The Story with Martha MacCallum, 7 p.m. ET: Former Independent Counsel Ken Starr.
On FOX Business:
Mornings with Maria, 6 a.m. ET: Special guests include: U.S. Rep. Louie Gohmert; Matt Schlapp, chairman of the American Conservative Union; U.S. Rep. Henry Cuellar, D-Texas; Robert Ray, former Whitewater independent counsel; Mickey Hart, member of the Grateful Dead and Rock & Roll Hall of Fame inductee.
Varney & Co., 9 a.m. ET: U.S. Rep. Emanuel Cleaver, D-Mo.; Bart Chilton, former commissioner at the U.S. Commodity Futures Trading Commission; Blaise Ingoglia, Florida GOP chairman.
Countdown to the Closing Bell with Liz Claman, 3 p.m. ET: Sandy Villere, co-portfolio manager of Villere Balanced Fund; Andy Brenner, global fixed income head at NatAlliance Securities; Mark Vitner, Wells Fargo senior economist; Matt Eyles, CEO of America's Health Insurance Plans.
Kennedy, 9 p.m. ET: Guests include: U.S. Rep. Matt Gaetz, R-Fla.
On FOX News Radio:
The FOX News Rundown podcast: Democrats regained power in the House of Representatives in Tuesday's midterm elections for the first time in eight years. U.S. Rep. Hakeem Jeffries, D-N.Y., discusses the ramifications of the pivotal shift in power. Jeff Sessions resigned as U.S. attorney general Wednesday and his chief of staff, Matthew Whitaker, was appointed acting attorney general. Jon Decker, FOX News Radio's White House correspondent, discusses shakeup's potential impact on the Russia investigation. Plus, commentary by Peggy Grande, author and former executive assistant to President Reagan.
Want the FOX News Rundown sent straight to your mobile device? Subscribe through Apple Podcasts, Google Play, and Stitcher.
The Brian Kilmeade Show, 9 a.m. ET: Fallout from the midterm elections, President Trump's heated post-midterm news conference, and the resignation of Attorney General Jeff Sessions with the following guests: Joe Lieberman, former U.S. senator from Connecticut and Democratic VP nominee; Tom Bevan; Ben Domenech; Chris Wallace; Paul Mecurio; and Clint Romesha, who will discuss the new Netflix's new documentary series on Medal of Honor receipients.
#OnThisDay

2016: Donald Trump is elected America's 45th president, defeating Hillary Clinton in a stunning victory.
1972: The premium cable TV network HBO (Home Box Office) debuts with a showing of the movie "Sometimes a Great Notion."
1923: Adolf Hitler launches his first attempt at seizing power in Germany with a failed coup in Munich that came to be known as the "Beer-Hall Putsch."
FOX News First is compiled by FOX News' Bryan Robinson. Thank you for joining us! Enjoy your day! We'll see you in your inbox first thing Friday morning.