Pete Davidson's 'SNL' castmate Kenan Thompson talks Dan Crenshaw joke: 'They are figuring out a way to right that wrong'
Kenan Thompson is once again addressing his "Saturday Night Live" co-star Pete Davidson's joke about Dan Crenshaw, a now-elected Republican congressman, who lost an eye while serving in the U.S. military, stating that he believes the NBC show is "figuring out a way to right that wrong."
"I know it's being handled internally... it's never somewhere that I would go like in the offense territory towards veterans because my father is one," the 40-year-old comic and actor said during an appearance on "The View" on Tuesday.
"It's been an unfortunate outcome when you're a comedian trying to go for jokes," Thompson, whose father served in the Vietnam War, continued.
"You know how it is when you're trying to figure out a way to get into something that's a touchy subject or, something that is very sorrowful and you want to try to bring joy into something and you miss the mark."
PETE DAVIDSON MOCKS REPUBLICAN CONGRESSIONAL CANDIDATE, FORMER NAVY SEAL WHO LOST AN EYE IN AFGHANISTAN
Thompson went on to defend his co-star, explaining he "definitely" doesn't think Davidson, 24, "goes out trying to offend people."
"Pete's a good kid. He has a big heart," Thompson told "The View" hosts.
"He's had tragedy in his life with his father passing from 9/11 and everything, being a firefighter. So I definitely don't think he goes out trying to offend people, but unfortunately, that's what happened in this case.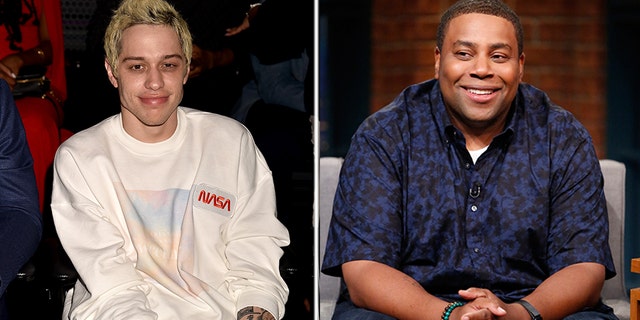 PETE DAVIDSON'S 'SNL' CASTMATE KENAN THOMPSON ADDRESSES DAN CRENSHAW JOKE: 'HE DEFINITELY MISSED THE MARK'
"So they are figuring out a way to right that wrong, I'm pretty sure," the "All That" alum added of the live comedy series.
"It's not our intention to disrespect anyone. Our whole thing is just to be artists and hold up the mirror."
On Saturday's episode of the sketch series, Davidson appeared on the "Weekend Update" segment, where the comedian gave his "first impressions" of some candidates ahead of Tuesday's midterm elections.
CRENSHAW, THE REPUBLICAN U.S. HOUSE CANDIDATE MOCKED ON 'SNL,' GETS LAST LAUGH
He giggled as an image of former Navy SEAL Crenshaw, who wears an eye-patch on his right eye after being injured by an I.E.D. in Afghanistan, flashed across the screen.
"You may be surprised to hear he's a congressional candidate from Texas and not a hitman in a porno movie," Davidson mocked. "I'm sorry, I know he lost his eye in war or whatever..."
On Sunday, Crenshaw responded to the dig on Twitter saying: "Good rule in life: I try hard not to offend; I try harder not to be offended. That being said, I hope @nbcsnl recognizes that vets don't deserve to see their wounds used as punchlines for bad jokes."
Fox News' Sasha Savitsky contributed to this report.