John Legend rips Trump, calls him a 'f------ embarrassment' on Twitter
The same day that President Trump labeled CNN reporter Jim Acosta "a rude, terrible person," singer John Legend issued a sharp condemnation about the president himself.
"The president is a f------ embarrassment," Legend tweeted.
The artist's scathing tweet came as Trump clashed with the CNN White House reporter during a news conference following the midterm elections.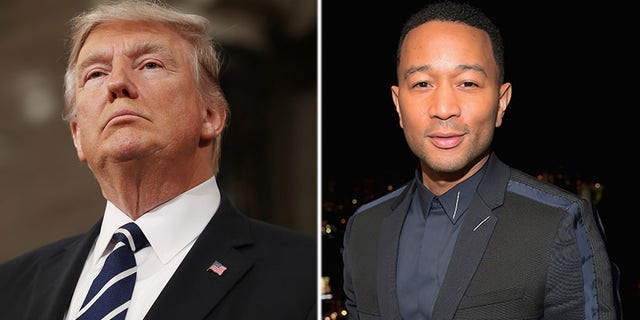 During the pair's heated exchange, Acosta asked Trump about the caravan of Central American migrants who are making their way toward the U.S. border and challenged him about whether the caravan really was an "invasion," as Trump had previously stated.
TRUMP SLAMS CNN'S ACOSTA FOR PRESS CONFERENCE PERFORMANCE: 'YOU ARE A RUDE, TERRIBLE PERSON'
At one point in the questioning, Trump told Acosta: "Honestly, I think you should let me run the country, you run CNN and if you did it well, your ratings would be much better."
The president then tried to move onto another reporter as Acosta began to ask him about the Russia investigation.
"That's enough. Put down the mic," he ordered Acosta, after a White House aide tried to take the microphone from him, only for Acosta to initially refuse to turn it over and push her arm down. "I tell you what, CNN should be ashamed of itself having you working for them. You are a rude, terrible person, you shouldn't be working for CNN."
CNN'S JIM ACOSTA STRUGGLES WITH WHITE HOUSE AIDE TO KEEP MICROPHONE DURING TESTY TRUMP EXCHANGE
After Acosta eventually sat down, Trump again called him a "very rude person."
Legend, who is married to model Chrissy Teigen, has been an outspoken opponent of Trump's administration in the past. In September, Legend appeared in a Twitter ad in opposition to Brett Kavanaugh, the president's then-nominee for the Supreme Court.
Kavanaugh was sworn in as a Supreme Court Justice on Oct. 6.
Fox News' Adam Shaw contributed to this report.