Rhino rescue? Scientists may hold key to saving northern white rhinoceros from extinction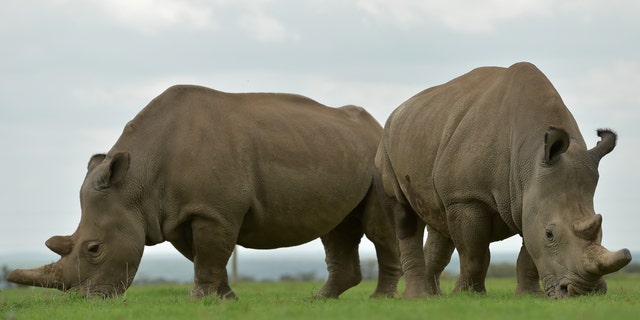 Scientists may be able to save the critically endangered northern white rhinoceros from extinction, according to stunning new genetic research.
Researchers from the U.K.'s University of Cardiff and the University of Venda in South Africa believe that genes from the less endangered southern white rhino could be used to save its critically endangered northern cousin.
The northern white rhino is teetering on the brink of extinction after decades of poaching for their horns. There are only two Northern White Rhinos left in the world – both of which are female and live at the Ol Pejeta Conservancy in Kenya. The World Wildlife Fund (WWF) notes that both rhinos are protected around the clock by armed guards.
SUDAN, THE WORLD'S LAST MALE NORTHERN WHITE RHINO, DIES FROM 'AGE-RELATED COMPLICATIONS'
In contrast, as many as 21,000 southern white rhinos exist in protected areas and private game reserves in Africa, according to the WWF. Most of these rhinos are found in South Africa, Namibia, Kenya, and Zimbabwe, it says.
University of Cardiff and University of Venda scientists analyzed genetic samples from 232 rhinos and discovered that, despite the populations of northern and southern white rhinos splitting over a million years ago, they have sometimes shared genes. Researchers say that genes have typically been shared during cold and arid periods, as recently as 14,000 years ago, when African grasslands expanded.
"By looking at the white rhino's population history we've been able to establish that there was contact between northern and southern rhino populations throughout history," said Dr. Isa-Rita Russo of Cardiff University, in a statement.
MAN-EATING TIGER WHO IS BELIEVED TO HAVE KILLED 13 PEOPLE IS SHOT DEAD IN INDIA AFTER MAJOR HUNT
Dr. Russo described the research as an exciting find, adding that it may be possible to rescue the northern white rhinos by using southern white rhino genes to create embryos. However, further data is needed to confirm this, she added.
"It appears that the white rhinoceros is no stranger to low genetic diversity," said Professor Yoshan Moodley of the University of Venda, in a statement. The white rhino, he added, is one of the few large animals to survive the last ice age.
The scientists' study is published in the journal Proceedings of the Royal Society B.
WARNING GRAPHIC IMAGES: INCREDIBLE PHOTOS SHOW GREAT WHITE SHARKS DEVOURING WHALE
Sudan, the world's last male northern white rhino died earlier this year of "age-related complications." The 45-year-old rhino was euthanized at the Ol Pejeta Conservancy after he was unable to stand any longer.
In 2017, Sudan was listed as "The Most Eligible Bachelor in the World" on dating app Tinder.
Fox News' Ryan Gaydos contributed to this article. Follow James Rogers on Twitter @jamesjrogers