FOX NEWS FIRST: Trump uses Obama's words to justify immigration policy; Dems face Pelosi midterm power struggle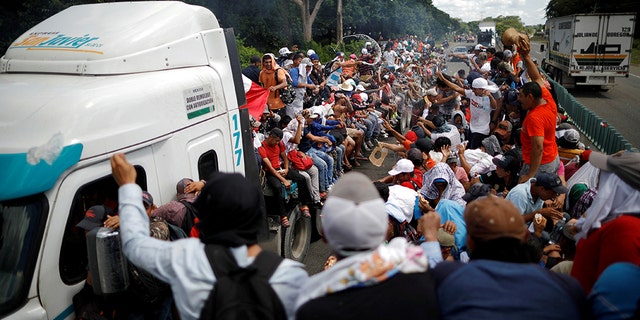 Welcome to FOX News First. Not signed up yet? Click here.

Developing now, Wednesday, Oct. 24, 2018
THE LEAD STORY - POSSIBLE SOLUTION TO CARAVAN CRISIS - Republican Sens. Chuck Grassley and Mike Lee have urged Homeland Security Secretary Kirstjen Nielsen to execute a "safe third country agreement" with the Mexican government, which would require members of the growing migrant caravan to stop and seek asylum there ... The third-party agreement would require asylum seekers to make their claims in their first country of arrival. The senators noted the arrangement would also take some pressure off the overworked asylum system in the U.S., which has been increasingly inundated with claims that judges must adjudicate. Some Trump administration officials have argued that the "vast majority" asylum claims are fraudulent or legally dubious.
IN OBAMA'S OWN WORDS: President Trump turned to an unlikely source Tuesday evening to find support for his hard-line immigration policies: his predecessor, Barack Obama ... Trump tweeted a 2005 video in which Obama, then a senator, made a statement against illegal immigration, accompanied by the comment "I agree with President Obama 100%". "We are a generous and welcoming people here in the United States," Obama says in the 31-second clip. "But those who enter the country illegally and those who employ them disrespect the rule of law and they are showing disregard for those who are following the law. We simply cannot allow people to pour into the United States undetected, undocumented, unchecked, and circumventing the line of people who are waiting patiently, diligently and lawfully to become immigrants into this country."
Obama is not the only Democrat cited by Trump and his supporters to justify crackdowns on illegal immigration. Another is former President Bill Clinton in his 1995 State of the Union address.
PELOSI IN 'TRANSITION'?: Nancy Pelosi, in an apparent bid to assuage concerns from younger rank-and-file Democrats, says she could commit to an abbreviated, "transitional" term as speaker if her party wins the House majority next month ... But she has yet to provide details and still says she'd want to stay through 2020, leaving unclear when and if she'd be willing to hand off the gavel. The current House minority leader first floated the idea of a short-term speakership last week. "I see myself as a transitional figure," Pelosi, D-Calif., told the Los Angeles Times. "I have things to do. Books to write, places to go, grandchildren, first and foremost, to love."
Pelosi has long made clear she plans to run for speaker again if Democrats reclaim the majority. But many Democratic lawmakers and candidates have distanced themselves from her and current leadership this year, with some saying they'd oppose her for speaker.
HOLDING SAUDIS 'ACCOUNTABLE': The U.S. is revoking visas of some of the Saudi Arabian officials involved in the murder of writer Jamal Khashoggi ... Secretary of State Mike Pompeo said at a news conference Tuesday said the U.S. has identified people implicated in Khashoggi's death — "including those in the intelligence services, the royal court, the foreign ministry and other Saudi ministries" — and is working to hold them accountable. The State Department is revoking visas and taking other measures in the wake of the ordeal. "We're making very clear that the United States does not tolerate this kind of ruthless action to silence Khashoggi, a journalist, through violence," Pompeo told reporters. "Neither the president nor I am happy with this situation."
ROSENSTEIN DELAY: The heads of two House committees announced Tuesday evening that a planned Wednesday interview of Deputy Attorney General Rod Rosenstein had been postponed ... Judiciary Committee Chairman Bob Goodlatte, R-Va., and Oversight and Government Reform Committee Chairman Trey Gowdy, R-S.C., said in a joint statement that they were "unable to ask all questions of Deputy Attorney General Rod Rosenstein within the time allotted for tomorrow's transcribed interview." They added that Rosenstein has indicated a willingness to testify "in the coming weeks in either a transcribed interview or a public setting.
Rosenstein was to have been interviewed by Goodlatte, Gowdy and the top Democrats on each committee in a secure room. Many of the questions were to focus on reported remarks by Rosenstein in which he suggested secretly recording President Trump and canvassing members of the Cabinet about the possibility of removing him from office.
AND THE WINNING NUMBERS ARE ... The winning numbers have been drawn in Tuesday's Mega Millions lottery, worth an estimated $1.6 billion ... The winning numbers are 5, 28, 62, 65 and 70, with a Mega Ball number 5, according to the official Mega Millions website. The website of the South Carolina Education Lottery reported that a winning Mega Millions ticket had been sold in that state, Fox Carolina reported. But not all states have reported whether they had sold winning tickets.

AS SEEN ON FOX NEWS
#METOO MANIPULATION - "I watched both sides basically take women's pain and use it as a tool for politics." – Karen Monahan, ex-girlfriend of Democratic National Committee Deputy Chairman Keith Ellison, speaking out on "Tucker Carlson Tonight," where she detailed alleged abuse at the hands of the Minnesota congressman and the social blacklisting that apparently followed. WATCH

2018 MIDTERMS
Nate Silver boldly predicts Dems have 86 percent chance of retaking House.
Florida Democrat Andrew Gillum got 'Hamilton' tickets from undercover FBI agent, records show.
October surprise? Five things that could rock the midterms.
TRENDING
Man claims license-plate readers let cops know your 'daily routine' in suit.
Stunning shipwreck discovery: 'World's oldest intact' wreck found.
Prisoner gets Xbox for revealing location of estranged wife's remains.
THE SWAMP
Corey Lewandowski plays down altercation with John Kelly, makes midterm prediction.
McConnell defiant after demonstrator tried disrupting his dinner: 'I enjoyed my meal.'
Sandra Day O'Connor, retired Supreme Court justice, says she has 'beginning stages of dementia.'
ACROSS THE NATION
Six kids dead, 12 sickened in viral outbreak at New Jersey pediatric center.
Retired DA fights subpoena in $750M lawsuit brought by JonBenét's Ramsey's brother.
Sandy Hook killer Adam Lanza's disturbing writings, other belongings, ordered released to public.
MINDING YOUR BUSINESS
Trump, citing interest rate hikes, says he 'maybe' regrets nominating Fed boss Powell.
McCarthy: Left-leaning billionaires Soros, Bloomberg, Steyer trying to 'buy' Congress.
Kennedy: Summing up the cost of Socialism.
What to watch for in Tesla's earnings report.
Coach announces it will go fur-free by Fall 2019 collection.
McDonald's removes Happy Meals from value menu.
Taxpayers slow to check withholding despite IRS warnings.
Toymakers aim for a bit of $9B Halloween spending.
FOX NEWS OPINION
Marc Thiessen: McConnell could be the most consequential conservative leader of the century.
Justin Haskins: Obama falsely claims credit for Trump economic achievements.
Dr. Marc Siegel: Mystery muscle-weakening disease is sparking panic among parents – here's what you must know.
HOLLYWOOD SQUARED
Sarah Silverman apologizes to Louis C.K. accuser after admitting she allowed fellow comedian to masturbate in front of her.
Judge rejects Bill Cosby's bid for a new trial.
Melania Trump invites 'Ellen' producer to event about kindness in response to his snarky tweets.
DID YOU HEAR ABOUT THIS?
Dog's color linked to how long they live – and their chance of serious illnesses.
Scientists grow 3D tissue model of brain, study says.
Black bear sightings in Virginia on the rise in light of acorn shortage.
STAY TUNED
FOX Nation is coming! - Sign up now and find out more about its exciting launch!
On Facebook:
Check out 'FOX News Update,' our new Facebook-exclusive news program!
On FOX News:

FOX & Friends, 6 a.m. ET: Special guests will include: House Majority Leader Kevin McCarthy; Mike Braun, GOP Senate candidate for Indiana. Plus, a look at the White House's next steps in tackling the opioid crisis. And the Purple Heart Foundation is giving away a Dodge Challenger to a Purple Heart recipient.
The Story with Martha MacCallum, 7 p.m. ET: An interview with U.S. Rep. Martha McSally, a Republican seeking a U.S. Senate seat in Arizona.
Hannity, 9 p.m. ET: Special guests include: Eric Trump and Newt Gingrich.
On FOX Business:
Mornings with Maria, 6 a.m. ET: Special guests include: Kellyanne Conway, counselor to President Trump; U.S. Rep. Sean Duffy, R-Wis.; Jonathan Madison, Republican strategist; Mark Penn, former senior adviser to the Clintons; Mark Hurd, Oracle CEO; Bill Studebaker, ROBO Global president and chief information officer.
Varney & Co., 9 a.m. ET: Andy Puzder, former CEO of CKE Restaurants; U.S. Rep. Mike Rogers, R-Ala.; Andrew Left, founder of Citron Research; Texas Lt. Gov. Dan Patrick.
Cavuto: Coast to Coast, Noon ET: Robert Charles, former Assistant Secretary of State under President George W. Bush.
Countdown to the Closing Bell with Liz Claman, 3 p.m. ET: Steven Wieting, Citi Private Bank global chief investment strategist; Adena Friedman, Nasdaq CEO; Adam Posen, Peterson Institute president.
On FOX News Radio:
The FOX News Rundown podcast: President Trump recently told reporters his administration was in the planning stages for rolling out a "10 percent middle-class tax cut." FOX News Capitol Hill correspondent Jared Halpern, and Republican strategist Brad Blakeman, discuss the probability of passing a tax plan and the effect the suggestion may have on midterms. Former White House Communications Director Anthony Scaramucci is out with a new book, "Trump, the Blue Collar President." Scaramucci discusses how President Trump was able to appeal to blue collar workers to win the presidency. Plus, commentary by Van Hipp, chairman of American Defense International.
Want the FOX News Rundown sent straight to your mobile device? Subscribe through Apple Podcasts, Google Play, and Stitcher.
The Brian Kilmeade Show, 9 a.m. ET: The midterms, Russia, Saudi Arabia and the killing of activist Jamal Khashoggi will be among the topics of debate with the following guests: Republican Florida gubernatorial candidate Ron DeSantis; U.S. Rep. Adam Kinzinger, R-Ill.; Bryan Rotella.
#OnThisDay

2002: Authorities apprehend Army veteran John Allen Muhammad and teenager Lee Boyd Malvo near Myersville, Md., in the Washington-area sniper attacks. (Malvo was later sentenced to life in prison without the possibility of parole; Muhammad was sentenced to death and executed in 2009.)
1945: The United Nations officially comes into existence as its charter takes effect.
1940: The 40-hour work week goes into effect under the Fair Labor Standards Act of 1938.
FOX News First is compiled by FOX News' Bryan Robinson. Thank you for joining us! Enjoy your day! We'll see you in your inbox first thing Thursday morning.