Black bear sightings in Virginia on the rise in light of acorn shortage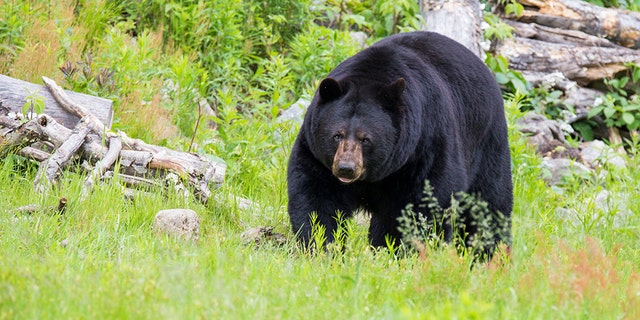 If you live in Virginia and have spotted a black bear as of late, an acorn shortage this fall in some parts of the state may be to blame, wildlife experts say.
The shortage has forced the local bear population into more populated areas as they search for different types of food, Sabrina Garvin, executive director of Southwest Virginia Wildlife Center of Roanoke, told Fox News on Tuesday.
"They aren't out to hurt us, they're just hungry," she said.
FLORIDA OFFICIALS WARN ABOUT VENOMOUS PUSS CATERPILLAR RETURN: A STING CAN 'EVEN MAKE YOUR BONES HURT'
Jaime Sajecki, the black bear project leader with Virginia Department of Game & Inland Fisheries, echoed Garvin's comments.
"They're just trying to survive," she told local station WDBJ7-News. "The amount of calories that can be taken from my garbage pail or a bird feeder, it's irresistible to them. So really they're not doing it to be obnoxious, they're just doing it to survive."
"White oak acorns are produced on a one-year cycle while red oak acorns are produced on a two-year cycle," Sajecki told Fox News while explaining the reason for the bears' recent appearances. "What this means is that spring conditions for pollination impact white oak production in the same year and red oaks the year after. There are a number of environmental factors that can impact acorn production including the amount of rain and humidity during the window of pollination, late freezes, high winds, and pests. In Virginia, we are about average statewide for white oak and slightly below for red oak but it was really site-specific. Our mast overall was pretty good in the east but in the west it was much more spotty."
In addition to acorns, black bears also eat berries and beechnuts, among others foods, according to the North American Bear Center. Prior to their roughly five-month hibernation starting in late November or December, these animals enter a period called Hyperphagia, or a "period of excessive eating and drinking to fatten for hibernation," the North American Bear Center states.
During this time, "black bears with unlimited food and water [eat] 15,000 to 20,000 kcal per day and [drink] several gallons," the center added.
To prevent unwanted black bear visitors, wildlife officials suggest locking up common food sources for bears, such as trash cans and bird feeders.
"They have a great sense of smell," Gavin said, noting black bears will repeatedly return to the same source of food if it's not removed.
"Keep your trashcan locked or in your garage," she suggested, saying the same for bird feeders. "It's a pain to have to move things, but they are going to come back [if not]."
INSECTS INVADING VIRGINIA AND PENNSYLVANIA COULD BE 'MOST DESTRUCTIVE SPECIES IN 150 YEARS'
Sajecki added the sightings will likely decline when the bears begin to hibernate.