Sarah Silverman apologizes to Louis C.K. accuser after admitting she allowed him to masturbate in front of her
Sarah Silverman apologized to a woman who accused Louis C.K. of sexual misconduct after Silverman said Monday she consented to C.K. masturbating in front of her and called the experience "amazing."
Rebecca Corry previously accused C.K. of pleasuring himself in front of her without consent when they worked on a 2005 TV pilot together. She called out Silverman for normalizing C.K.'s actions, calling him a "predator who victimized women for decades and lied about it."
"To be real clear, CK had 'nothing to offer me' as I too was his equal on the set the day he decided to sexually harrass me," Corry tweeted Monday after Silverman's interview with Howard Stern aired. "He took away a day I worked years for and still has no remorse. He's a predator who victimized women for decades and lied about it."
Silverman replied to Corry on Twitter saying, "Rebecca I'm sorry. Ugh this is why I don't like weighing in. I can't seem to do press 4 my show w/out being asked about it. But you're right- you were equals and he f---ed with you and it's not ok. I'm sorry, friend. You are so talented and so kind."
To which Corry responded, "Thank you. I know exactly how you feel. I can't seem to live my life without getting rape & death threats, harassed & called a c--- regularly for simply telling the truth. I'm sorry your friend created this situation. We deserve to do our art without having to deal with this s---."
Silverman, 47, made headlines Monday when she admitted to Howard Stern on his SiriusXM radio show that she allowed C.K. to masturbate in front her on several occasions.
"I've known Louis forever, I'm not making excuses for him, so please don't take this that way. We are peers. We are equals. When we were kids, and he asked if he could masturbate in front of me, sometimes I'd go, 'F--- yeah I want to see that!' … It's not analogous to the other women that are talking about what he did to them.
"He could offer me nothing. We were only just friends. So sometimes, yeah, I wanted to see it, it was amazing. Sometimes I would say, 'F---ing no, gross,' and we got pizza."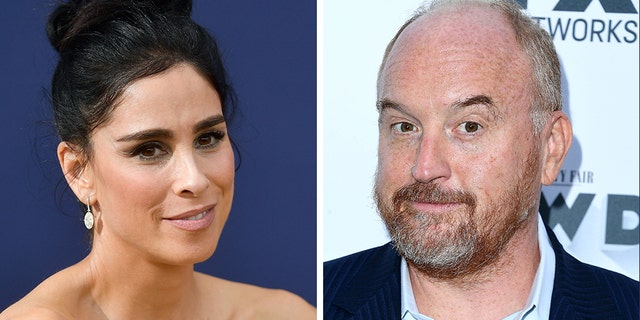 The stand-up comic told the story as part of her reasoning as to why she believed her friend C.K., who last November admitted to allegations of sexual misconduct, didn't understand the ramifications of his actions.
LOUIS C.K. ADDRESSES SEXUAL MISCONDUCT ACCUSATIONS: 'IT'S TRUE'
"I'm not saying what he did was OK," Silverman explained. "I'm just saying at a certain point, when he became influential, not even famous, but influential in the world of comedy, it changes. He felt like he was the same person, but the dynamic was different and it was not OK."
In November 2017, comedians Dana Min Goodman, Abby Schachner, Julia Wolov, Rebecca Corry alleged that the comedian either pleasured himself in front of them, asked to do it or did so over the phone. A fifth woman detailed her allegations against C.K. to the paper but was not identified.
The comedian released an official statement to Fox News at the time and expressed remorse.
"I want to address the stories told to the New York Times by five women named Abby, Rebecca, Dana, Julia who felt able to name themselves and one who did not," wrote C.K.
"These stories are true. At the time, I said to myself that what I did was okay because I never showed a woman my d--k without asking first, which is also true. But what I learned later in life, too late, is that when you have power over another person, asking them to look at your d--k isn't a question. It's a predicament for them. The power I had over these women is that they admired me. And I wielded that power irresponsibly."
Fox News' Mariah Haas contributed to this report.