FOX NEWS FIRST: Trump to use as many troops 'as necessary' to stop caravan; Missing Wis. girl search expanding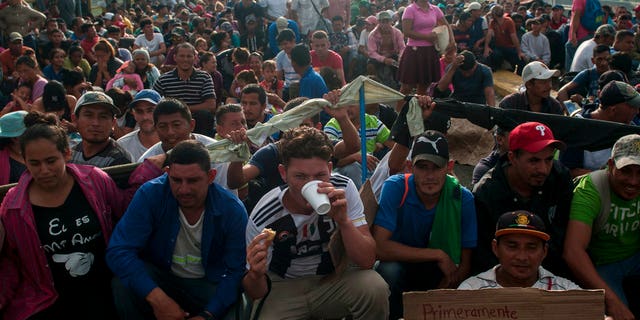 Welcome to FOX News First. Not signed up yet? Click here.
Developing now, Tuesday, Oct. 23, 2018
THE LEAD STORY - TRUMP PROMISES TO STOP CARAVAN AT THE BORDER - In an interview aboard Air Force One on Monday, President Trump made clear there was no limit to the number of troops he's willing to send to the border to address the growing migrant caravan quickly making its way through hot and humid temperatures in Mexico to the U.S. border ... The president previously vowed to send the U.S. military, as opposed to the National Guard, to confront the group, which the United Nations now estimates is over 7,200 members strong. Trump told USA Today in an interview that "people from the Middle East" are among the thousands of migrants in the caravan, echoing remarks he made on Twitter Monday morning, when he complained there were MS-13 gang "criminals and unknown Middle Easterners mixed in." The president did not elaborate. Asked how many troops he was willing to send, Trump told the paper simply, "as many as necessary." Speaking to reporters outside the White House earlier Monday, Trump slammed several Central American countries that he charged were "doing nothing" about the caravan and threatened to cut U.S. aid to Guatemala, Honduras and El Salvador.
FROM 'LYIN' TED' TO 'TEXAS TED': President Trump on Monday night voiced his support for one-time rival Sen. Ted Cruz in his re-election, calling the Texas Republican "a really good friend of mine" ... Speaking at a "Make America Great Again" rally at the Toyota Center in Houston, Texas, the president said while the pair's relationship has previously been rocky, he encouraged rallygoers to vote for the senator. "Nobody has helped me more with your tax cuts, with your regulation, with all of the things that we're doing ... than Senator Ted Cruz," Trump said. Trump, meanwhile, called Cruz's opponent, Democratic Rep. Beto O'Rourke a "stone cold phony" who "pretends to be a moderate, but he's actually a radical open-borders left-winger." "The Democrats," Trump said, "have launched an assault on the sovereignty of our country."
SOROS TARGETED? - An explosive device was found on Monday at the Westchester, N.Y., home of billionaire George Soros ... The Wall Street Journal, citing local law enforcement, reported that police received a phone call from the residence about a suspicious package. An employee that works at the home found the package in a mailbox and opened it, revealing what appeared to be an explosive device, according to the Bedford Police Department. The employee then placed the package in a wooded area until authorities arrived. Soros was not home at the time of the incident, according to the New York Times. The bomb squad deactivated the device, and the investigation has been turned over to the Joint Terrorism Task Force Division of the FBI.
Soros, 88, has donated at least $18 million to his charity, the Open Society Foundations, which works to promote democracies in countries around the world, according to the organization's website. Known for his philanthropy and political influence, has focused his efforts as of late on the midterm elections in the U.S., and has funneled upwards of $15 million to Democrats as they push to regain control of Congress.
FOR DEMS, MIDTERMS ARE A WAY TO REVIVE RUSSIA PROBE: Democrats are expected to re-open the investigation into alleged collusion between Russian officials and Donald Trump's 2016 presidential campaign if they regain the House of Representatives majority in next month's midterm elections ... The Permanent Select Committee on Intelligence was the only House panel to investigate Russian meddling. This past April, the committee's Republicans said they found "no evidence" of collusion between the Russian government and Trump campaign. Democrats said Republicans ignored key facts and important witnesses. However, while some on the left wing have said they wanted to restart parts of the investigation if they win the House, others said there could be a political cost if they overreach.
Intelligence Committee Ranking Member Adam Schiff, D-Calif., and other lawmakers have said they're closely watching special counsel Robert Mueller's Russia investigation and the Senate's Russia probe to look for gaps that they could fill.
WHERE IS JAYME CLOSS? - Two "vehicles of interest" were announced on Monday in the search for Jayme Closs, the Wisconsin teenager who went missing Oct. 15, the day her parents were found shot to death in their home ... Surveillance footage helped the Barron County Sheriff's Office and the FBI determine the makes and models of two cars "seen in the area" of the Closs home at the time of the fatal shootings. Investigators believe a red or orange Dodge Challenger made between the years 2008 and 2014 might be linked to the incident. Another vehicle — either a Black Ford Edge, made between 2006 and 2010, or a Black Acura MDX made between 2004 to 2010 — is also of interest. Investigators believe 13-year-old Closs is still in danger. The search for Closs was to expand Tuesday with as many as 2,000 volunteers expected to comb the Barron, Wis. area.

AS SEEN ON FOX NEWS
VENEZUELA CURRICULUM - "A new study found that, among campus administrators, liberals outnumber conservatives by 12 to one. To put that in perspective, North Korea has more diversity. The result: a student body going deeper into debt and only exposed to one kind of thinking--the kind that makes kids dumber, so they won't notice it's also making them broke." – Greg Gutfeld, in his monologue on a special edition of "The Five" in Texas, arguing that today's colleges and universities are "basically our own Venezuela" within the United States. WATCH

THE JAMAL KHASHOGGI INVESTIGATION
'Body double' seen wearing slain Saudi writer's clothes, fake beard after killing: report.
Turkey, where Saudi writer died, has culture of surveillance.
TRENDING
Lottery jackpot winners face big IRS tab.
WWE star Roman Reigns stuns fans by revealing his leukemia battle.
North Carolina restaurant server given $10,000 cash tip by patron who ordered water.
THE SWAMP
Michael Avenatti ordered by judge to hand over $4.85 million in back pay to attorney at his former law firm.
Commerce Secretary Wilbur Ross can't be questioned in census suits, Supreme Court rules.
Former House Speaker John Boehner to host marijuana investing seminar.
ACROSS THE NATION
Virginia man killed trying to protect woman from sexual assault, cops say.
Chelsea Manning posts photo from hospital after gender reassignment surgery.
Michigan brothers face $450,000 in fines for tree removal on their property.
MINDING YOUR BUSINESS
Stock futures point to more losses amid flood of earnings.
Judge affirms Monsanto weed-killer verdict, slashes damages.
How Trump tariffs affect Ford, GE, Harley Davidson earnings.
Midterms: How will they affect stocks?
Oil dips as Saudi Arabia pledges to play 'responsible role' in market.
Trump says 'major tax cut' on the way for middle class.
Barcade: A business model that offers something old, something new and something boozy.
Uber to deliver 'flying burgers' via drone as soon as 2021.
FOX NEWS OPINION
Jason Chaffetz: Let's stop electing the speaker of the House in secret.
Steve Hilton: Mr. Trump, you've promised 'severe punishment' over Jamal Khashoggi's death. How about this?
Nancy Brinker: All women need access to the best breast cancer technology, now.
HOLLYWOOD SQUARED
'Price is Right' icon Bob Barker rushed to hospital: report.
Amy Schumer takes aim at NFL advertisers, won't appear in Super Bowl ads.
'Wonder Woman' sequel shelved until summer 2020.
DID YOU HEAR ABOUT THIS?
Rare 'Go Mango' 1970 Dodge Charger 440 six-pack found in barn after owner passed away.
Dead Sea Scroll fragments discovered to be 'fakes' at the Museum of the Bible.
Bizarre, 185 million-year-old Jurassic-era mammal found with 38 babies.
STAY TUNED
FOX Nation is coming! - Sign up now and find out more about its exciting launch!
On Facebook:
Check out 'FOX News Update,' our new Facebook-exclusive news program!
On FOX News:

FOX & Friends, 6 a.m. ET: Special guests will include: "Angel Mom" Agnes Gibboney, whose son was killed by an illegal immigrant, has a message for the thousands of caravan migrants marching to the U.S. border. U.S. Rep. Mia Love, R-Utah, defends herself against a campaign contribution complaint. Does former President Obama deserve credit for today's booming economy? Larry Kudlow, director of the National Economic Council, sounds off.
On FOX Business:
Mornings with Maria, 6 a.m. ET: Special guests include: House Majority Leader Kevin McCarthy; Mercedes Schlapp, White House senior adviser for strategic communications; Eric Aanes, Titus Wealth Management president and founder; Jason Clark, San Francisco Republican Party chairman; Robert Jordan, former U.S. ambassador to Saudi Arabia under President George W. Bush.
Varney & Co., 9 a.m. ET: Mike Huckabee; Thomas Homan, former acting ICE director; Nigel Farage, former leader of the UK Independence Party; Art Laffer, former economist under President Reagan.
Cavuto: Coast to Coast, Noon ET: U.S. Rep. Dana Rohrabacher. R-Calif.
Making Money with Charles Payne, 2 p.m. ET: Anthony Scaramucci, former White House communications director and author of "Trump, the Blue Collar President"; Walid Phares, FOX News national security and foreign affairs analyst.
Countdown to the Closing Bell with Liz Claman, 3 p.m. ET: John Sculley, former Apple CEO and former PepsiCo president.
On FOX News Radio:
The FOX News Rundown podcast: With the midterm elections a little over two weeks away, the Democratic and Republican parties are pushing hard to get their messages out to voters. Donna Brazile, former chairwoman of the Democratic National Committee and co-author of "For Colored Girls Who Have Considered Politics," weighs in on Democrats' midterm chances. Typically someone's credit score is based mostly on payment history. But now the creator of the FICO credit score is rolling out a new system that factors in how we manage our money in the hopes of boosting the number of approvals for credit cards and personal loans. FOX Business Network's Gerri Willis and Ted Rossman with CreditCards.com, weigh in. Plus, commentary by "Media Buzz" host Howard Kurtz.
Want the FOX News Rundown sent straight to your mobile device? Subscribe through Apple Podcasts, Google Play, and Stitcher.
The Brian Kilmeade Show, 9 a.m. ET: Saudi Arabia and the killing of activist Jamal Khashoggi, the midterms and the looming showdown over the caravan of Central American migrants will be among the topics of debate with the following guests: Anthony Scaramucci; Allen West; Eric Dezenhall; Morgan Ortagus; Sara Carter; and Chris Stirewalt.
#OnThisDay

2008: Badgered by lawmakers on the House Oversight Committee, former Federal Reserve Chairman Alan Greenspan denies the nation's economic crisis was his fault but concedes the meltdown had revealed a flaw in a lifetime of economic thinking and left him in a "state of shocked disbelief."
2006: Former Enron CEO Jeffrey Skilling is sentenced by a federal judge in Houston to 24 years, four months for his role in the company's collapse. Eventually 10 years was cut off Skilling's prison sentence, and he was released to a halfway house in Aug. 2018.
1987: The U.S. Senate rejects, 58-42, the Supreme Court nomination of Robert H. Bork.
FOX News First is compiled by FOX News' Bryan Robinson. Thank you for joining us! Enjoy your day! We'll see you in your inbox first thing Wednesday morning.