Obama tells voters to 'remember who started' economic recovery at Nevada rally
Former President Barack Obama defended his record at a Las Vegas election rally Monday, telling Nevada Democrats to "remember who started" the country's economic recovery after the Great Recession and accusing President Trump of practicing "corrupt politics."
Obama came to Nevada to galvanize support for Rep. Jacky Rosen, who is locked in a tight race for the Senate against incumbent Dean Heller. The former president was also joined on stage by Democratic gubernatorial candidate Steve Sisolak, who is running against Republican state attorney general Adam Laxalt to replace term-limited GOP Gov. Brian Sandoval.
Obama, who won Nevada in 2008 and 2012, railed against the GOP tax law, efforts to repeal ObamaCare, Trump's attacks on the media, his treatment of Attorney General Jeff Sessions, the separations of immigrant families at the U.S.-Mexico border and Trump's claim to have turned the American economy around.
"When you hear all this talk about economic miracles right now, remember who started it. Remember who started it," Obama said. "I hope people notice that they run things into the ground and we have to come and clean things up."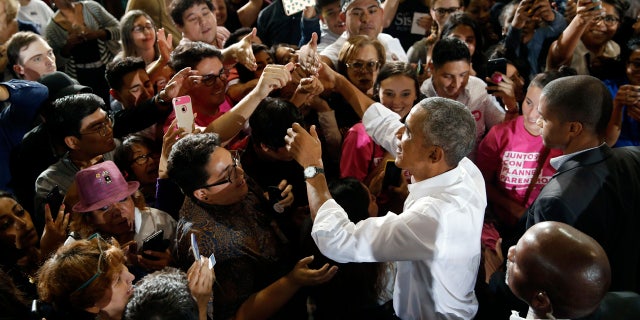 Despite Obama's repeated pointed criticism of Trump, the former president never mentioned his successor by name.
"Unlike some, I actually try to state facts," Obama said at one point. "I believe in facts. I believe in a fact-based reality. Fact-based politics. I don't believe in just making stuff up. I think you should actually say to people what's true."
He also took shots at Heller, whom some observers have called the most vulnerable incumbent in this year's Senate races despite never having lost an election over nearly three decades in public office.
"The current senator, he doesn't seem to be willing to stand up to [Trump]," Obama said. "He just goes along, even when you get a sense he knows it's not right."
TAILGATERS SET UP BEFORE TRUMP RALLY IN TEXAS
The rally at a University of Nevada, Las Vegas arena included specific appeals to young people and Latinos, key demographics who could boost Democrat numbers if they participate. The warm-up acts for Obama included hip-hop group Salt-N-Pepa and Colombian reggaeton star J Balvin and a speech from actress America Ferrera.
The former president has generally kept a low profile since leaving office and has been selective about campaigning for Democrats in this year's midterm elections.
Obama endorsed candidates up and down the ballot around the country, but in September he broke with the traditional deference that past presidents show successors and gave a sharp critique of Trump.
In subsequent appearances for Democrats in California, Ohio and Pennsylvania, he avoided a similar reproach and instead focused on urging people to vote.
TRUMP GIVES 'LYIN' TED CRUZ' NEW NICKNAMES
Though Obama used his speech Monday to say Republicans have been rolling back the progress his administration made, the GOP on Monday responded with an identical criticism of Obama and Democrats.
Keelie Broom, a spokeswoman for the Republican National Committee, said: "Nevada saw some of its darkest days as a result of relentless government overreach advanced by the Obama administration."
"We've made incredible strides thanks to President Trump and our GOP-led Congress, and it's insulting for Barack Obama to come out here and try to rally support for candidates like Jacky Rosen, Steve Sisolak, [U.S. House candidates] Susie Lee and Steven Horsford who will work to systematically dismantle the policies generating all of this progress."
The event followed visits over the weekend by former Vice President Joe Biden, who rallied with Democrats outside a union hall in Las Vegas, and a rally in the rural town of Elko by President Trump.
The Associated Press contributed to this report.