FOX NEWS FIRST: Mixed midterm results for Trump and both parties - but everyone's declaring victory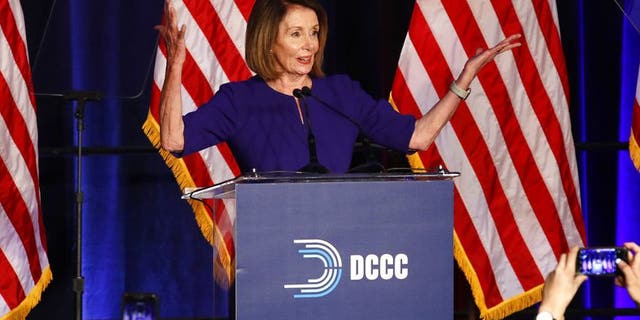 Welcome to FOX News First. Not signed up yet? Click here.
Developing now, Wednesday, Nov. 7, 2018
THE LEAD STORY - SPLIT DECISION: Democrats reclaimed control of the House of Representatives Tuesday night after eight years out of power, FOX News projects, dealing a major setback to President Trump's legislative agenda -- but Republicans were able to expand their narrow Senate majority and, with it, the ability to confirm crucial judicial nominees ... The split decision on Capitol Hill follows one of the most intense and chaotic midterm campaign seasons in recent memory, in which President Trump barnstormed the country for GOP candidates and powerful Democrats including predecessor Barack Obama did the same for the other side. For his part, Trump was able to help prevent a total Democratic takeover in Congress. In a boost for Trump, the GOP's continued hold on the Senate gives Republicans control over all critical federal judicial appointments, including nominations to the Supreme Court.
Republicans flipped a number of marquee Senate seats on Tuesday, with wins by Josh Hawley over Sen. Claire McCaskill in Missouri, Rep. Kevin Cramer over Sen. Heidi Heitkamp in North Dakota, Republican Gov. Rick Scott over longtime Sen. Bill Nelson in Florida, and Mike Braun over Joe Donnelly in Indiana. But the Democrats' win in the House gives fresh hope to liberals who want to investigate and perhaps even impeach the president. Democrats will also be able to halt many items on Trump's legislative agenda, border wall funding, and a new middle-class tax cut. The takeover in that chamber ensures a contentious next two years leading into the 2020 presidential elections. - Reported by Gregg Re (@gregg_re on Twitter)
'A TREMENDOUS SUCCESS': President Trump called Tuesday's midterm election results a "tremendous success," as the Republicans maintained their majority in the Senate but lost control of the House to the Democrats for the first time in eight years ... Trump, who watched the midterm election returns with family and friends at the White House on Tuesday evening, settled into a brief role as spectator, after months of campaigning for Republican congressional and gubernatorial candidates. - Reported by Brooke Singman (@brookefoxnews on Twitter)
PELOSI TOUTS 'NEW BEGINNING': U.S. Rep. Nancy Pelosi, D-Calif., said "tomorrow will be a new day in America" as Democrats won control of House in Tuesday's midterm elections ... Pelosi, the House minority leader who could once again become House speaker, said Democrats' victories in the House would "restore checks and balances" to the presidency, foreshadowing at least two years of legislative battles with President Trump. The president called Pelosi late Tuesday to congratulate her on Democrats' victories. - Reported by Bradford Betz (@bradford_betz on Twitter)
TRUMP BUMP DEFEATS OBAMA BOOST: Republican Ron DeSantis, a close Trump ally, defeated Democrat Andrew Gillum in the battle to be Florida's next governor, despite former President Obama's high-profile endorsement of Gillum is the final days of the campaign ... DeSantis, an Iraq War veteran, decorated military lawyer and former Florida congressman, defeated the Tallahassee mayor by a razor-thin margin Tuesday night, with the two candidates neck-and-neck in the heated contest for the majority of the evening. Gillum fell short in his bid to become Florida's first African-American governor.
In Georgia, Republican Brian Kemp and Democrat Stacey Abrams were still battling in one of the most hotly contested and contentious gubernatorial races of the 2018 midterm elections ... As of Wednesday morning, the race was too close to call, according to FOX News' latest projections, with Kemp having the edge. Abrams and her campaign said there were enough ballots outstanding, particularly absentee ballots in heavily Democratic metro Atlanta counties, to bring the Republican below the majority threshold required for victory. Kemp and Abrams are hoping to escape a potential overtime run.
If neither candidate earns more than 50 percent of the vote, then they will head for a Dec. 4 runoff — the first general-election gubernatorial runoff in the state's history. Libertarian Party candidate Ted Metz could increase the likelihood of that happening if he peels away enough voters from Kemp and Abrams. In a speech to supporters early Wednesday morning, Abrams demanded that all the votes be counted and implied a runoff is likely, saying voters will get a "do-over." - Reported by Brooke Singman and Jennifer Earl (@jenearlyspeakin on Twitter.)
RECOUNT IN WISCONSIN? - Democrat Tony Evers has defeated Wisconsin Gov. Scott Walker, the Associated Press projected, apparently denying the controversial governor and one-time presidential candidate a third term ... But Walker is not conceding defeat, He appeared to lose by just over 1 percentage point with Evers earning roughly 29,000 more votes than his Republican opponent, according to unofficial results. State law permits recounts only if the losing candidate is within 1 percentage point. Walker campaign spokesman Brian Reisinger says "We need the official canvass and for military ballots to be counted before any decision can be made." Just before the race was called for Evers, Lt. Gov. Rebecca Kleefisch told supporters to prepare for a "long, drawn-out recount." Evers' win would be a huge victory for Democrats, who couldn't find the recipe to take out Walker in three previous elections, including a 2012 recall. - Reported by Matt Finn and Frank Miles
DRAMA IN TEXAS AND ARIZONA: Sen. Ted Cruz, R-Texas, was projected to narrowly win a second term Tuesday by defeating Democratic challenger Beto O'Rourke, who became a national media sensation during the campaign and benefited from an outpouring of outside donations and spending ... "God bless Texas!" a jubilant Cruz told supporters at his victory party in Houston. "Ted Cruz knows how to get the job done for Texans and tonight's victory shows voters trust him to put their values first," National Republican Senatorial Committee Chairman Cory Gardner said in a statement. "Senator Cruz has been an unfailing champion for secure borders, a prosperous economy and the American rule of law, and we congratulate him on his reelection."
Democratic hopes for an improbable upset had been raised by unusually high early voting numbers. Nearly 4.9 million people voted in Texas' 30 largest counties during the early-voting period, surpassing the total number of votes cast throughout the state in the last midterm election, according to the secretary of state's office.
Meanwhile, in Arizona, the Senate race between Reps. Martha McSally, a Republican, and Kyrsten Sinema, a Democrat, remained too close to call. The seat was left open after Sen. Jeff Flake, a Republican openly critical of Trump, announced his retirement. McSally, the first U.S. female fighter pilot ever to see combat, received support from the highest levels of the Republican Party, including President Trump who campaigned with her in the Grand Canyon State. Arizona Gov. Doug Ducey, who was projected to win his re-election Tuesday, and Cindy McCain, wife of the late Arizona Sen. John McCain, also campaigned with McSally.
Sinema, on the other hand, opted out of campaigning with high-profile Democrats throughout the campaign. She attempted to paint herself as a more moderate Democrat and noted she even supported the president on some issues, including backing his $1.3 billion spending bill earlier this year. She's reportedly voted in-line with Trump more than 62 percent of the time. - Reported by Samuel Chamberlain and Kaitlyn Schallhorn (@K_Schallhorn on Twitter)
A HISTORIC NIGHT: Many candidates made national history with their midterm election victories Tuesday night ... In Colorado, Democratic Rep. Jared Polis became the first openly gay man to win a gubernatorial race in the United States. U.S. Rep. Marsha Blackburn won her Senate race, becoming the first woman elected to the Senate from Tennessee. Liberal darling Alexandria Ocasio-Cortez beat Republican Anthony Pappas Tuesday night in New York's 14th Congressional District. At 29 years old, she is the youngest female elected to Congress. Ocasio-Cortez rose to national prominence when she defeated longtime Rep. Joe Crowley in the Democratic primary earlier this year. Democratic businessman J.B. Pritzker defeated incumbent Illinois Gov. Bruce Rauner, a Republican, becoming the wealthiest governor in U.S. history. - Reported by Kaitlyn Schallhorn, Samuel Chamberlain and Brooke Singman
AS SEEN ON FOX NEWS
THE KAVANAUGH FACTOR - "The reason we won is, I think, [Justice Brett] Kavanaugh united our party, the caravan was a front to our sovereignty, the economy was good and President Trump worked his butt off to get out the Republican base vote," –U.S. Sen. Lindsey Graham, R-S.C., on why he believes Republicans were the real winners in the midterm elections. WATCH
2018 MIDTERMS
Dem Gavin Newsom elected California governor.
Keith Ellison elected Minnesota attorney general despite domestic abuse allegations.
GOP's DeWine claims victory in Ohio governor's race, seen as important victory for party.
Midterm ballot measures: Massachusetts passes measure upholding transgender rights law.
Midterms and minimum wage: Arkansas, Missouri approve pay hikes.
FOX News Full Coverage: 2018 Midterms Election Results.
TRENDING
Injured ex-Navy SEAL mocked on'SNL,' gets last laugh, elected to Congress.
Dog abandoned on beach finds forever home.
Miller Lite releases 'ugly sweater' for 2018 holidays.
ACROSS THE NATION
Colorado man charged in murder of pregnant wife and daughters enters guilty plea.
Girl Scouts' lawsuit accuses Boy Scouts of trademark infringement.
Texas couple accused of buying $45G worth of rifles for someone in Mexico: report.
MINDING YOUR BUSINESS
U.S. stock futures rise as Republicans keep Senate, Democrats win House.
Midterms and gun control: NRA candidate ratings.
Maxine Waters will 'grind down' Trump's deregulatory efforts: U.S. Rep. Jeb Hensarling.
Amazon delivering first holiday toy catalog to millions
NFL's Miami Dolphins push Florida voters to 'protect' sports betting rights.
An inside look at the cities that will reportedly split Amazon's second headquarters.
Nike seeks to dismiss class-action gender pay discrimination suit.
MGM, Caesars exploring merger: Report.
HOLLYWOOD SQUARED
Comedian Paul Rodriguez says he 'agrees with a lot of things' Trump has 'done.'
Alec Baldwin demoted to Saturday by ABC amid arrest, low ratings.
Jon Stewart talks gun control, says America's 'not going to f---ing do anything' after synagogue shooting.
DID YOU HEAR ABOUT THIS?
Dirty jokes in latrine mosaics entertained Ancient Romans.
Researchers want to use lasers to contact aliens and help bring them to Earth.
A gurgling mud pool is creeping across Southern California like a geologic poltergeist.
STAY TUNED
FOX Nation is coming! - Sign up now and find out more about its exciting launch on Nov. 27!
DETAILS: How to sign up now to become a FOX Nation Founding Member!
On Facebook:
Check out 'FOX News Update,' our Facebook-exclusive news program!
On FOX News:

Stay with FOX News all day for live coverage and analysis of the midterm election results on all platforms.
On FOX Business:
Mornings with Maria, 6 a.m. ET: Special guests include: Mark Penn, former senior adviser to the Clintons; pollster Frank Luntz; Anthony Scaramucci, former White House communications director; Richard Daly, Broadridge CEO; Sean Spicer, former White House press secretary under President Trump; Joe Lieberman, former U.S. senator from Connecticut and Democratic VP nominee.
Varney & Co., 9 a.m. ET: RNC spokeswoman Kayleigh McEnany; Alberto Gonzales, former U.S. attorney general; U.S. Rep. Jason Smith, R-Mo.; U.S. Rep. Jim Jordan, R-Ohio; Brad Blakeman, former deputy assistant to President George W. Bush.
Cavuto: Coast to Coast, Noon ET: Bob Wright, former chairman and CEO of NBC Universal; Scott McNealy, co-founder of Sun Microsystems.
Countdown to the Closing Bell with Liz Claman, 3 p.m. ET: Gerry Smith, Office Depot CEO; Blake Moret, Rockwell Automation CEO.
After the Bell with Melissa Francis and Connell McShane, 4 p.m. ET: Art Laffer, former economic adviser to President Reagan; Robert Wolf, founder and CEO of 32 Advisors.
On FOX News Radio:
The FOX News Rundown podcast: In the morning after the highly anticipated and contested midterm elections, FOX News' Tom Graham speaks to the FOX reporters who covered the key races. With the midterm elections over, will there be a shake-up in the Trump administration? Former White House press secretary Sean Spicer weighs in.
Plus, commentary by Deroy Murdock, Fox News contributor and contributing editor with National Review Online.
Want the FOX News Rundown sent straight to your mobile device? Subscribe through Apple Podcasts, Google Play, and Stitcher.
The Brian Kilmeade Show, 9 a.m. ET: Fallout from the midterm elections with the following guests: Karl Rove, Jason Chaffetz and Martha MacCallum.
#OnThisDay

1991: Magic Johnson announces that he has tested positive for HIV, and is retiring as a player from the NBA. (Despite his HIV status, Johnson has been able to live with the deadly disease with the best medical care.)
1944: President Franklin D. Roosevelt wins an unprecedented fourth term in office, defeating Republican Thomas E. Dewey.
1874: The Republican Party is symbolized as an elephant in a cartoon drawn by Thomas Nast in Harper's Weekly.
FOX News First is compiled by FOX News' Bryan Robinson. Thank you for joining us! Enjoy your day! We'll see you in your inbox first thing Thursday morning.