Arizona Gov. Doug Ducey wins second term, defeating Democrat David Garcia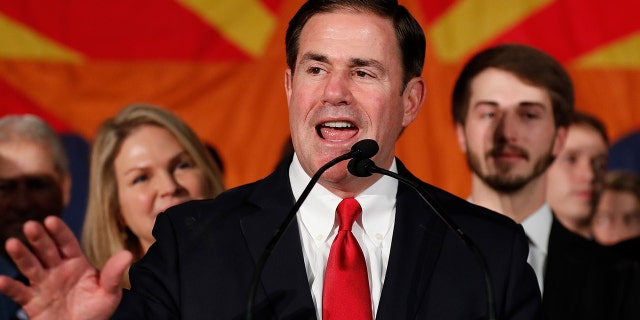 Republican Gov. Doug Ducey of Arizona defeated Democrat David Garcia on Tuesday night to earn a second term.
Ducey held a commanding lead over Garcia, with roughly 58 percent of the vote in, Fox News reported. His victory comes with little surprise, as polls in recent weeks heavily favored the incumbent.
The former Cold Stone Creamery CEO-turned-politician focused his re-election campaign on boosting what he called a "stagnant economy," according to the Phoenix New Times, as well as issues over the state's education funding -- which came to head in April as thousands of teachers staged #RedForEd walkouts.
The six-day strike ended after Ducey -- who was criticized by Arizona Education Association President Joe Thomas, an organizer of the strike, for largely ignoring the teachers' demands -- agreed to sign a plan that will give educators an overall 20 percent raise over four years.
Teachers were awarded a 9 percent raise for the fall and 5 percent in each of the next two years — increases that come in addition to a 1 percent raise granted last year.
In his victory speech Tuesday night, Ducey called for "putting the campaign behind us and letting politics stand down," according to the Times.
In Arizona, the contentious U.S. Senate race between Republican Rep. Martha McSally and Democratic Rep. Kyrsten Sinema took much of the national spotlight, leaving Garcia with significantly less campaign funding from Democratic groups, the Times noted.
Garcia was banking on support from leaders of the #RedForEd movement, as well as a strong turnout in new voters and the minority population, the paper reported.
"Tonight we fell short," Garcia said after his defeat, according to the Times. "We're still going to celebrate, because this is just the beginning. And fighting to continue. It must continue. Because deep in my heart, I know we will win."
As polls across the nation closed Tuesday night, Democrats were able to reclaim control of the House of Representatives after eight years out of power, while Republicans were able to expand their narrow Senate majority.