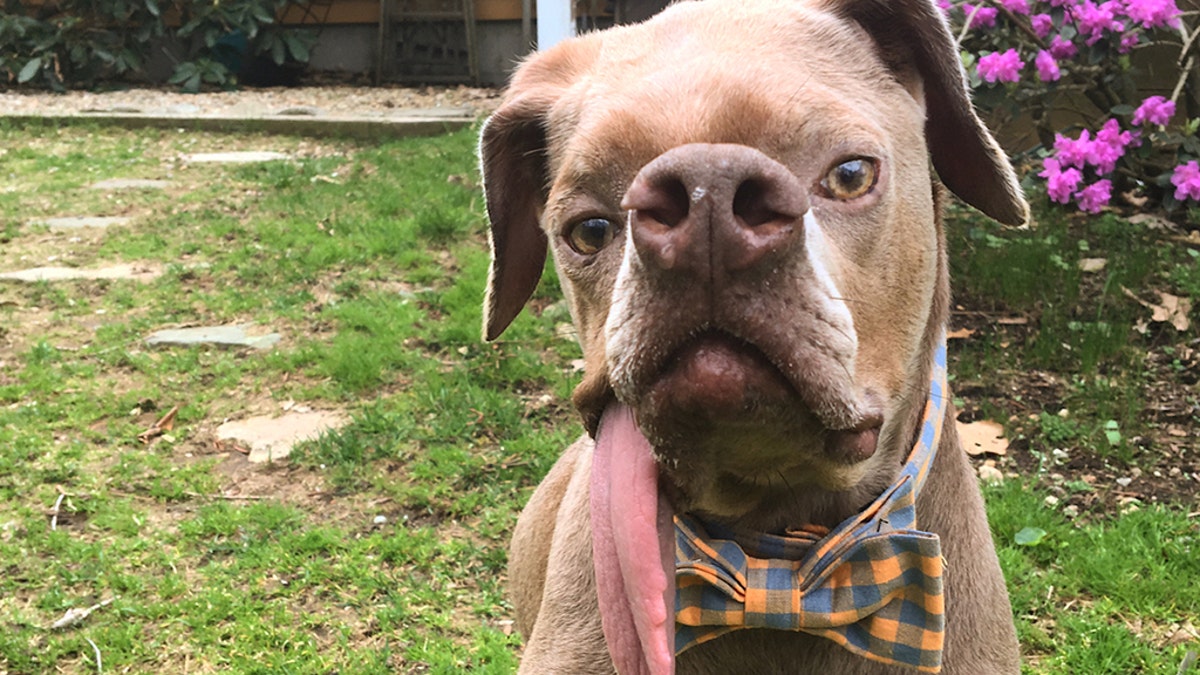 Murray the Weimaraner's unusual looks has found him a forever home who loves him for him.
Murray was born in Puerto Rico, where he contracted distemper and was abandoned on Dead Dog Beach — a beach on the southeastern coast where hundreds of animals are left for dead every year.
DOG-FRIENDLY TEXAS RESTAURANT HIRING 'PUPTERN' TO PET PUPPIES FOR $100 AN HOUR
The deadly distemper virus, which can kill animals by destroying the nervous and respiratory systems, left him toothless, unable to keep his tongue in his mouth and with a disfigured head. But it did not kill him.
Eventually, Murray was rescued from the beach by the charity organization The Sato Project and was brought to the United States to be adopted.
However, Murray's story nearly ended before he made it to the United States when a veterinarian was scheduled to euthanize the special pup, but decided against it because he started wagging his tail moments before the lethal injection.
HUNTER SHOT IN BACK BY HIS BELOVED DOG
After Murray was saved a second time from death, the Gallant family met the deformed pup and fell in love.
"The signature tongue out is just the cutest thing, and his crooked features, if you look at his face closely you notice his ears aren't aligned right on his head. His quirks make him even cuter and more special," Mackenzie Gallant said to Barcroft Media.
Murray was first fostered by the family and brought to Massachusetts. The Gallants eventually adopted Murray and created a thriving Instagram for him to help raise awareness for rescue dogs and The Sato Project.
FOLLOW US ON FACEBOOK FOR MORE FOX LIFESTYLE NEWS
"We made his Instagram when I left for college for friends and family to follow but over the past year he has gained a lot of followers and helped raise awareness of rescue dogs, The Sato Project and distemper," Mackenzie told Barcroft.
The Sato Project is dedicated to rescuing abused and abandoned dogs from Puerto Rico's Yabucoa municipality, according to their website.