Texas couple accused of buying $45G worth of rifles for someone in Mexico: report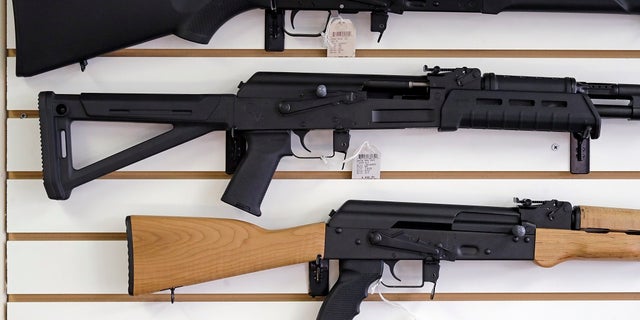 A Texas couple acted as straw buyers for someone in Mexico by purchasing several high-dollar rifles and attempting to send them across the border, court documents said.
Francisco Sevilla-Alvarez and his wife Perla Franco-Hernandez are accused of purchasing $45,000 worth of rifles and a silencer in October for an unidentified individual in Mexico, the Fort Worth Star-Telegram reported.
The couple lives in Presidio, a border town in Texas, and purchased the rifles from a dealer more than 500 miles northeast in Mineral Wells, the report said. The alleged plan was to contact a person in Mexico and drop the rifles off at specific locations. The weapons would be picked up and taken across the border, according to court documents.
Franco-Hernandez allegedly said during an interview with authorities that someone in Mexico gave them the money for the purchases.
Bags of money were left for the couple in Presidio for her to pick up, the report said. In other instances, Sevilla-Alvarez would allegedly leave his vehicle unlocked and someone would leave cash inside.
Sevilla-Alvarez allegedly told authorities he dropped a rifle off in the city at least once, the paper reported. They are charged with making false statements to a firearms dealer and purchasing firearms for another individual.
Sevilla-Alavarez is a legal permanent resident while Franco-Hernandez is a naturalized U.S. citizen, the report said. During the alleged purchases, Franco-Hernandez filled out the paperwork because her husband could not pass a background check.
He had previously been denied the first time they tried buying a firearm, according to the paper. It was not clear why he could not pass a background check. The dealer didn't have the rifles in stock at the time, but placed an order after the couple paid, authorities said.
When they returned on Oct. 31 to retrieve one of the rifles, they were approached by agents with the Bureau of Alcohol, Tobacco, Firearms and Explosives.