Jon Stewart talks gun control, says America's 'not going to f---ing do anything' after synagogue shooting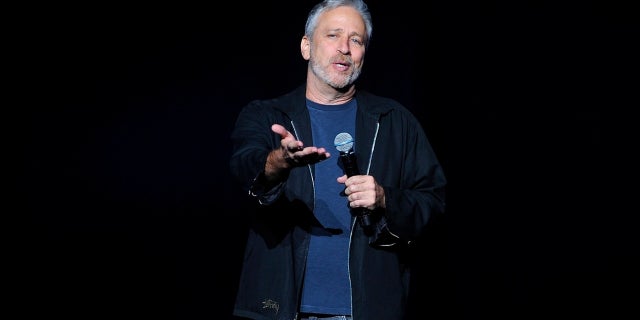 Jon Stewart discussed gun control on the eve of the midterm elections and said America's "not going to f---ing do anything" following the shooting at a Pittsburgh synagogue that left 11 people dead.
Stewart, 55, performed at the Stand Up for Heroes benefit show in New York City, where he spoke to an audience that included service members. Stand Up for Heroes was co-presented by the Bob Woodruff Foundation, which raises money for wounded veterans.
"I'm so glad you're here," Stewart told the service members, according to the Daily Beast. "I thought you'd be at the border," he joked, a reference to President Trump sending troops to the U.S.-Mexico border.
BRUCE SPRINGSTEEN, JON STEWART AND MORE TURN UP FOR MILITARY VETERANS BENEFIT AHEAD OF MIDTERMS
The former "Daily Show" host admitted he doesn't watch the news as much anymore but felt "we're in a terrible situation in the world."
"Donald Trump has been president forever. He's never not been president," Stewart said of Trump.
The comedian then spoke about gun control, saying he felt nothing would change after a gunman opened fire at the Tree of Life synagogue in Pittsburgh last month.
"I don't know what we're going to do, man," Stewart told the audience, according to USA Today. "Remember after the shooting? You know, not the one two weeks ago or the one two weeks before that. And not the one three days ago. Anyway, we're not going to f---ing do anything. I don't understand why we're not doing anything."
CHER ON TRUMP, MIDTERM ELECTIONS: 'I DON'T UNDERSTAND HOW WE'RE AMERICA ANYMORE'
"If other people kill us, we will make (soldiers) go to their place forever. That's basically how Americans learn geography now," he said. "But if we kill each other, we do nothing."
Other comedians and celebrities at the event included Seth Meyers, Jim Gaffigan and singer Bruce Springsteen.
The Bob Woodruff Foundation is named for the veteran ABC News anchor, who was injured while working in Iraq in 2006. The organization raised over $5.4 million at the event and was held at the 6,000-seat Hulu Theater at Madison Square Garden.
Fox News' Tyler McCarthy contributed to this report.