Walker is not conceding defeat to Democrat Tony Evers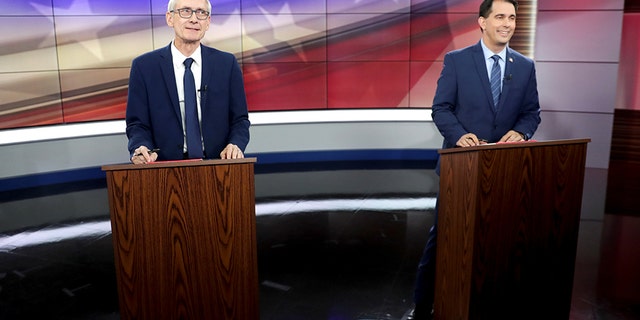 Democrat Tony Evers defeated Republican Wisconsin Gov. Scott Walker in the state's gubernatorial race, The Associated Press projected early Wednesday.
Walker, who is not conceding defeat, lost by just over 1 percentage point with Evers earning roughly 29,000 more votes than his Republican opponent, according to unofficial results. State law only permits recounts if the losing candidates are within 1 percentage point.
Walker campaign spokesman Brian Reisinger says "we need the official canvass and for military ballots to be counted before any decision can be made."
Just before the race was called for Evers, Lt. Gov. Rebecca Kleefisch told supporters to prepare for a "long, drawn-out recount."
Walker, who unsuccessfully sought the presidency as a Republican in 2016, went into the race with a strong state economy, a national profile and a streak of three consecutive electoral victories under his belt.
However, Evers had argued Walker already deprived the people of Wisconsin $1 billion in ObamaCare funding, and if elected again would cut preexisting coverage by ending ObamaCare. Walker had argued he had always supported preexisting conditions, and would be willing to replicate the wording of preexisting coverage from ObamaCare into Wisconsin state law.
Early voting had hit historic highs in Wisconsin, with 565,000 early votes as of Tuesday morning.
CLICK HERE FOR FULL FOX NEWS MIDTERM RESULTS
Walker authorized Wisconsin Attorney General Brad Schimel to join with 19 other states in a lawsuit that has sought to overturn former President Barack Obama's Affordable Care Act, which provides federal protections for some people with pre-existing conditions.
If the lawsuit is successful it would leave those with pre-existing conditions in limbo until new laws are passed.
Walker has said if the law is nixed, he would call a special session of the state legislature to pass a bill "in a heartbeat" that would protect pre-existing condition coverage but it's unclear if the votes would be there.
An estimated 850,000 people in Wisconsin under the age of 65 have a pre-existing condition, according to a study by the nonpartisan Kaiser Family Foundation. Only a portion of those people would be affected if the health care law were ruled unconstitutional.
Nationally the issue of health care became a political issue between parties.
This election was a test as to whether the state — which also has a GOP legislature — is shifting from purple to red for the long haul. Two years ago, Donald Trump became the first Republican presidential candidate since Ronald Reagan in 1984 to carry Wisconsin. During his tenure, Walker helped strengthen the state GOP, expanding the state legislative majority and flipping two blue congressional districts red. However, in January, a Democrat won a special election for a state Senate seat that the GOP held for 17 years. Then, in April, a liberal judge won a seat on the Wisconsin Supreme Court. This led Walker to warn in a tweet about a "blue wave" fueled by "outside special interest money."
The Associated Press contributed to this report.