FOX NEWS FIRST: Anger simmering in Florida over recount; Rumors about another Trump shakeup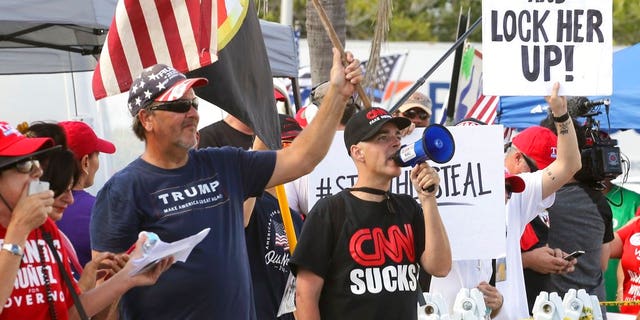 Welcome to FOX News First. Not signed up yet? Click here.

Developing now, Tuesday, Nov. 13, 2018
A judge has ordered both sides in the Florida recount battle to 'ramp down the rhetoric' amid allegations, echoed by President Trump, of fraud and corruption
A federal judge has ruled the state must review the provisional ballots in the tight Georgia gubernatorial race
Republican Martha McSally conceded the U.S. Senate race in Arizona to Democrat Kyrsten Sinema Monday night, making Sinema the state's first elected Democratic U.S. senator since 1976
The death toll in Northern California's wildfire has risen to 42, making it the state's deadliest fire
President Trump is considering removing Kirstjen Nielsen as Homeland Security Secretary, according to one report
Amazon could announce as soon as Tuesday that New York City and Northern Virginia will be the homes for their new, additional headquarters
Fans and luminaries worldwide are remembering Stan Lee as a pop culture icon. The legendary creator of many of Marvel's favorite superheroes died Monday at age 95.
THE LEAD STORY - PUBLIC CONFIDENCE CRISIS IN FLORIDA? - A judge on Monday urged opposing sides in the Florida recount struggle to ease their rhetoric, saying it is eroding the public's confidence in the state's election for the U.S. Senate and governor ... Arguably, both sides may agree the public's confidence in Florida's election system was shaken long before the current recount controversy. "An honest vote count is no longer possible," President Trump said Monday, as he and other Republicans alleged the fraud and illegal activity have taken place in Florida since the polls in the midterms closed last week. Law enforcement officials and state monitors have found no evidence of wrongdoing, but anger is festering in Florida.
The Senate race is perhaps the most contentious. Republican challenger Gov. Rick Scott declared victory on election night, but incumbent Democrat Bill Nelson never conceded the race. According to the Florida Division of Elections' website, total votes show Scott with 50.07 percent of the ballots counted to Nelson's 49.92 percent. In the governor's race, unofficial results show that Republican former Rep. Ron DeSantis led Democratic Tallahassee Mayor Andrew Gillum by 0.41 percentage points.
By mid-afternoon Monday, Miami-Dade was about halfway through their recount process while Broward had not started. Much of the blame fell on the shoulders of Broward County Elections Supervisor Brenda Snipes, who has a history of election missteps that even her supporters labeled amateurish at best.
Protesters carried signs that read, "Corrupt Snipes!!! Lock Her Up!," "Busted Brenda."- Reported by Barnini Chakraborty (@Barnini on Twitter)
BATTLE IN GEORGIA UNTIL THE BITTER END: A federal judge ruled that Georgia must count provisional ballots and delay the state's certification until the votes are tallied, her campaign said on Twitter ... Lauren Groh-Wargo, Abrams campaign manager, announced Judge Amy Totenberg's decision late Monday. WSBTV.com reported that the judge's 56-page ruling could affect thousands of provisional ballots. Brian Kemp, her Republican challenger, issued a statement a day earlier calling for Abrams to concede. Kemp has declared victory and said it is "mathematically impossible" for her campaign to force a runoff. Abrams, 44, a Democrat, has maintained that she will not concede until every vote has been counted, and pointed to the 5,000 votes tallied over the weekend that favored her. - Reported by Edmund DeMarche (@EDeMarche on Twitter)
A WINNER IN ARIZONA: Republican U.S. Rep. Martha McSally conceded Arizona's U.S. Senate race to Democratic Congresswoman Kyrsten Sinema on Monday after the latest vote count showed McSally trailing by more than 38,000 votes out of more than 2.2 million ballots cast ... "Congrats to @kyrstensinema. I wish her success," McSally tweeted from her official campaign account. "I'm grateful to all those who supported me in this journey. I'm inspired by Arizonans' spirit and our state's best days are ahead of us." Sinema's victory means that Democrats have flipped the seat previously held by retiring Republican Sen. Jeff Flake. Democrats now have 47 Senate seats, while Republicans have 51. The final makeup of the Senate will be determined following a recount in Florida and a Nov. 27 runoff election in Mississippi. - Reported by Samuel Chamberlain (@SChamberlainFOX on Twitter)
BODY COUNT EXPECTED TO RISE IN CALIFORNIA: The death toll for the wildfires burning in northern California's Camp Fire rose to 42 people Monday night, making it the deadliest wildfire ever in the state, officials said ... Authorities announced that 13 more bodies were found during searches on Monday. The death toll is expected to continue to rise. The grim news came after President Trump approved a "major disaster declaration" in the Golden State. - Reported by Frank Miles
TRUMP LOOKING FOR A NEW HOMELAND SECURITY SECRETARY? - President Trump is making prepations to remove Kirstjen Nielsen as Homeland Security secretary, the Washington Post has reported .... According to the Post, current and former White House officials say Trump has been unhappy with Nielsen's enforcement of immigrant policies and that her departure from the administration could come in the coming weeks. However, FOX News' John Roberts, as reported on "FOX News@Night" on Monday, says there have been conflicting reports about the president's level of happiness with Nielsen and that a source says her departure is not likely imminent. However, she could make a move by the end of the year.
DRUM-ROLL, PLEASE, FOR AMAZON: Amazon has made its choices. New York City and Northern Virginia will be the homes for the e-commerce giant's second and third headquarters, according to Dow Jones Newswires ... The announcement is expected as soon as Tuesday. The announcement will end a yearlong contest that started with 238 candidates and ended with a surprise split of what is referred to as HQ2. The second headquarters is expected to be split evenly between Long Island City, which is in the New York City borough of Queens, and Arlington County's Crystal City neighborhoods. - Reported by Ken Martin
REMEMBERING STAN LEE ... EXCELSIOR! - Dubbed a "great storyteller," Stan Lee is credited with the creation of many beloved Marvel superheroes. His death at 95 years old stunned the world Monday ... As the top writer at Marvel Comics and later as its publisher, he revived the industry in the 1960s by offering the costumes and action craved by younger readers while insisting on sophisticated plots, college-level dialogue, satire, science fiction, even philosophy. He brought to life many characters, including Spider-Man, Black Panther, The Avengers and X-Men. Comics writer Gerry Duggan said he was thankful for Lee's "many collaborations & [his] immeasurable kindness." "We have lost Stan Lee, one of our great story-tellers. A writer and imaginer who created whole universes," said author R.L. Stine. - Reported by Kaitlyn Schallhorn (@K_Schallhorn on Twitter)

-------------------------------------------------------------------------------------------------------------------
Consider yourself an Influencer? Become a trusted adviser in our FOX News community and help guide our brand's future. Click here to find out how.

Members of FOX News Influencers:
Have the opportunity to be heard
Be part of a special network of peers
Get to influence new ideas and initiatives 
Receive updates on what we've learned and how your input has made impact 
Fill out our qualification survey and join us. Thank you for your continued support in our company's growth
------------------------------------------------------------------------------------------------------------------
AS SEEN ON FOX NEWS
HILLARY'S 2020 VISION - "I think this is harassment, at this point, of the American voter." – Lawrence Jones, editor-in-chief of CampusReform.org, on "The Five," sounding off on reports that Hillary Clinton is likely make a third run for the presidency in 2020. WATCH

TRENDING
Texas Board of Education considers eliminating Hillary Clinton, Helen Keller from curriculum.
Fred Flintstone 'foot mobile' jokingly seized by Florida police.
Woman's divorce ends in explosion of wedding dress felt '15 miles away.'

THE SWAMP
Former Infowars editor Jerome Corsi says he expects Mueller indictment soon.
Defeated GOP lawmaker blames John McCain for Dem House takeover.
Dozens of Dems mulling White House campaigns, as wide-open 2020 contest ramps up.
ACROSS THE NATION
Gunman on the loose after shooting three people at Albuquerque business: cops.
Catholic bishops delay votes on steps to combat sexual abuse crisis.
El Chapo's billion-dollar Sinaloa cartel carries on without him.
MINDING YOUR BUSINESS
FOX Business Network announces new weekly show with Wall Street Journal's Gerry Baker.
GE scrambles to reorganize as Blackstone eyes assets.
Apple, Goldman Sachs push Dow down 600 points.
China trade deal jeopardizes stock market, portfolio manager says.
Permanent tax cuts for middle class becoming more doubtful.
DOJ could probe Comcast as pressure mounts over alleged antitrust violations.
Oil falls after Trump calls on OPEC not to cut supply.
FOX NEWS OPINION
Rep. Andy Biggs: A Republican agenda to prevent Democrats taking a wrecking ball to America's progress.
Is Pence a keeper? He'd be a big asset to Trump heading into 2020 campaign.
Gutfeld: There were three winners in Dan Crenshaw's triumphant appearance on 'SNL.'
HOLLYWOOD SQUARED
James Woods uses Twitter to support California wildfire victims, calls on Hollywood stars to stop 'trolling' and help.
Alex Trebek: #MeToo movement is a 'scary time for men'.'
CMA Awards: Luke Bryan, Carly Pearce and more share their favorite memories.
DID YOU HEAR ABOUT THIS?
Americans' dream job would pay this much.
Elephants have bad news for poachers: We evolved.
Enormous solar storm caused hidden U.S. bombs to detonate during the Vietnam War.
STAY TUNED
FOX Nation is coming! - Sign up now and find out more about its exciting launch on Nov. 27!
DETAILS: How to sign up now to become a FOX Nation Founding Member!

On Facebook:
Check out 'FOX News Update,' our Facebook-exclusive news program!
On FOX News:

FOX & Friends, 6 a.m. ET: Special guests: Meet the voter who says Broward County stole his vote and elections supervisor Brenda Snipes helped cover it up. Plus, insight from former "Dirty Jobs" host Mike Rowe and his mom Peggy
Hannity, 9 p.m. ET: Special guests include U.S. Sen. Marco Rubio.
On FOX Business:
Mornings with Maria, 6 a.m. ET: Special guests include: Dennis Muilenburg, president, chairman and CEO of Boeing; Kim Caughey Forrest, Fort Pitt Capital Group partner and vice president; Ron Coughlin, Petco CEO; U.S. Rep.-elect Michael Waltz, R-Fla.; Dr. John Noseworthy, CEO of the Mayo Clinic; House Majority Whip Steve Scalise on his new book, "Back in the Game."
Varney & Co., 9 a.m. ET: Sean Spicer, former White House press secretary under President Trump; Mike Huckabee; Steve Hilton, host of "The Next Revolution"; U.S. Rep. Keith Rothfus, R-Pa.
Cavuto: Coast to Coast, Noon ET: Rep. Chris Stewart, R-Utah; Gray Davis, former governor of California.
Countdown to the Closing Bell with Liz Claman, 3 p.m. ET: Lenise Soren, Malibu Chamber of Commerce chair; Chip Davis, CEO and president of the Association for Accessible Medicines; Marc Goldwein, senior vice president and senior policy director of the Committee for a Responsible Federal Budget; Paul Winfree, Heritage Foundation economic policy studies director.
On FOX News Radio:
The FOX News Rundown podcast: A week after midterm elections, some major races remain undecided, most notably in Florida, where recounts are underway for both the U.S. Senate and governors races. Katherine Harris, the former secretary of state of Florida, looks back on the Sunshine State's long history with election controversies.
President Trump says much was accomplished during his visit to France this past weekend, while his critics say his view on nationalism has isolated him from foreign leaders. Simon Owen, FOX News Radio's foreign correspondent, discusses how world leaders reacted to the president's nationalist stance. Plus, commentary by the host of "The Tom Shillue Show," Tom Shillue.
Want the FOX News Rundown sent straight to your mobile device? Subscribe through Apple Podcasts, Google Play, and Stitcher.
The Brian Kilmeade Show, 9 a.m. ET: U.S. Rep. Adam Kinzinger, R-Ill. on President Trump and nationalism, ongoing fallout from the midterms and North Korea; Chris Stirewalt on the top news items of the day; House Majority Whip Steve Scalise on his new book, "Back in the Game"; Mike Row and his mother Peggy discuss their new book, "About My Mother."

#OnThisDay

2000: Lawyers for George W. Bush fail to win a court order barring manual recounts of ballots in Florida. Florida Secretary of State Katherine Harris announces she would end the recounting at 5 p.m. ET the next day, prompting an immediate appeal by lawyers for Al Gore.
1982: The Vietnam Veterans Memorial is dedicated on the National Mall in Washington, D.C.
1789: Benjamin Franklin writes in a letter to a friend, Jean-Baptiste Leroy: "In this world nothing can be said to be certain, except death and taxes."
FOX News First is compiled by FOX News' Bryan Robinson. Thank you for joining us! Enjoy your day! We'll see you in your inbox first thing Wednesday morning.