Fred Flintstone 'foot mobile' jokingly seized by Florida police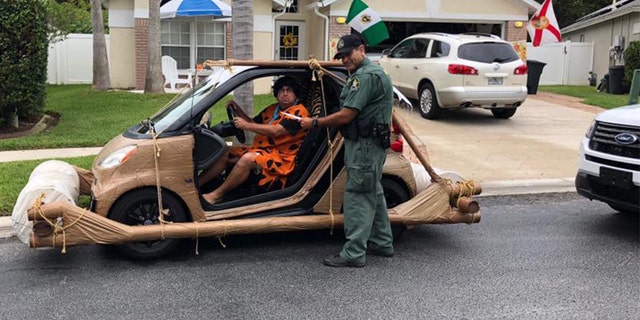 A Florida man had a "yabba-dabba-doo" time earlier this month when he was pulled over by police as part of a mock arrest and vehicle seizure.
Don Swartz, dressed as Fred Flintstone, was stopped while sporting a full Flintstone costume. He was driving what appeared to be a smart car redesigned to mimic the foot mobile from the classic TV cartoon.
"On Sunday, November 4, Deputy H. Echevarria pulled over a Mr. Fred Flintstone (AKA Don Swartz) for speeding in the Meadow Bedrock Pointe Subdivision in Wesley Chapel," the Pasco Sheriff's Office wrote on Facebook.
"Mr. Flintstone was issued a citation for speed and became unruly and had to be detained," the department wrote. "After further investigation, Mr. Flintstone was issued a Notice To Appear and released. Deputy Echevarria then seized the vehicle which is now part of the PSO fleet. This is what Intelligence-Led Policing looked like in the stone age."