Defeated GOP lawmaker blames John McCain for Dem House takeover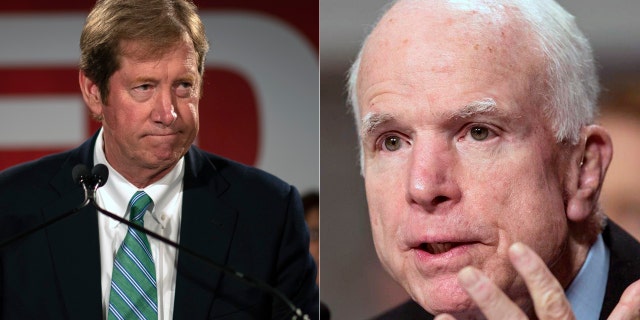 A Republican congressman who lost his bid for re-election last week took to the op-ed pages of The Wall Street Journal last weekend to blame the Democratic takeover of the House of Representatives on the late Sen. John McCain.
"The Republican Party lost its House majority on July 28, 2017, when Sen. John McCain ended the party's seven-year quest to repeal ObamaCare," Rep. Jason Lewis, R-Minn., wrote to open his piece, which went on to describe McCain's vote as "inscrutable." He added that McCain's vote "prompted a 'green wave' of liberal special-interest money, which was used to propagate false claims that the House plan 'gutted coverage for people with pre-existing conditions.'
"That line was the Democrats' most potent attack in the midterms," Lewis said.
McCain, who died this past August at the age of 81, joined fellow Republican Sens. Susan Collins of Maine and Lisa Murkowski of Alaska to vote against the repeal legislation in the Senate, which was defeated 51-49. Democrats regained control of the House after hammering Republicans on pre-existing conditions, citing the GOP's repeal efforts and an ongoing lawsuit from 20-plus Republican attorneys general to repeal former President Barack Obama's health care law.
Lewis, who was elected in 2016 to represent Minnesota's 2nd District, was among the Republicans unseated last week, losing to Democratic challenger Angie Craig in a rematch of his contest from two years ago.
Lewis is no stranger to controversy. His past career as a conservative talk show radio host was a campaign issue in his 2016 election and resurfaced again during this year's campaign. In July, CNN reported on years-old remarks in which he wondered aloud why he couldn't call a woman "a slut" and said it's not the federal government's place to ban slavery.
McCain's daughter, Meghan McCain, called Lewis's remarks "abhorrent" on Twitter. Julie Tarallo, John McCain's former communications director, was more effusive, tweeting: "Things that contributed to Lewis losing his seat by 6 points: calling women "sluts" & shaming sexual assault survivors Things that DIDN'T contribute: John McCain".
The Associated Press contributed to this report.