FOX NEWS FIRST: Overheated machines in Florida recount battle; Trump team finalizing answers for Mueller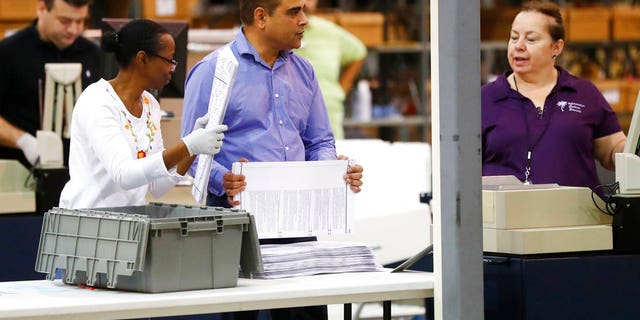 Welcome to FOX News First. Not signed up yet? Click here.

Developing now, Wednesday, Nov. 14, 2018
Some overheated voting machines in Palm Beach County added to the election recount chaos in Florida on Tuesday, forcing a new tally for 175,000 early votes. Meanwhile, Democratic incumbent U.S. Sen Bill Nelson filed new lawsuits, and embattled election official Brenda Snipes said it was time for her to 'move on' from her position
President Trump's legal team is finalizing responses to questions from Special Counsel Robert Mueller's investigators, sources tell FOX News
CNN has sued the Trump administration to have correspondent Jim Acosta's White House credentials restored. Legendary reporter Bob Woodward thinks the news network is making a mistake
The death toll in California's deadliest recorded wildfire has risen to 48
A month after starting their journey, Central American migrant caravans are using longer, safer, routes to the U.S. border
THE LEAD STORY - RECOUNT DELAYED, DEADLINE LOOMING IN FLORIDA - Florida's Palm Beach County recount was delayed Tuesday night after its voting machines overheated, forcing officials to restart the recount of about 175,000 early votes, according to Susan Bucher, the county's supervisor of elections ... Bucher said the ballots didn't tabulate properly and that two technicians from the machine's vendor have been flown in to fix the machines while election office workers continue the recount, the Sun Sentinel of South Florida reported.
Bucher said Monday that her office would not be able to meet the 3 p.m. ET Thursday deadline the state has imposed, despite a 24-hour operation, the Miami Herald reported.
Leon County Circuit Judge Karen Gievers said she would grant an extension until Nov. 20, the report said. She concluded that the county "could not possibly" meet the deadline with its eight machines, according to the paper.
The developments added to the tumult in the political battleground state. More than half of Florida's 67 counties began a recount process that's unprecedented even in a state notorious for settling elections by razor-thin margins. In addition, lawyers for incumbent Sen. Bill Nelson, D-Fla., filed a federal lawsuit claiming Florida is disenfranchising voters by not counting mail-in ballots it received after Election Day. State law requires all mail ballots to be received when the polls close — which was 7 p.m. Nov. 6. And a day after former Florida Gov. Jeb Bush called for her to resign, embattled Broward County Supervisor of Elections Brenda Snipes said "it is time to move on" from her role overseeing the Florida county office. Snipes has been under fire for missteps during Florida's recount saga. - Reported by Amy Lieu, Nicole Darrah (@nicoledarrah on Twitter), and Brooke Singman (@brookefoxnews on Twitter)

MUELLER REPORT APPROACHING FINAL STAGES? - President Trump's legal team is finalizing answers to written questions from Special Counsel Robert Mueller, and could submit them as soon as the end of this week, two sources familiar with the matter told FOX News ... The answers concern questions about whether the Trump campaign colluded with Russian officials during the 2016 presidential campaign. The president has repeatedly denied any such collusion with Moscow. The president's lawyers and Mueller's investigators have engaged in ongoing discussions for several months about the possibility of an in-person interview with Trump, as well as the president submitting written answers to questions. - Reported by Samuel Chamberlain (@SChamberlainFOX on Twitter), Catherine Herridge
CNN VS. THE TRUMP ADMINISTRATION: CNN filed a federal lawsuit against the Trump administration on Tuesday demanding that the White House restore the press credential of reporter Jim Acosta after it was suspended last week -- but press secretary Sarah Sanders called the move "more grandstanding from CNN" ... The White House yanked Acosta's pass after he got into a contentious debate with President Trump and refused to give up a microphone as the entire press pool looked on. It was just the latest case of Trump clashing with Acosta, the White House correspondent for the network Trump regularly derides as a purveyor of "fake news."
Legendary journalist Bob Woodward is not a fan of the lawsuit. On Tuesday, he criticized CNN for taking legal action against Trump and charged that too many media figures "have become emotionally unhinged."
"The remedy [isn't suing the administration]," Woodward said at the Global Financial Leadership Conference in Naples, Fla. "It's more serious reporting about what he's doing." - Reported by Brian Flood (@briansflood on Twitter), and Gregg Re (@gregg_re on Twitter)
MORE DEATHS IN CALIFORNIA FIRES - The death toll in the largest wildfire in California history rose to 48 on Tuesday as the remains of six additional people were found, officials said ... The human remains – which were found in Paradise, Butte County – were located in homes, Sheriff Kory Honea said at a news conference Tuesday. The death toll in the Camp Fire was expected to continue rising. More than 130,000 acres of land are still burning in Butte County as officials said nearly 6,000 firefighting personnel continue to assist in the area, where 35 percent of the fire was contained. - Reported by Nicole Darrah (@nicoledarrah on Twitter)
LONGER ROUTE FOR CARAVANS: One month ago, 1,000 people started walking from Northern Honduras, beginning a journey they hoped would end with a job in the United States ... Now, they are about halfway to Tijuana, Mexico, where many will apply for asylum or pay a smuggler to get them over the border to Houston or San Jose or Omaha, Neb. They've endured heat, humidity, wind, rain and cold during these 1,400 miles as President Trump has insisted on border integrity, national security and enforcement of immigration laws. Their numbers have swelled to 11,500 including several subsequent caravans days behind, according to Mexican media reports.
The lead caravan is resting in the Benito Juarez Auditorium in Guadalajara on Wednesday. They're awaiting instructions on where they will go Thursday. In Guadalajara, the caravan is 1,400 miles from Tijuana, a city at the border south of San Diego. Members of the caravan voted in Mexico City last week to take the longer, and much safer, route west, instead of the roads to Texas, a much shorter journey that takes them closer to Houston and Florida and other destinations in the Eastern United States. - Reported by Robert Shaffer

-------------------------------------------------------------------------------------------------------------------
Do you consider yourself an Influencer? Become a trusted adviser in our FOX News community and help guide our brand's future. Click here to find out how.

Members of FOX News Influencers:
Have the opportunity to be heard
Be part of a special network of peers
Get to influence new ideas and initiatives
Receive updates on what we've learned and how your input has made impact 
Fill out our qualification survey and join us. Thank you for your continued support in our company's growth!
------------------------------------------------------------------------------------------------------------------
AS SEEN ON FOX NEWS
THE TRUTH ABOUT THE LIE IN WASHINGTON - "As long as you're powerful and the lie is big enough, nobody in Washington is ever charged. You can wreck an entire health system, or take a country to war under false pretenses, or kill American citizens with drone strikes, and lie about all of it. Nobody will even think about prosecuting you. But give the finger to the establishment? Mock the people in power? That's dangerous. They'll get you." – Tucker Carlson, on "Tucker Carlson Tonight," on reports that Special Counsel Robert Mueller may soon issue more indictments in his Russia investigation. WATCH

TRENDING
Monica Lewinsky details Bill Clinton affair, terrifying meeting with investigators in new documentary.
New Zealand paper mixes up Stan Lee with Spike Lee in obituary headline.
Man banned from Disney World after displaying Trump sign on Splash Mountain.
THE SWAMP
Melania Trump's office calls for firing of top Bolton deputy.
FOX News Halftime Report: Border wall funding fight looms larger.
Whitaker's appointment as acting attorney general is unlawful, Maryland says.
ACROSS THE NATION
Border agents seize nearly $500G in cocaine.
Dozens failed to report Nikolas Cruz's 'troubling behavior' until after Parkland: report.
Rhoden family murders have link to custody dispute, Ohio attorney general says.
MINDING YOUR BUSINESS
Kennedy: Amazon's split decision creates a splitting headache.
New York, Virginia gave Amazon these incentives for its new headquarters.
Amazon picked its winners but what about the 18 other finalists?
Stock volatility driven by news and market uncertainty: NYSE's Cunningham.
Stocks mixed in volatile session, oil craters.
Snap reveals U.S. subpoenas on IPO disclosures.
Stu Varney: America is winning the energy game.
Jamie Dimon, Tim Cook among America's top executives.
FOX NEWS OPINION
Lisa Boothe: Hillary Clinton remains inauthentic, unlikable and out of touch – she will never be president.
Lauren DeBellis Appell: Marie Claire snubs conservatives on list of influential women – Here's who should have made the list.
Marc Thiessen: Macron is wrong, there's nothing wrong with populist nationalism, American-style.
HOLLYWOOD SQUARED
Actress Paz de la Huerta files lawsuit against Harvey Weinstein, alleges rape.
Miley Cyrus and Liam Hemsworth donate $500G to Malibu restoration after losing home in Woolsey Fire.
Hugh Jackman talks about 'friend' Gary Hart: He makes a 'mean martini.'
DID YOU HEAR ABOUT THIS?
'Jesus' face' uncovered at ancient church in the Israeli desert.
Mysterious 26-foot worm-like sea creature stuns divers.
'Creature' spotted in Jupiter's clouds stuns NASA, space enthusiasts.
STAY TUNED
FOX Nation is coming! - Sign up now and find out more about its exciting launch on Nov. 27!
DETAILS: How to sign up now to become a FOX Nation Founding Member!

On Facebook:
Check out 'FOX News Update,' our Facebook-exclusive news program!
On FOX News:

FOX & Friends, 6 a.m. ET: Special guests include: FOX nation host Tomi Lahren; U.S. Rep. Jim Jordan, R-Ohio; U.S. Sen. Joe Manchin, D-W. Va.; Alan Dershowitz.
Hannity, 9 p.m. ET: Special guests include: U.S. Sen. Lindsey Graham, R-S.C.; Newt Gingrich.
On FOX Business:
Mornings with Maria, 6 a.m. ET: Special guests include: Bob Nardelli, former Home Depot CEO; Rick Ungar, host of "The Pod Complex"; U.S. Rep. John Garamendi, D-Calif.; Burt Flickinger, Strategic resource group managing director; Irina Novoselsky, CareerBuilder CEO.
Varney & Co., 9 a.m. ET: Herman Cain, chairman of America Fighting Back; Stephen Schork, founder and editor of the Schork Report; actor John O'Hurley.
Cavuto: Coast to Coast, Noon ET: Bob Wright, former NBC Universal chairman and CEO.
Making Money with Charles Payne, 2 p.m. ET: Special guests include: Alan N. Rechtschaffen, partner of the Rechtschaffen Institutional Group at UBS Financial Services, Inc.; Adam Johnson, founder and author of the Bullseye Brief; Doug Flynn, co-founder of Flynn Zito Capital Management, LLC; Mitch Roschelle, PwC partner and business development leader; Gary Kaltbaum, owner and president of Kaltbaum Capital Management.
Countdown to the Closing Bell with Liz Claman, 3 p.m. ET: Anthony Gardner, former U.S. ambassador to the EU; Tom Greco, president and CEO of Advance Auto Parts.
On FOX News Radio:
The FOX News Rundown podcast: On Tuesday, Amazon announced the sites of its long-anticipated additional headquarters. The company will soon be coming to Long Island City, in Queens, N.Y., and Crystal City, in Arlington, Va., bringing 25,000 jobs to each area. Virginia delegate Lee Carter and FOX Business senior correspondent Charles Gasparino explain why they don't believe these are the best areas for these headquarters. Plus, House Majority Whip Steve Scalise discusses the midterms and "Back in the Game," his new book about his road to recovery after being wounded in a shooting attack on congressional leaders in June 2017. Commentary will come from Deroy Murdock, FOX News contributor and contributing editor with National Review Online.
Want the FOX News Rundown sent straight to your mobile device? Subscribe through Apple Podcasts, Google Play, and Stitcher.
The Brian Kilmeade Show, 9 a.m. ET: Specials guests include: Allen West; Medal of Honor recipient Ty Carter; and Matt Gutman on his new book, "The Boys in the Cave: Deep Inside the Impossible Rescue in Thailand."

#OnThisDay

2013: Former Boston crime boss James "Whitey" Bulger is led off to prison to begin serving a life sentence at age 84 for his murderous reign in the 1970s and '80s. (Bulger was killed Oct. 30, 2018, hours after arriving at a federal prison in West Virginia.)
1969: Apollo 12, the second mission to involve a lunar landing, blasts off for the moon.
1965: The U.S. Army's first major military operation of the Vietnam War begins with the start of the five-day Battle of Ia Drang.
FOX News First is compiled by FOX News' Bryan Robinson. Thank you for joining us! Enjoy your day! We'll see you in your inbox first thing Thursday morning.