Rhoden family murders have link to custody dispute, Ohio AG says
Investigators in Ohio revealed Tuesday that the brutal murders of eight family members in Pike County two years ago might be linked to a custody dispute between the now-deceased family and another family, four of whom were indicted by a grand jury on Monday.
Ohio Attorney General Mike DeWine said at a news conference that while a motive in the Rhoden family murders isn't fully clear, an indictment suggests that an "obsession with custody" of a young child played a role in the slayings.
RHODEN FAMILY EXECUTION-STYLE MURDERS: 4 FAMILY MEMBERS ARRESTED IN 2016 OHIO KILLINGS
DeWine — who said the case is "the most bizarre story I have ever seen in being involved in law enforcement" — announced earlier Tuesday that George "Billy" Wagner III, Angela Wagner and sons George Wagner IV and Edward "Jake" Wagner were arrested in the "Pike County massacres."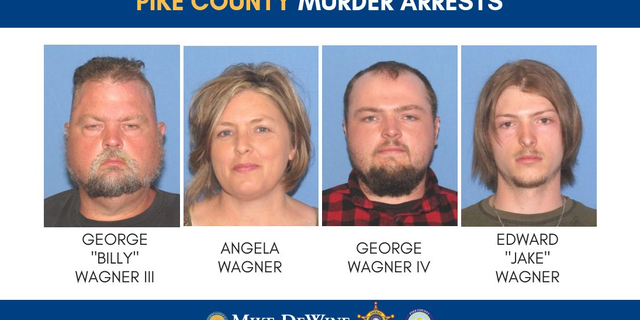 Edward was once the boyfriend of one of the victims, 19-year-old Hanna Rhoden. The two shared custody of their daughter at the time of the killings.
The four suspects are believed to have thoroughly planned out the murders. DeWine alleged that the Wagners "conspired together to kill eight victims under the cover of darkness, and then covered their tracks."
FLASHBACK: OHIO INVESTIGATORS SEARCH THREE LOCATIONS IN RHODEN FAMILY MURDER PROBE
The victims were identified as 40-year-old Christopher Rhoden; his ex-wife, 37-year-old Dana Rhoden; their three children, 20-year-old Clarence "Frankie" Rhoden, 16-year-old Christopher Jr., and 19-year-old Hanna; Frankie Rhoden's fiancée, 20-year-old Hannah Gilley; Christopher Rhoden Sr.'s brother, 44-year-old Kenneth Rhoden; and a cousin, 38-year-old Gary Rhoden. Hanna Rhoden's days-old baby girl, another baby and a young child were unharmed.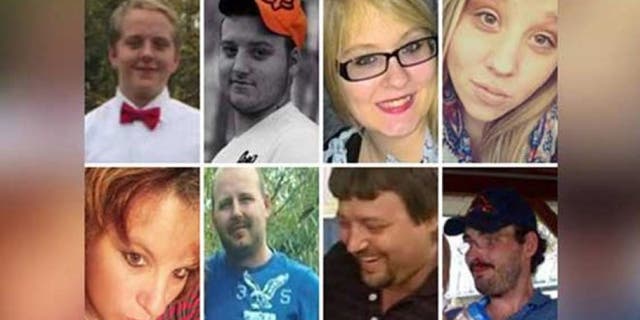 The Wagners allegedly spent months planning the murders, studying the Rhoden family's habits and the layouts of their homes, DeWine said. He said the four suspects then tampered with evidence such as the victims' cell phones and surveillance cameras on their properties to cover-up the slayings.
They knew the territory in Piketon, roughly 70 miles south of Columbus, and "meticulously planned these horrendous murders," the attorney general told reporters Tuesday afternoon.
It appeared some of them were killed as they slept, including Hanna Rhoden, who was in bed with her newborn nearby, authorities said. The child, Hannah Gilley's 6-month-old baby and another small child weren't hurt.
A coroner said all but one of the victims were shot more than once, including two people shot five times and one shot nine times. Some also had bruising, consistent with the first 911 caller's description of two victims appearing to have been beaten. The coroner's report didn't specify which victims had which wounds.
Two other people — Billy Wagner's mother, Fredericka, and Angela Wagner's mother, Rita Newcomb — were also arrested in connection with the case on allegations they aided in the cover-up and misled investigating authorities. DeWine said there is "absolutely no evidence" that anyone else was involved.
The four murder suspects were each charged with eight counts of aggravated murder — one count for each person killed — each with death penalty specifications.
The Wagner family was also charged with conspiracy, engaging in a pattern of corrupt activity, tampering with evidence, aggravated burglary, and forgery for allegedly forging child custody documents, among others.
FLASHBACK: TIPS SOUGHT ON 4 PEOPLE, INCLUDING VICTIM'S EX, IN RHODEN FAMILY KILLINGS
Their lawyer, John Clark, said the Wagner family — who lived in Peebles in southern Ohio at the time of the killings but later moved to Alaska — looks forward to their day in court so they can clear their names and await the day "when the true culprits will be discovered and brought to justice for this terrible tragedy."
Since April 2016, investigators from more than 20 law enforcement agencies scrambled to determine who targeted the Rhoden family and why. They conducted over 130 interviews and processed over 100 pieces of evidence and 550 tips.
Authorities said marijuana growing operations were found at three of the four crime scenes. That's not uncommon in this corner of Appalachia but stoked rumors that the slayings were related to drugs, one of many theories on possible motives that percolated in public locally.
Fox News' Travis Fedschun and Ryan Gaydos and The Associated Press contributed to this report.