FOX NEWS FIRST: Dems warned about midterm overconfidence; Oprah-Trump battle in Ga.; Trump targets asylum 'fraud'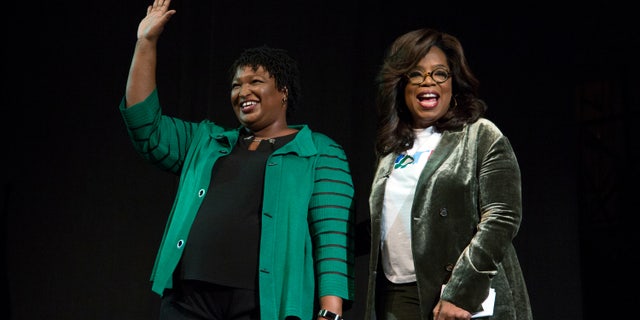 Welcome to FOX News First. Not signed up yet? Click here.
Developing now, Friday, Nov. 2, 2018
THE LEAD STORY - DEMS OVERCONFIDENT ABOUT WINNING THE HOUSE? - As House Minority Leader Nancy Pelosi confidently predicts Democratic victories in next week's midterms, at least one major political oddsmaker is giving her a boost: Cook Political Report now says Democrats could win as many as 40 seats in the House ... Dave Wasserman, House editor of the nonpartisan report, tweeted this week that the unit is revising its outlook to reflect a Democratic gain of 30-40 seats, up from 25-35. He warned that the outlook could change again before Tuesday.
FOX News' Power Rankings reflect a strong Democratic advantage in the race for the House, but not a lock. Even some Democrats are cautious about the pitfalls of overconfidence, as veteran operatives remind the party of curtain-measuring in the lead-up to the 2016 presidential election, which Donald Trump won. Talk show host Stephen Colbert said as much when Nancy Pelosi predicted on his show earlier this week, "We will win." She is expected to seek the speakership again if she's right.
The "Trump Factor" is undeniable. The president is expected to make final campaign pitches and give a boost to GOP candidates with rallies over the next three days in the following places : West Virginia, Indiana, Montana, Florida, Georgia and Tennessee. On Thursday, President Trump was in Columbia, Mo., to support Republican Josh Hawley, who is challenging Democratic incumbent Sen. Claire McCaskill. A FOX News poll published this week shows the pair deadlocked in support from likely voters. - Reported by Adam Shaw and Brooke Singman
TRUMP VS. OPRAH: A highly anticipated showdown between President Trump and Oprah Winfrey will take place -- on the gubernatorial campaign trail in Georgia ... Winfrey -- who is a rumored potential 2020 presidential candidate, despite her denials -- joined Democratic Georgia gubernatorial candidate Stacey Abrams in Marietta, Ga., on Thursday and urged voters to make history next Tuesday. Abrams is attempting to become the first black female governor in U.S. history, and is in a close race with Republican Brian Kemp. Winfrey praised Abrams as a "changemaker" and drew cheers when she said she's a registered independent who was not in Georgia at anyone's request. She knocked on doors with Abrams, to the delight of some starstruck residents.
Winfrey's visit came the day before former President Barack Obama's scheduled rally for Abrams on Friday. Vice President Mike Pence made three campaign stops for Kemp on Thursday. President Trump, who has endorsed Kemp, will look to give him a boost in a rally in Macon, Ga., on Sunday.
TROOP-READY AT THE BORDER: The first 100 active-duty troops have arrived at the U.S.-Mexico border to provide support for Border Patrol agents as a caravan of migrants slowly makes its way northward from Central America, a Defense Department official told Fox News on Thursday evening ... The troops are doing initial assessments at the port of entry in McAllen, Texas. The official said there are about 2,600 troops now at staging bases, largely in Texas, with several thousand more expected to flow in through the weekend and move into California and Arizona. The Pentagon said more than 7,000 active-duty troops are being sent to the U.S.-Mexico border, with more possible. President Trump has said the number could reach 15,000. - Reported by Frank Miles
TRUMP TARGETS FRAUDULENT ASYLUM-SEEKERS: President Trump, in response to what he called the "crisis at our southern border" and a surge of fraudulent asylum claims in recent years, announced on Thursday that his administration will soon require asylum-seekers to "lawfully present themselves" at a port of entry ... The move appeared designed to prevent many members of the leading Central American migrant caravan -- which now numbers approximately 4,000, down from a high of 7,200 -- from making asylum claims if and when they reach the U.S.-Mexico border. Asylum claims made by migrants caught crossing the border illegally would seemingly be summarily denied under Trump's proposal.
The asylum clause of the Immigration and Nationality Act says that anyone who arrives to the U.S. may apply for asylum based on a well-founded fear of persecution, and Trump's decision was likely to prompt immediate federal court challenges. In his remarks, Trump called the thousands of migrants in the approaching caravans from Central America "not legitimate asylum-seekers" because most of them have not decided to remain in Mexico and pursue asylum there. - Reported by Gregg Re (@gregg_re on Twitter)
JOBS REPORT: GOP MIDTERM SECRET WEAPON? - With the midterm elections just days away and U.S. unemployment already at its lowest level in decades, forecasters expect another solid set of numbers when the U.S. jobs report for October is released Friday morning at 8:30 a.m. ET ... Businesses are advertising for a record number of job openings and several companies, including Amazon and Walmart, have hiked their minimum wages in a bid to lure and retain employees. The jobs report comes after U.S. stocks were hammered throughout the month of October. - Reported by FOX Business' Thomas Barrabi
#GOOGLEWALKOUT: Thousands of Google employees walked out at company locations worldwide on Thursday to protest sexual harassment, pay inequality and a workplace culture that they say dismisses victims and tolerates abuse of power ... "We were disgusted by the details of the recent New York Times article, which provided the latest example of a culture of complicity, dismissiveness, and support for perpetrators in the face of sexual harassment, misconduct, and abuse of power," organizers of the #GoogleWalkout said in a statement to FOX News. "Sadly, this is part of a longstanding problem, one further amplified by systemic racism. We know this culture well."
In New York City, throngs of Google employees filled a nearby park to capacity, carrying signs that said "Times Up Tech" and "Workers' Rights Are Women's Rights." The organizers, who received the support of CEO Sundar Pichai for their protest across 40-plus offices globally in an email late Tuesday, have a list of five demands. - Reported by Christopher Carbone (@christocarbone on Twitter)

AS SEEN ON FOX NEWS
HIGH STAKES IN THE MIDTERMS - "Enough is enough. We cannot turn any part of this government over to these radical, hardcore Democrats and their mouthpieces in the media. ... You sick of being called Nazis? You sick of being called racists? You sick of being called white supremacists? Then you need to vote." – Mark Levin, host of "Life, Liberty & Levin," explaining on "Hannity" why the midterm elections on Tuesday are so important. WATCH

THE 2018 MIDTERMS
Texas' Harris County seeing 'presidential-type' early voter turnout: report.
Kobach accuses CNN's Jeffrey Toobin of advancing 'racist argument' in fight over voter-ID laws.
2018 Midterms: Stay with FOX News for full coverage and analysis.
DETAILS: Watch FOX News Channel's midterm election night coverage on Tuesday, starting at 6 p.m. ET.
TRENDING
Facebook apologizes after blocking pro-life group's ads for GOP Senate candidates.
Meth-laced Halloween candy sends Oregon parents to hospital, authorities say.
China rapidly expanding internment camps for Muslims, report says.
ACROSS THE NATION
NFL cheerleader takes a knee during anthem.
American Airlines served too much alcohol to passenger who sexually assaulted woman, lawsuit claims.
Missouri man indicted, accused of murdering 20-year-old son after shaking him as baby.
MINDING YOUR BUSINESS
Apple earnings exceed estimates but forecast wanes.
Wine industry could be next victim of U.S.-China trade war.
Oil prices pulled down by surging output, but Iran sanctions loom.
Lachlan Murdoch calls for Americans to be 'more tolerant' of opposing views at DealBook conference.
Subaru and Toyota to recall more than 400,000 vehicles.
Tech names send lobbying efforts soaring.
How HGTV's Property Brothers 'built' their empire.
Chick-fil-A opposed by Pittsburgh Public School as marathon sponsor for kids.
FOX NEWS OPINION
Mark Penn: Democrats don't understand this surprising secret of Trump's success.
GOP Senate candidate Bob Hugin: New Jersey, it's time to send in a Marine.
Greg Gutfeld: Twitter removing the 'like' button is like removing seatbelts on the Hindenburg.
HOLLYWOOD SQUARED
Kim Kardashian under fire for calling people who didn't recognize her Halloween costume the R-word.
Heather Locklear sued by EMT following her June arrest.
Meghan Markle's apparent 'bad' habit sparks royal debate.
DID YOU HEAR ABOUT THIS?
Army sets sights on bigger, bolder, harder hitting bullets.
'Tens of thousands' of baby octopuses at Georgia aquarium unexpectedly hatch.
Hubble captures cosmic 'bat shadow' nearly 1,300 light-years away.

STAY TUNED
FOX Nation is coming! - Sign up now and find out more about its exciting launch on Nov. 27!
DETAILS: How to sign up now to become a FOX Nation Founding Member!
On Facebook:
Check out 'FOX News Update,' our Facebook-exclusive news program!
On FOX News:

FOX & Friends, 6 a.m. ET: Special guests will include: Missouri GOP Senate candidate Josh Hawley on his race to unseat Democratic Sen. Claire McCaskill; Bob Hugin, New Jersey GOP Senate candidate.
Your World with Neil Cavuto, 4 p.m. ET: U.S. Rep. Tim Ryan, D-Ohio.
The Ingraham Angle, 10 p.m. ET: U.S. Rep. Martha McSally, Republican seeking a U.S. Senate seat in Arizona.
On FOX Business:
Mornings with Maria, 6 a.m. ET: Special guests include: An exclusive interview with Barry Diller, chairman and senior executive of IAC/InterActiveCorp and Expedia, Inc.; U.S. rep. Ted Yoho, R-Fla.; Kyle Lu, Dapp.com founder and CEO; Joanie Courtney, chief marketing officer at Employbridge and president of the Professional Division; Kevin Kelly, benchmark managing partner.
Varney & Co., 9 a.m. ET: Herman Cain, chairman of America Fighting Back; Kevin Hassett, chair of the Council of Economic Advisers; Mike Huckabee.
Cavuto: Coast to Coast, Noon ET: Bernie Marcus, Home Depot co-founder; Amb. John Negroponte, former U.S. ambassador to the U.N.
Making Money with Charles Payne, 2 p.m. ET: John Lonski, managing director and chief economist at Moody's; Madison Gesiotto, National Diversity Coalition for Trump adviser.
Countdown to the Closing Bell with Liz Claman, 3 p.m. ET: Jean-Yves Fillion, BNP Paribas U.S. CEO; Stephen Gallagher, chief U.S. economist for Societe Generale; Peter Navarro, director of the Office of Trade and Manufacturing Policy.
On FOX News Radio:
The FOX News Rundown podcast: The midterm elections are just days away, with Republicans and Democrats making final pushes to gain the votes needed to keep or win control of the House and Senate. Democratic strategist and FOX News contributor Jessica Tarlov and RNC spokeswoman Kayleigh McEnany debate the key issues both parties face. A record number of women are running for public office in this election cycle and Georgia Democratic gubernatorial candidate Stacey Abrams is hoping to make history. Ty Matsdorf, senior vice president at the Messina Group, and Bruce Mallard, professor of political science at Savannah State University, discuss the controversy surrounding that race. FOX News' Tonya J. Powers has some good news. Plus, commentary by Chris Wallace, host of "FOX News Sunday."
Want the FOX News Rundown sent straight to your mobile device? Subscribe through Apple Podcasts, Google Play, and Stitcher.
The Brian Kilmeade Show, 9 a.m. ET: The midterms, the migrant caravan and President Trump's focus on immigration will be the leading topics of debate with the following guests: Shannon Bream; Deroy Murdock; Patrick Morrissey; Don Holloway; Ian O'Connor.
On FOX News Weekend:
Cavuto Live, Saturday, 10 a.m. ET: Home Depot co-founder Bernie Marcus on what a Democratic Party win in the midterm elections could mean for U.S. businesses and President Trump's pro-business policies. U.S. Rep. Emanuel Cleaver, D-Mo., on violent rhetoric and the blame game surrounding the Pittsburgh synagogue shooting, plus the U.S. Senate race in Missouri.
FOX News Sunday, Sunday, 2 p.m. and 7 p.m. ET: Special guests include: U.S. Sen. Chris Van Hollen, D-Md.; U.S. Sen. Thom Tillis, R-N.C.

#OnThisDay

1976: Former Georgia Gov. Jimmy Carter becomes the first candidate from the Deep South since the Civil War to be elected president of the United States as he defeats incumbent Gerald R. Ford.
1948: President Harry S. Truman surprises the experts - and especially the Chicago Daily Tribune - by winning a narrow upset over Republican challenger Thomas E. Dewey. "Dewey Beats Truman," the erroneous fron-tpage headline on the Tribune, would become iconic.
1783: Gen. George Washington issues his farewell address to the Army near Princeton, N.J.
FOX News First is compiled by FOX News' Bryan Robinson. Thank you for joining us! Enjoy your day and weekend! We'll see you in your inbox first thing Monday morning.