Meghan Markle's apparent 'bad' habit sparks royal debate
Is Meghan Markle getting "too casual" for a royal? The Duchess of Sussex's fashion choices during her first royal tour alongside husband Prince Harry have sparked debates among fans of the 37-year-old former "Suits" star.
During her 16-day South Pacific tour, Markle sported several different looks — and unfortunately suffered some wardrobe malfunctions along the way. But there was one particular feature included in her attire that royal etiquette experts took issue with: pockets.
On Monday, Markle donned a white tuxedo dress designed by New Zealand's Maggie Marilyn during an event at Courtenay Creative in Wellington. The stunning outfit drew praise from fans, but royal experts were critical of the relaxed look.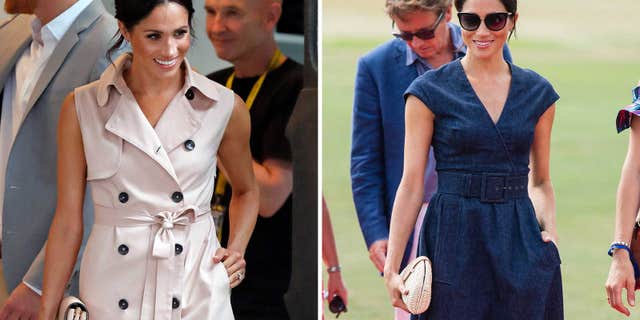 "We know that Their Royal Highnesses The Duke and Duchess of Sussex are pioneering a new, relaxed, tactile branch of the monarchy but having hands in the pocket is a step too far," William Hanson, who describes himself as the U.K.'s "leading etiquette expert and coach," told The Daily Mail.
MEGHAN MARKLE SUFFERS WARDROBE MALFUNCTION, WEARS SEE-THROUGH SKIRT IN NEW ZEALAND
Markle was captured on camera several times with her hands inside her pockets, a gesture Hanson said was inappropriate for a duchess.
"There is good casual and there is bad casual. Placing a hand in the pocket is too relaxed and unprofessional, however dressed down Prince Harry and his wife may have been," he added.
The etiquette guru said it's not too much of a fashion faux pas, though he suggested she avoids tempting fate by opting for dresses and other clothing without pockets in the future.
"Will the world end? No. It is just a small blip in Meghan's usually delightful manners that can be easily corrected for future engagements," Hanson told the British newspaper.
"Placing a hand in the pocket is too relaxed and unprofessional, however dressed down Prince Harry and his wife may have been"
But some royal fans – particularly women – argued Hanson's critique may be too harsh.
"We love pockets!" one woman tweeted Wednesday.
"Way more important things to worry about in this world," another wrote, adding, "when she is a mom – she will need those pockets!"
"I think pockets are great!!! Soooo helpful! I try [not] to buy slacks w/o pockets," a woman echoed.
PRINCE HARRY EXPLAINS HOW MEGHAN MARKLE'S WEDDING BOUQUET GOT 'KIND OF RUINED'
Judi James, a body language and social behavior expert, noticed Markle's bad habit over the summer.
"Prince Charles does it, Prince Harry does it and even little Prince George has been seen doing it, but Meghan might be the first royal woman to shove her hand into a pocket when she's out in public," James told OK! Magazine in July.
James noted it's a "very common gesture."
"The classic reason for this very common gesture is that it signals a subliminal desire to hide, especially when the hands are shoved deep into the pockets," she said. "It also helps get over the common problem most of us suffer from, which is not really knowing what to do with our hands when we know people are looking at us."
However, given Markle's confident demeanor, James believes it's more of a fashion statement than anything.