Army sets sights on bigger, bolder, harder hitting bullets
The Army has been working on a new bullet that is bigger, bolder and harder hitting that will help make U.S. soldiers even more unstoppable.
When you combine this new generation of bullet with the new generation of weapons for soldiers – then they will be able to shoot farther – with accuracy – than any known military rifle on earth.
There's been a lot of mystery, buzz and speculation about this new generation of bullets. The specifics are classified and limited to the companies selected to produce prototypes.
But there are some key details we can share. Here's what you should know about the Army's goals for this new generation of 6.8 mm rounds.
HARDER HITTING – SIZE MATTERS
The new 6.8 round is expected to replace the 5.56mm in the next generation rifle and SAW. The number refers to the diameter of the bullet so the new round will be more than a millimeter bigger in diameter.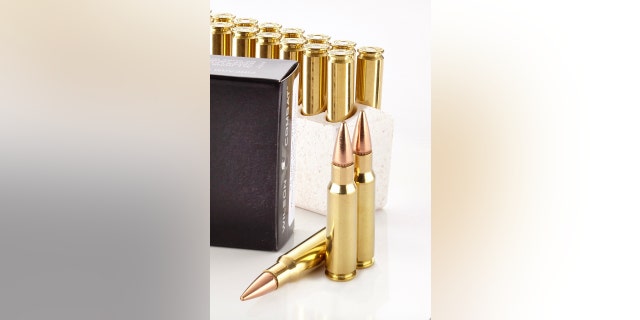 The 5.56mm has been short on enough mass to defeat advanced body armor. The larger current option, the 7.62mm bullets, are short on propellant with too much mass.
BEE-SIZED BOTS SET TO DOMINATE FUTURE BATTLES FOR CITIES
The 6.8 round is the solution. When this new round strikes a target, it will do so with more energy than the 5.56. This translates into better threat stopping power for soldiers.
Longer supersonic velocity than the currently used bullets combined with less recoil and more stable shooting should deliver even greater accuracy.
This will be quite a radical change up for the Army, which has relied on the 5.56mm round for several decades, but one that could play a vital role in ensuring soldiers are armed to match future threats.
STOPPING POWER
Since these new bullets would be larger and harder hitting, they would be a better match for the threats soldiers will likely face in future conflicts.
The 6.8mm rounds are expected to be capable of penetrating currently available modern body armor as well as defeat future advances in body armor too.
If U.S. soldiers have to face forces from countries with well-equipped armies, then current bullets are not good enough. American ingenuity can do better and American soldiers deserve the best that can be provided.
ARMY SETS SIGHTS ON NEW CONCEALABLE MACHINE GUN
There are very justified concerns that the 5.56 round will not penetrate armor that has become increasingly available to adversaries, even at an organization level, such as ISIS.
If the bullets cannot penetrate enemy body armor, then those bullets are far less likely to stop a dangerous threat.
Equipping troops with more advanced bullets and weapons means that in these scenarios they will be safer and more effective with fewer rounds.
PODCAST: JOIN THE GREEN BERETS FOR DANGEROUS JUNGLE WARFARE MISSIONS
FARTHER THAN ANY KNOWN MILITARY RIFLE
There's a third very crucial advantage these new bullets could provide soldiers in the battlespace – farther accurate range.
The goal is to create bullets that will help deliver enhanced accuracy and range.
When combined with the new generation of weapons the Army has underway, these bullets should be able to penetrate advanced enemy body armor even at distances of about 2,000 feet away.
HANDGUN DESIGNED FOR THE MILITARY NOW AVAILABLE TO LAW ENFORCEMENT AND CIVILIANS
In fact, the Army seems determined to ensure their soldiers arrive to face an enemy with ammunition and rifles that shoot with accuracy farther than any known military rifle.
SO WHAT WEAPON WILL IT BE USED WITH?
The U.S. Army has selected a new round to replace those equipping its M4A1 carbine and M249 Squad Automatic Weapons.
Earlier this Summer, five companies were chosen to produce prototype weapons in this new 6.8mm round. They are expected to develop two different ammunition cartridges utilizing 6.8mm projectiles.
The Next Generation Squad Weapon will replace the M4A1 carbine for individual infantrymen. The Next Generation Squad Automatic Rifle will replace the M249 Squad Automatic Weapon, the "SAW."
The five companies chosen were: AAI/Textron Systems, FN America, General Dynamics, PCP Tactical, and Sig Sauer.
FN America was chosen to provide two different variants and the other four companies submitted one prototype of the M4A1 replacement and the M249 replacement.
SAPPHIRE GEM-BASED 'TRANSPARENT' ARMOR PROTECTS SOLDIERS FROM SNIPERS
In anticipation of threats soldiers may face in future conflicts, the weapons must also be able to perform in chemical, biological, radiological, nuclear, cyber and EMP (electromagnetic pulse) attacks.
They will be able to fire in semi-automatic and fully automatic modes with the same magazine.
In close battles at night, adversaries often aim at the sound of gunshots and the visual cues of muzzle flashes.
By incorporating removable sound suppressors and flash hiders to minimize muzzle blast, this should hopefully minimize these targeting aids for the enemy and help keep soldiers safe.
In addition to qualities you might expect, like performing in all environments and weather conditions and resistance to rust and scratches.
For mounting further enhancements like optics, soldiers can use the Picatinny rail.
PODCAST: VALOR BEYOND THE CALL OF DUTY – HEAR THE EXTRAORDINARY WAR STORY BEHIND THIS MEDAL OF HONOR
6.8MM FOR CIVILIAN PURPOSES LIKE HUNTING
Many hunters are familiar with this size of round for use with medium game.
Remington Arms with U.S. Special Operations Command and U.S. Army Marksmanship Unit designed the 6.8mm to replace the 5.56 NATO cartridge in AR/M-16 rifles. More than a decade ago they created this option between the bigger 7.62 NATO bullets and the smaller 5.56mm.
AUSA 2018 IN PICTURES: THE BIGGEST LAND WARFARE SHOWCASE IN YEARS
Popular purveyors like Nosler and Hornady offer 6.8mm options for civilians. There are variants for hunters to use with medium-sized game, for home and personal defense as well as shooting matches.
There have been many misrepresentations in media on this front. The Army will not be simply utilizing this commercially available 6.8 SPC cartridge. The current objective is a new generation of Army bullets that will be the same caliber, but with better range, lethality and many other qualities that remain classified.
NO LONGER COMPATIBLE WITH NATO ALLIES
One drawback to this shift could potentially be loss of compatibility with NATO allies who widely use the 5.56mm and will most likely lack resources and political will to upgrade their forces similarly.
It could also impact compatibility with other US forces who may not adopt this upgrade to bigger bullets. But neither of these are factors that outweigh the importance of putting the best possible capabilities in American soldiers' hands.
WHAT'S NEXT?
Army leadership is committed to this initiative and reaffirmed this recently at the Association of the United States Army (AUSA) Annual Meeting and Exposition in Washington D.C. last month. However, Congress has failed to provide approval for the Army to make the new SAW/NGSW and ammunition upgrade a reality for soldiers in the upcoming year.
U.S. soldiers may have to wait to be given the advantage of a new generation of weapons and bullets that will make them more accurate at distances far greater than any other known military rifle on Earth.