FOX NEWS FIRST: Trump says caravan crisis could involve 15K troops; New scandal for Fla. gov. hopeful Gillum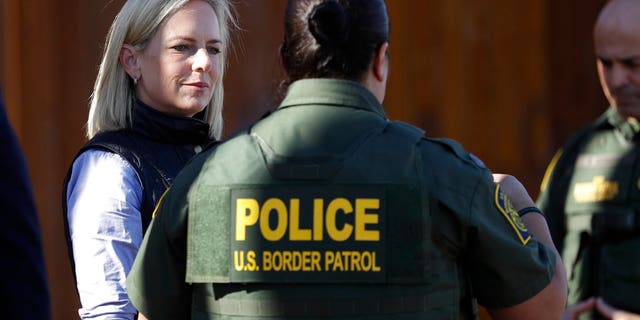 Welcome to FOX News First. Not signed up yet? Click here.
Developing now, Thursday, Nov. 1, 2018
THE LEAD STORY - CARAVANS, 'CATCH AND RELEASE' AND A CRISIS AT THE BORDER: The Department of Homeland Security is sounding the alarm over what it calls an "unprecedented crisis" at the border, stemming from "catch-and-release loopholes" that allow some illegal immigrants to remain in the country -- as a migrant caravan of almost 4,000 people makes it way toward the U.S. ... "Knowledge of these loopholes has led to a dramatic transformation in the population of those seeking to enter our country illegally," Secretary Kirstjen Nielsen said in a statement Wednesday. "Whereas previously, [U.S. Customs and Border Protection] was primarily apprehending single adults, now CBP is experiencing an influx of minors and adults traveling with minors seeking to enter illegally."
Meanwhile, President Trump warned on Wednesday that the number of U.S. troops deployed to the Mexico border in response to the approach of a caravan containing an estimated 4,000 Central American migrants could go as high as 15,000. Trump told reporters at the White House that "we'll go up to anywhere between 10 and 15,000 military personnel on top of Border Patrol, ICE (Immigration and Customs Enforcement) and everybody else at the border." However, the Pentagon also said its initial estimate was for 7,000 troops at the border. - Reported by Paulina Dedaj (@PaulinaDedaj on Twitter) and Frank Miles
TRUMP BASHES 'FAR-LEFT MEDIA': Speaking Wednesday night at a rally in Fort Myers, Fla., President Trump condemned the "far-left media" for "once again using tragedy to sow anger and division" shortly after his visit to Pittsburgh in the wake of Saturday's deadly synagogue shooting ... The crowd at Hertz Arena erupted in a chant of "CNN sucks!" as Trump paused. He then accused the media of overblowing a protest in Pittsburgh during his visit, and "doing everything in their power to play it up and push people apart." CNN host Don Lemon drew fierce criticism earlier in the day after ranting that "white men" are the biggest terror threat to the United States, adding that "there is no white-guy ban" and wondering aloud, "What do we do about that?" - Reported by Gregg Re (@gregg_re on Twitter)
NEW SCANDAL FOR FLORIDA DEM? – Florida Democrat Andrew Gillum, the Tallahassee mayor who's running for governor, may have broken state law by using city funds for a private round-trip flight on a developer's plane to meet campaign donors, contradicting his previous account of the flight, emails released earlier this week as part of a state ethics probe show ... The controversy marks the latest headache for Gillum, coming days after it was revealed that he had accepted pricey tickets to the Broadway musical "Hamilton" from an undercover FBI agent in the summer of 2016. Gillum has maintained he got the tickets from his brother, Marcus, and assumed his brother had paid for them.
The document releases from GOP-connected lawyer Chris Kise, who represents Gillum backer and former campaign treasurer Adam Corey, followed a subpoena by the Florida Commission on Ethics, which along with the FBI has investigated potential corruption at the highest levels of the Tallahassee city government. Gillum has not been formally identified as a target of either probe, and he has not been accused of criminal wrongdoing. - Reported by Gregg Re (@gregg_re on Twitter)
A WATERGATE 'GUIDE' FOR MUELLER: Highly secretive documents finally released Wednesday, including a draft of a would-be criminal indictment against former President Richard Nixon, could provide guidance for Special Counsel Robert Mueller's investigation into President Trump, according to a group of legal analysts that sued to unearth the materials ... Stephen Bates, who worked for independent counsel Ken Starr, and legal bloggers Jack Goldsmith and Benjamin Wittes won their battle to force the National Archives to unseal the so-called "Watergate Road Map" and its related documents last month in the U.S. District Court for the District of Columbia, as they argued that the materials had significant political implications today that overrode any government interest in keeping them secret. The materials from Nixon special prosecutor Leon Jaworski are strikingly sparse and predominately factual, which could counsel Mueller against issuing long-winded legal conclusions or opinions. And the documents have largely been kept out of the public eye for decades, avoiding the political spectacle of the report released by independent counsel Ken Starr decades later, after his investigation of former President Bill Clinton.
POSSIBLE ANSWERS IN JET CRASH: Navy divers on Thursday recovered the flight recorder of the two-month-old Indonesian Lion Air jet that crashed into the sea minutes after takeoff earlier this week, killing all 189 passengers and crew members on board ... Two navy divers found the flight recorder at the bottom of the Java Sea and swam it to a ship on the surface. The bright orange device was seen on TV being placed inside a large container. The navy said the aircraft's fuselage was also seen on the sea floor during recovery of the device, about 400 yards northwest of where the plane lost contact with air traffic personnel. - Reported by Stephen Sorace.

AS SEEN ON FOX NEWS
A MORE 'SOPHISTICATED' CARAVAN - "This is national security. This is more than illegal immigration." – Thomas Homan, former acting ICE director, on "Outnumbered Overtime," arguing that the migrant caravans heading to the U.S.-Mexico border are highly organized and are aware of the legal loopholes the U.S. Have failed to fix. WATCH
2018 MIDTERMS
FOX News Poll: Trump approval remains high in Senate battleground states.
Indiana voters sound off on midterm election at Future Farmers of America convention.
Missouri Dem lashes out at McCaskill for 'crazy Democrats' comment, in profanity-laced tirade.
FOX News Full Coverage: 2018 Midterms.
TRENDING
Kavanaugh turns down nearly $600G raised online for his defense: reports.
Hunter shot in back by his dog.
Civil War POWs' trauma shortened their sons' lifespans, startling new research says.
Photo of deer hiding in plain sight goes viral: Can you spot it?
ACROSS THE NATION
Willie McCovey, San Francisco Giants slugger and Hall of Famer, dead at 80.
Photos released of Saudi Arabian sisters found dead, duct-taped together along New York's Hudson River as mystery deepens.
Google boss has message to employees planning walkout over treatment of sex-harassment cases.
MINDING YOUR BUSINESS
Stocks rebound on last trading day of a volatile October | October's sell-off: How bad was it?
AT&T's HBO goes dark due to standoff with Dish.
More rich millennials are investing in cryptocurrencies. Here's why.
General Motors offers employee buyouts.
Papa John's shares rise amid buyout rumors.
Why food prices are going up next year.
Walmart is Bernie Sanders' latest pay target.
FOX NEWS OPINION
Judge Andrew Napolitano: What Trump needs to be a truly successful president.
James Schenck: Veterans are sleeping in their cars to access medical care – and it's only getting worse.
Andy Puzder: Trump's reversal of failed Obama policies has created a booming economy.
HOLLYWOOD SQUARED
Actor James Cromwell backs away from warning of 'blood in the streets' if GOP wins in midterms.
Harvey Weinstein accused of sexually assaulting 16-year-old girl: report.
Satanic Temple claims Netflix show stole statue design, vows legal action.
DID YOU HEAR ABOUT THIS?
How cockroaches avoid becoming 'zombies' during wasp attacks.
Woman snaps stunning photo of venomous cottonmouth snake baring its fangs.
Squirrels are defacing, destroying jack o'lanterns, homeowners say.
STAY TUNED
FOX Nation is coming! - Sign up now and find out more about its exciting launch on Nov. 27!
DETAILS: How to sign up now to become a FOX Nation Founding Member!
On Facebook:
Check out 'FOX News Update,' our Facebook-exclusive news program!
On FOX News:

FOX & Friends, 6 a.m. ET: HUD Secretary Ben Carson shares an update on the Trump administration's efforts to combat veteran homelessness. Geraldo Rivera previews his new series exploring high-profile murder cases and more!
On FOX Business:
Mornings with Maria, 6 a.m. ET: Special guests include: Steve Ballmer, co-founder of the Ballmer Group and former Microsoft CEO; Rogers Healy, owner and CEO of Rogers Healy & Associates; Angelo Zino, CFRA Research senior equity analyst; Stephen Hadley, national security adviser under President George W. Bush.
Varney & Co., 9 a.m. ET: Larry Kudlow, National Economic Council director; U.S. Rep. Francis Rooney, R- Fla; Harmeet Dhillon, former vice chairman of the California Republican Party.
Cavuto: Coast to Coast, Noon ET: John Sandweg, former acting ICE director; Tony Perkins, Family Research Council president.
Making Money with Charles Payne, 2 p.m. ET: Herman Cain, chairman of America Fighting Back; Melissa Armo, owner of the Stock Swoosh; Scott Martin, chief investment officer at Kingsview Asset Management; Mitch Roschelle, PwC partner and business development leader; Lou-Lou Basenese, chief technology analyst and founder of Disruptive Tech Research.
Trish Regan Primetime, 8 p.m. ET: Trish Regan interviews Vice President Mike Pence.
On FOX News Radio:
The FOX News Rundown podcast: With the midterm elections five days away, the governor's race in Florida continues to tighten and is becoming heated. Jeanette Nunez, running mate of Republican gubernatorial hopeful Ron DeSantis, discusses the race with FOX News Radio's Eben Brown. President Trump has asked the Pentagon to send at least 15,000 U.S. troops to the southern border in response to the approaching migrant caravan. Lucas Tomlinson, FOX News Pentagon reporter and General Jack Keane, FOX News senior strategic analyst, discuss the president's handling of the migrant caravans. Plus, commentary by Judge Andrew Napolitano.
Want the FOX News Rundown sent straight to your mobile device? Subscribe through Apple Podcasts, Google Play, and Stitcher.
The Brian Kilmeade Show, 9 a.m. ET: The midterms and immigration will be the top issues of debate with the following special guests: David Myler; Karol Markowicz; Hans von Spakovsky. Plus, Vern Lundquist discusses his new book, "Play by Play: Calling the Wildest Games in Sports-From SEC Football to College Basketball, the Masters, and More."

#OnThisDay

1973: Following the "Saturday Night Massacre," Acting Attorney General Robert H. Bork appoints Leon Jaworski to be the new Watergate special prosecutor, succeeding Archibald Cox.
1968: The Motion Picture Association of America unveils its new voluntary film rating system: G for general, M for mature (later changed to GP, then PG), R for restricted and X (later changed to NC-17) for adults only.
1952: The United States detonates the first hydrogen bomb, code-named "Ivy Mike," at Enewetak Atoll in the Marshall Islands.
FOX News First is compiled by FOX News' Bryan Robinson. Thank you for joining us! Enjoy your day! We'll see you in your inbox first thing Friday morning.