Willie McCovey, San Francisco Giants slugger and Hall of Famer, dead at 80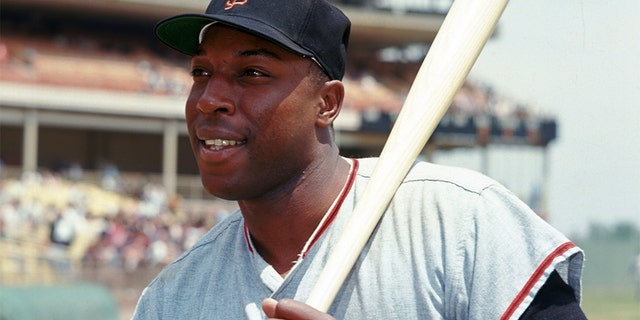 Willie McCovey, one of the best left-handed hitters ever to play baseball, has died, the San Francisco Giants announced Wednesday. He was 80 years old.
In a Twitter post, the Giants -- with whom McCovey spent 19 of his 22 major league years -- said the former first baseman and left fielder "passed away peacefully" on Wednesday afternoon. No cause of death was given, but the team said McCovey had been struggling with ongoing health issues.
McCovey's daughter Allison told KTVU her father "passed peacefully surrounded by his family and friends while listening to his favorite sports channel."
McCovey had used a wheelchair to get around in recent years but was still a regular at San Francisco's AT&T Park, where he watched Giants games from a private suite. On Sept. 30, he attended the Giants' season finale against the hated Los Angeles Dodgers.
"San Francisco and the entire baseball community lost a true gentleman and legend, and our collective hearts are broken," Giants President & Chief Executive Officer Laurence M. Baer. said in a statement. "Willie was a beloved figure throughout his playing days and in retirement. He will be deeply missed by the many people he touched."
The Giants said that a public celebration of McCovey's life would be held at a later date.
An Alabama native, like his illustrious teammate Willie Mays, McCovey made an immediate impression upon his debut in 1959. Despite appearing in just 52 games, the 21-year-old batted .354 with 13 home runs, 38 RBIs and a 1.085 on-base plus slugging percentage. It was good enough for him to be named the NL Rookie of the Year in a unanimous vote.
MARYLAND FIRES FOOTBALL COACH IN SUDDEN REVERSAL AFTER OUTCRY
"You knew right away he wasn't an ordinary ballplayer," said fellow slugger Hank Aaron, courtesy of the Hall of Fame. "He was so strong, and he had the gift of knowing the strike zone. There's no telling how many home runs he would have hit if those knees weren't bothering him all the time and if he played in a park other than Candlestick."
Three years later, McCovey came as close as he ever would to winning a championship. With runners at second and third and two outs, the man nicknamed "Stretch" came to the plate with the Giants trailing the New York Yankees 1-0 in the seventh and deciding game of the 1962 World Series. McCovey smoked a line drive off the Yankees' Ralph Terry --only to watch helplessly as New York second baseman Bobby Richardson snagged it.
Two months later, "Peanuts" cartoonist and Northern California resident Charles Schulz put the words of millions of Giants fans and Yankee haters into the mouth of his most beloved creation.
CLEVELAND BROWNS FIRE COACH HUE JACKSON
"Why couldn't McCovey have hit the ball just three feet higher?" asked Charlie Brown in the Dec. 22, 1962 edition of the comic strip.
"I still think about it all the time," McCovey said in October 2014, after the Giants had won their third World Series in five seasons. "I still think, 'If I could have hit it a little more.'"
In 1969, McCovey narrowly beat out New York Mets pitcher Tom Seaver for the National League MVP. McCovey led the NL in home runs (45) and RBIs (126) for the second straight year, batting .320 while also posting NL-bests with a .453 slugging percentage and .656 on-base percentage. He was walked 121 times, then drew a career-high 137 free passes the next season. He had been third in the 1968 MVP voting, but would never finish higher than ninth after 1969.
A six-time All-Star who also played for the San Diego Padres and Oakland Athletics, McCovey finished his career with 521 home runs, the same number as another great left-handed hitter: Ted Williams. McCovey also drove in 1,555 runs and boasted a career .270 batting average.
McCovey was elected to the Baseball Hall of Fame in 1986, his first year of eligibility. He had spent the last 18 years in a senior advisory role with the Giants, who renamed a section of San Francisco Bay McCovey Cove when the team moved to its waterfront home ballpark prior to the 2000 season.
"Every moment he will be terribly missed," said McCovey's wife, Estella. "He was my best friend and husband. Living life without him will never be the same."
The Associated Press contributed to this report.