Virginia woman snaps stunning photo of venomous cottonmouth snake baring its fangs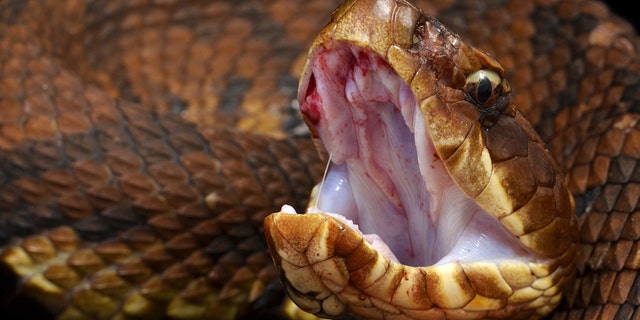 A Virginia woman was quick to snap a photo of a cottonmouth snake as it flashed its sharp fangs at a group of hikers at the Back Bay National Wildlife Refuge in Virginia Beach when they crossed its path over the weekend.
GEORGIA CONSTRUCTION WORKERS FIND ROUGHLY 1,000 HUMAN TEETH HIDDEN INSIDE WALL
"He was just defending himself," June McDaniels, who captured the image, told The Virginian-Pilot.
The cottonmouth, also known as a water moccasin, "was fussing at someone else. The guy was afraid of him so he was tossing pebbles at him to scare him off," McDaniels explained on Facebook, adding to the newspaper the serpent eventually "settled down and left the trail."
A cottonmouth, named for the white coloring on the inside of its mouth, is the sole venomous water snake in the U.S., Live Science reported. This serpent typically only attacks humans when it feels threatened and can travel both in and out of the water.
COUPLE SPOTS RARE WHITE 'GHOST' MOOSE CROSSING HIGHWAY
Cottonmouths typically reach 2 to 4 feet in length and can be found in Florida, southern Virginia and parts of Texas, among other places, according to Live Science.
June McDaniels did not immediately return Fox News' request for additional comment Wednesday.