FOX NEWS FIRST: Judge bars Trump's asylum ban for illegals; Restraining order filed against Avenatti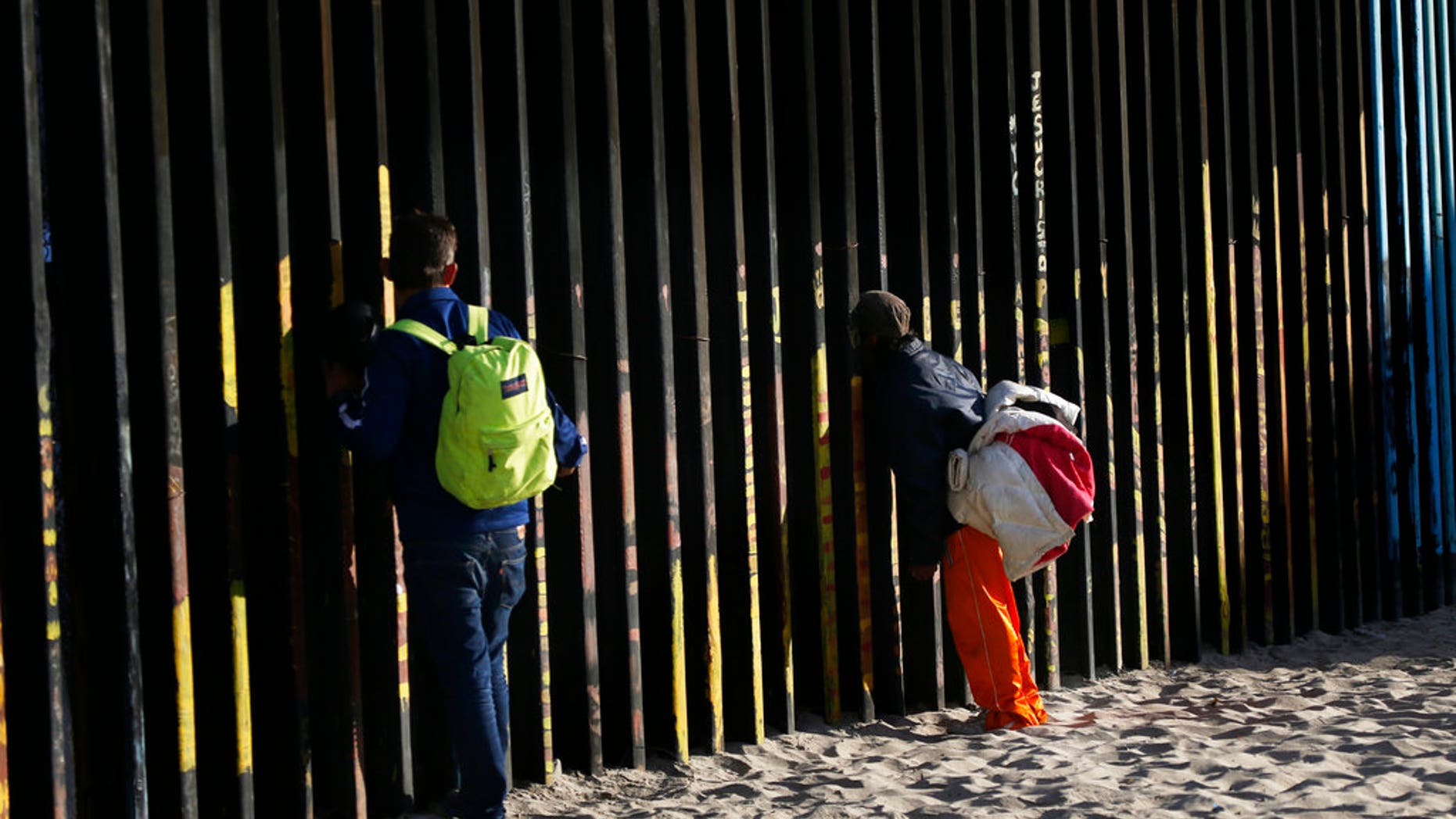 Welcome to FOX News First. Not signed up yet? Click here.
 
Developing now, Tuesday, Nov. 20, 2018
A federal judge has ruled against the Trump administration's ban on asylum for immigrants who cross the border illegally, prompting a likely legal challenge from the White House
Sixteen House Democrats have signed a letter vowing to oppose Nancy Pelosi as House speaker
An actress has filed a restraining order against lawyer Michael Avenatti days after his arrest on domestic violence charges
A war of words has erupted between President Trump and a retired Navy admiral who oversaw the mission to kill Usama bin Laden, with the Republican National Committee siding with the president and outgoing House Speaker Paul Ryan appearing to side with the admiral
The White House decided Monday to no longer seek to revoke CNN correspondent Jim Acosta's press pass and has introduced a new set of rules for reporters at press conferences
THE LEAD STORY - ASYLUM BAN CHALLENGED: A federal judge in San Francisco on Monday barred the Trump administration from refusing asylum to immigrants who cross the southern border illegally, likely prompting a legal challenge from the White House ... Trump issued a proclamation on Nov. 9 that said anyone who crossed the southern border would be ineligible for asylum. U.S. District Judge Jon S. Tigar, who was nominated by President Obama in 2012 to the U.S. District Court for the Northern District of California, issued a temporary restraining order after hearing arguments in San Francisco.
The order came as the Wall Street Journal reported that the number of migrants being allowed to cross the U.S.-Mexico border to legally apply for asylum had slowed down over the past week. According to the Journal, immigration lawyers have complained in recent days that asylum seekers are being blocked from entering the U.S. from the Mexican border cities of Matamoros, Reynosa and Ciudad Juárez. Weeks ago, 30 families or more were being allowed to cross the border daily at Yuma, Ariz. to apply for asylum. In the past two weeks, migrants and advocates say, U.C. Customs and Border Protection officials have slashed that number to one family a day at most.
Meanwhile, Homeland Security officials revealed Monday that more than 500 criminals are traveling with the migrant caravan that's massed on the other side of a San Diego border crossing. Homeland Security officials say there are 6,000 people in Tijuana waiting to be processed at the San Ysidro border crossing, with more on the way. Those who have already entered the border city in the past few days have been met with an icy reception. Migrant groups are beginng to realize they may have to wait six months for their asylum claims to be heard. The caravan arrivals are expected to continue into the week ahead. - Reported by Edmund De Marche (@EDeMarche on Twitter) and Greg Norman
DEM CIVIL WAR: Sixteen House Democratic lawmakers circulated a letter Monday vowing to vote against Nancy Pelosi for speaker of the House, calling for "new leadership" --  even though no challenger has stepped up to run against the California Democrat ... "We are thankful to Leader Pelosi for her years of service to our Country and to our Caucus. She is a historic figure whose leadership has been instrumental to some of our party's most important legislative achievements," the letter from both incumbent and newly elected Democrats read. "However, we also recognize that in this recent election, Democrats ran and won on a message of change."
The letter was signed by former Pelosi challenger Rep. Tim Ryan, D-Ohio, along with other members like Rep. Seth Moulton, D-Mass., Rep. Linda Sanchez, D-Calif.; and several incoming lawmakers, like member-elect Joe Cunningham of South Carolina. - Reported by Brooke Singman (@brookefoxnews on Twitter)
A RESTRAINING ORDER FOR STORMY'S LAWYER: An aspiring film actress on Monday filed a restraining order against lawyer Michael Avenatti – just days after he was detained by police on domestic violence charges, according to court records obtained by the Blast ... Mareli Miniutti, an actress who appeared in "Ocean's 8," filed the domestic violence restraining order Monday in Los Angeles, the report said. It wasn't immediately clear if Miniutti was the woman who accused Avenatti of domestic violence last week.
Avenatti responded to the restraining order with a tweet: "I have NEVER abused a woman or committed domestic violence. Any claim to the contrary is completely bogus and fabricated. I am a target. And I will be exonerated." - Reported by Bradford Betz (@bradford_betz on Twitter)
THE PRESIDENT VS. THE WAR HERO: House Speaker Paul Ryan, R-Wis., on Monday appeared to side with retired Navy Admiral William McRaven— the official best known for overseeing the Navy SEAL mission to kill Usama bin Laden—after President Trump questioned why McRaven took so long to find the Al Qaeda leader ... Trump told "FOX News Sunday" that McRaven is a "Hillary Clinton fan" and an "Obama backer." The Republican National Committee echoed the president's comments, tweeting that McRaven has been critical of Trump from as far back as the 2016 campaign. Ryan said in a statement on Monday that the U.S. is grateful for McRaven and all members of the military who have served in harm's way and "have put country before self," according to The Hill.  McRaven has repeatedly criticized Trump over the president's description of journalists as "the enemy of the American people," writing in February 2017 that those comments represented "perhaps the greatest threat to democracy in my lifetime." - Samuel Chamberlain (@SChamberlainFOX on Twitter) and Edmund De Marche 
NEW RULES: The White House will not seek to again revoke CNN chief White House correspondent Jim Acosta's hard press pass, as first reported on Monday by FOX News' John Roberts ... "Today the White House fully restored Jim Acosta's press pass.  As a result, our lawsuit is no longer necessary. We look forward to continuing to cover the White House," CNN said in a statement. White House Press Secretary Sarah Sanders also implemented a series of rules that will govern White House press conferences going forward.
According to Sanders, the new rules include: (1) A journalist called upon to ask a question will ask a single question and then will yield the floor to other journalists. (2) At the discretion of the president or other White House official taking questions, a follow-up question or questions may be permitted; and where a follow up has been allowed and asked, the questioner will then yield the floor. - Reported by Brian Flood (@briansflood on Twitter)

AS SEEN ON FOX NEWS
WHEN A JOKE BOMBS - "I think he just nuked his [presidential] chances."  – Jesse Watters, on "The Five," discussing how U.S. Rep. Eric Swalwell, D-Calif. and a potential 2020 Democratic presidential candidate, brought up nuclear weapons when a Twitter user challenged him on gun control.

HOT TOPICS
Ivanka Trump's lawyer slams report that she used private email for government business.
Smoke from California wildfires could carry to Virginia, NOAA says.
Kennedy: The correspondents dinner is no longer a laughing matter.
GoFundMe suspect claims she was duped into scam fundraiser for homeless vet.
TRENDING
Chickenpox outbreak at North Carolina school with high anti-vaccination rate leaves dozens sick.
Trump to pardon turkey: A look at the White House's Thanksgiving tradition. 
The 'turkey challenge' prank is freaking out parents everywhere.
THE SWAMP
Democratic senators sue to block Matthew Whitaker's appointment as acting attorney general.
Trump to campaign for Hyde-Smith in Mississippi as Dems aim to energize black voters. 
De Blasio, citing 'socialistic impulse,' wants more government control of NYC property.
ACROSS THE NATION
Camp Fire death toll rises to 79, around 700 missing, sheriff says.
Christopher Watts, Colorado man who killed pregnant wife, 2 kids sentenced.
U.S. veteran, 100, who showed immense bravery in WWII awarded top French honor.
MINDING YOUR BUSINESS
Stock futures point to further declines.
U.S. recession risk edges up, Fed may deliver fewer hikes: poll.
U.S. stocks tumble as tech titans slide. 
Can investors expect a Thanksgiving rally?
Willie Robertson's journey to 'American Entrepreneur.'
South Korea's Jeju Air orders 40 Boeing planes worth $4.4B.
General Electric taps John Rice, two others to lead power unit.
Macy's to kick off Black Friday sales on Thanksgiving Day again.
List of stores that are closed on Thanksgiving.
FOX NEWS OPINION
Janice Dean: 10 reasons to be thankful. 
Dr. Ronnie Floyd: Thanksgiving: More than a day of gratitude, a day of prayer.
Lauren DeBellis Appell: I'm thankful for Trump … and I'm not alone.
HOLLYWOOD SQUARED
Casey Kasem's family claims he was murdered in '48 Hours' shocker.
Michelle Wolf: White House Correspondents' Association 'cowards' for ditching comedians in 2019.
Heather Locklear placed on psychiatric hold after paramedics called to her home.
DID YOU HEAR ABOUT THIS?
Stunning 'sensual' queen fresco discovered in Pompeii. 
Easter Island controversy: Islanders want British Museum to return 'stolen friend' statue.
NASA picks landing spot for Mars 2020 rover in hunt for alien life.

STAY TUNED
FOX Nation is coming! - Sign up now and find out more about its exciting launch on Nov. 27!
On Facebook:
Check out 'FOX News Update,' our Facebook-exclusive news program!
On FOX News: 
 
FOX & Friends, 6 a.m. ET: FOX Nation host Tomi Lahren; Georgia Governor-elect Brian Kemp; Florida Attorney General Pam Bondi on the opioid crisis. Megan Meany helps viewers get a jumpstart on Christmas shopping. An update on Matthew Corpstein, who got help with his medical expenses from "FOX & Friends" viewers.
Hannity, 9 p.m. ET: Guests include: U.S. Sen. Lindsey Graham, R-S.C.; U.S. Rep. Devin Nunes, R-Calif.
FOX News@Night, 11 p.m. ET: Robert Oppedisano is a physical education teacher who says he could lose his job at a Florida middle school because he refused administrators' demands to supervise the showers where a transgender boy (who is biologically a girl) could be showering with other boys. He tells his story to Shannon Bream.
On FOX Business:
Mornings with Maria, 6 a.m. ET: Special guests include: Steve Forbes, Forbes Media chairman; Larry Haverty, LJH Investment Advisors managing director; Jerry Storch, former Toys "R" Us and HBC CEO; Rep. Jodey Arrington, R-Texas; Sean Spicer, former White House press secretary.
Varney & Co., 9 a.m. ET: Bill Simon, former president and CEO of Walmart; Larry Kudlow, National Economic Council director; Curtis Ellis, former Trump campaign trade and jobs adviser; Nelson Balido, Border and Commerce Security Council president.
Cavuto: Coast to Coast, Noon ET: Jerry Howard, National Association of Home Builders CEO.
Making Money with Charles Payne, 2 p.m. ET: David Nelson, chief strategist at Belpointe; Robert Luna, CEO and chief investment strategist of Surevest; U.S. Rep. Andy Biggs, R-Ariz.; Hitha Herzog, retail expert.
Kennedy, 9 p.m. ET: Guests include: Buck Sexton; Chris Stirewalt; Rachel Campos-Duffy.

On FOX News Radio:
The FOX News Rundown podcast: The latest caravan of Central American migrants is at the southern border as the Trump administration challenges asylum laws.  Bartolo Fuente, who is said to have organized the caravan, joins the podcast to explain his role and why people choose to make the trek. Could there be a rematch of the 2016 presidential election? Former Clinton campaign strategist, Mark Penn, discusses Hillary Clinton's possible 2020 run for president. Plus, commentary by Judge Andrew Napolitano.
Want the FOX News Rundown sent straight to your mobile device? Subscribe through Apple Podcasts, Google Play, and Stitcher.
The Brian Kilmeade Show, 9 a.m. ET: The controversy over Acting Attorney General Matt Whitaker, the latest in the Mueller investigation, the migrant caravan, Democrats challenging Pelosi as House speaker and a possible Trump administration shakeup are the topics of debate with the following guests: A.B. Stoddard, RealClearPolitics associate editor; Chris Stirewalt; Kennedy.
#OnThisDay
 
2003: Michael Jackson is booked on suspicion of child molestation in Santa Barbara, Calif. (Jackson was later acquitted at trial.)
2000: Lawyers for Al Gore and George W. Bush battle before the Florida Supreme Court over whether the presidential election recount should be allowed to continue.
1976:  "Rocky," starring Sylvester Stallone, premieres in New York.
FOX News First is compiled by FOX News' Bryan Robinson. Thank you for joining us! Enjoy your day! We'll see you in your inbox first thing Wednesday morning.