Migrant caravan at US border is harboring more than 500 criminals, Homeland Security claims
NEWYou can now listen to Fox News articles!
More than 500 criminals are traveling with the migrant caravan that's massed on the other side of a San Diego border crossing, homeland security officials said Monday afternoon.
The revelation was made during a conference call with reporters, with officials asserting that "most of the caravan members are not women and children". They claimed the group is mostly made up of single adult or teen males and that the women and children have been pushed to the front of the line in a bid to garner sympathetic media coverage.
"All legal options are on the table and we have been negotiating with all our partners in central America with ways to deal with the caravan," one official said when asked about reports that the U.S. government is planning to make asylum-seekers remain on the Mexican side of the border while their claims are being reviewed.
Homeland Security officials say there are currently 6,000 people in Tijuana waiting to be processed at the San Ysidro border crossing, with more on the way.
Those who have already entered the border city in the past few days have been met with an icy reception. The group's members are also coming to the realization that they could be stuck on that unwelcoming side of the fence for months if they try to enter America the legal way.
Adding to the increasing certainty of the group's situation, the U.S. Border Patrol temporarily closed all northbound lanes at the San Ysidro Port of Entry early Monday morning as the U.S. continues to "position additional port hardening materials.
"Unfortunately, some members of the caravan are purposely causing disruptions at our border ports of entry," Homeland Security Secretary Kirstjen Nielsen posted on Twitter. "There is a legal and illegal way to enter the U.S. We have deployed additional forces to protect our border."
Given the increasing attention on the caravan, and the insistence by top U.S. officials that the migrants will not simply be allowed to enter the U.S., the crowds in Tijuana reportedly may end up having to wait six months for their asylum claims to be heard.
"We have to wait — for how long?" Lenin Herrera Batres, a 20-year-old who left Honduras with his wife and 2-year-old son, asked the New York Times. "We don't have the money to stay here for one month, two months."
Another migrant, 24-year-old José Adan Núñez, told the newspaper "if I die on the way, at least I will have fought for something," after spending a few days in a shelter in Tijuana.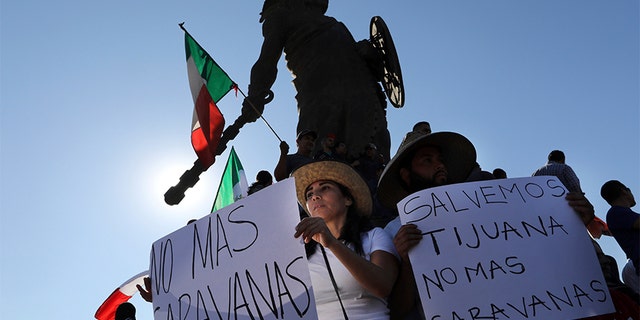 U.S. border inspectors are already processing only about 100 asylum claims per day at Tijuana's main crossing to San Diego, according to the Associated Press. Asylum seekers are registering their names in a tattered notebook managed by migrants themselves that had more than 3,000 names even before the first members of the leading caravan started arriving last week.
The arrivals are expected to continue throughout Monday and into the week ahead. Most of a group of 3,400 migrants, who were last in the border city of Mexicali, should make it to Tijuana Monday, an advocacy organization told the New York Times.
Tijuana Mayor Juan Manuel Gastélum – who has referred to the arrivals as "bums" and questioned whether a referendum in the city of 1.6 million is needed to determine whether or not they should be allowed to stay – reportedly estimated the migrants may have to wait six months for their asylum claims to be processed.
The Mexican Interior Ministry announced Friday that just under 2,700 Central American migrants have applied for asylum in Mexico under a program launched late last month that pledged to provide them with work and living permissions faster.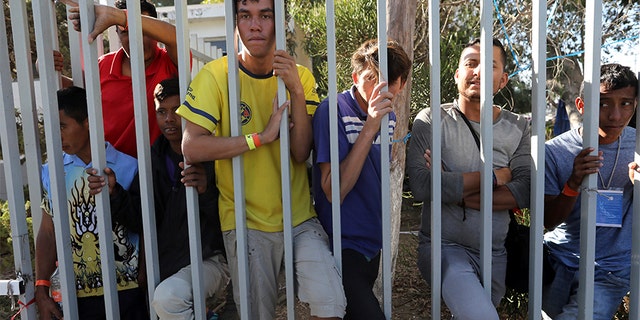 Yet officials anticipate the migrant caravan arrivals in Tijuana will soon swell in excess of 10,000 people – and will need to be housed for an extended period of time – which the Mexican government says it lacks the resources for.
The majority of migrants, who have been on foot for more than a month, are sleeping on a dirt baseball field at an outdoor sports complex in Tijuana by the newly-fortified barbed wire fence that separates Mexico from the United States.
And they haven't gotten a warm welcome from the residents of Tijuana.
On Sunday, hundreds of locals gathered around a monument in the city to protest the migrants' arrival, waving Mexican flags and chanting "Out! Out!" the Associated Press reported.
"We don't want them in Tijuana," protesters were reported to have shouted.
Juana Rodriguez, a housewife, told the AP that the Mexican government needs to conduct background checks on the migrants to make sure they don't have criminal records.
A woman who gave her name as Paloma also lambasted the migrants, who she said came to Mexico in search of handouts. "Let their government take care of them," she told video reporters covering the protest.
Fox News' Jake Gibson, Hollie McKay and the Associated Press contributed to this report.