Trump says he's 'really not happy' with border deal, Chelsea Clinton defends Omar's apology
NEWYou can now listen to Fox News articles!
Welcome to Fox News First. Not signed up yet? Click here.
Developing now, Wednesday, Feb. 13, 2019
TRUMP SIGNALS SUPPORT FOR BORDER SECURITY DEAL AFTER MEETING WITH SEN. SHELBY: President Trump appeared to be moving Tuesday toward approving a border security compromise after speaking with the top Republican on the Senate Appropriations Committee ... The president tweeted that he had been "presented the concept and parameters" of the agreement by "hard-working" Sen. Richard Shelby, R-Ala.
During a Cabinet meeting earlier Tuesday, Trump said that he was "not happy" with the tentative deal, but did not say whether he would enact the measure and insisted that the administration was "using methods" to construct his long-promised wall along the U.S.-Mexico border.
The president also wants to avert another government shutdown, despite expressing displeasure at what was agreed to by lawmakers Monday night. A committee negotiating new border security measures tentatively agreed to dedicate $1.4 billion to Trump's border wall, far less than his $5.7 billion goal. The emerging deal drops Democratic demands to seriously limit detentions of immigrants illegally in the U.S.
CLICK HERE TO GET THE FOX NEWS APP
TRUMP THANKS MSNBC AFTER REPORT SENATE PANEL FOUND NO EVIDENCE OF RUSSIA COLLUSION: President Trump expressed gratitude to MSNBC for its report... Tuesday morning that, according to unnamed sources, the Senate Intelligence Committee concluded that there is no direct evidence of a conspiracy between the Trump campaign and Russia during the 2016 election. The committee conducted 200 interviews over the course of two years.
CHELSEA CLINTON DEFENDS OMAR, SAYS TRUMP NEVER SAID SORRY FOR 'WHITE NATIONALISM' EMBRACE: Chelsea Clinton on Tuesday called out Vice President Mike Pence for saying that Rep. Ilhan Omar's apology for earlier Twitter posts called anti-Semitic was "inadequate," and blasted President Trump for peddling hate ... Clinton, who was critical of Omar's tweets, posting that "we should expect all elected officials, regardless of party, and all public figures to not traffic in anti-Semitism," but said on Tuesday that Trump is a "far more powerful person" and has never apologized "for his embrace of white nationalism & anti-Semitic & Islamophobic hate."
Omar said she had no intention of offending anyone, including Jewish Americans, when she insinuated that lobbyists were paying lawmakers to support Israel. Trump called her apology "lame" and said she should resign from Congress or at least not be allowed to serve on committees.
WESTMINSTER KENNEL CLUB DOG SHOW NAMES WIRE FOX TERRIER AS BEST IN SHOW: A wire fox terrier from Brazil named King was announced Tuesday as the winner of the 143rd Westminster Kennel Club Dog Show at Madison Square Garden in New York City ... Wire fox terriers have won 15 times at the nation's most prestigious dog show -- far more than any other breed. There were some boos — along with modest cheers — when judge Peter Green pointed at the 7-year-old King. Bono the Havanese came in second among the more than 2,800 dogs that competed.
Contenders in the final ring were Bean, a popular Sussex spaniel that has won the sporting group two years in a row; Burns a crowd-pleasing longhaired dachshund; Wilma, a boxer; and Baby Lars, a bouviers des Flandres.
There is no prize money for the win, just a shiny silver bowl. Other rewards come in the forms of lucrative breeding rights and a lifetime of bragging rights.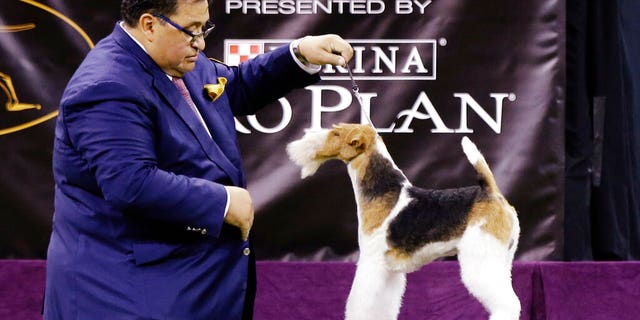 THE SOUNDBITE
DEMOCRATIC 2020 PRESIDENTIAL CONTENDER AMY KLOBUCHAR ON WHETHER SHE IS "PROGRESSIVE ENOUGH" TO WIN THE NOMINATION - "...What I also really believe in is that we need to stop governing from chaos and move to opportunity. And these are views and values not just consistent with my party, but also with America. I think that we need to do better in terms of making our economy work better for everyone. I think we need to pass comprehensive immigration reform, and I look at this as not just a moral issue, I actually look at it as an economic issue..." - Sen. Amy Klobuchar, D-Minn., on Special Report with Bret Baier, talks about joining the crowded Democratic field for 2020. WATCH
TODAY'S MUST-READS
First female Viper demo team pilot removed from position after 2 weeks
Abducted Ohio State student, kidnapper killed in police shootout
NASA eyes giant 'meteorite' crater beneath Greenland's ice
MINDING YOUR BUSINESS
California scrapping plan for $77B high-speed rail from LA to San Francisco
Stocks surge on US-China trade talks, tentative budget deal
Toys R Us plans big comeback this holiday season
The home where Jeff Bezos launched Amazon is up for sale
College students' beginning salaries: Expectations vs. reality
STAY TUNED
On Fox Nation:
Brian Kilmeade Explores America's Hidden Treasures - The second season of Brian Kilmeade's acclaimed series, "What Made America Great," returns to Fox Nation on Feb. 14. Watch a preview of the show now.
Not a subscriber? Click here to join Fox Nation today!
On Fox News:
Fox & Friends, 6 a.m. ET: Special guests include: Charlie Kirk, founder of Turning Point USA and Nathan Rubin, founder of Millenial Politics debate whether 2020 campaign will put Democrat extremism on trial in the public arena; Lawrence Jones, editor in chief of Campus Reform, to talk about what people think of Alexandria Ocasio-Cortez's Green New Deal.
Outnumbered Overtime with Harris Faulker, 1 p.m. ET: Special guests include: Ronna McDaniel, RNC chairwoman; Antjuan Seawright, former senior advisor to Hillary Clinton in South Carolina.
Your World with Neil Cavuto, 4 p.m. ET: Special guests include: Ryan Payne of Market Watcher.
The Story with Martha MacCallum, 7 p.m. ET: Special guests include: Michael Anton, former National Security Council spokesman for the Trump Administration; Richard Goodstein, Democratic strategist.
Hannity, 9 p.m. ET: Special guests include: Tim Tebow, former NFL quarterback and author of "This Is The Day."
On Fox News Radio:
The Fox News Rundown podcast: After a three-month trial, the world's most notorious drug lord, Mexico's Joaquin "El Chapo" Guzman, was found guilty on all 10 counts Tuesday. FOX's field producer Marta Dhanis and Retired DEA agent Mike Vigil discuss the trial's end.
Our online dating habits may be impacting the evolution of humans as a species. We speak to Scott Soloman, associate teaching professor in the Department of BioSciences at Rice University, about how technology is affecting biology.
Plus, commentary by FOX News contributor Kimberley Strassel.
Want the Fox News Rundown sent straight to your mobile device? Subscribe through Apple Podcasts, Google Play, and Stitcher.
The Brian Kilmeade Show, 9 a.m. ET: Guests include: Gregg Jarrett; "Varney & Co." Simulcast; Gene Marks; Chris Stirewalt; Gary Sinese.
The Todd Starnes Show, Noon ET: Todd gets the latest on the deal to avoid a government shutdown from RNC Chairwoman Ronna McDaniel and Rep. Jim Jordan, R-Ohio, and discusses President Trump strong pro-life stance with Rep. Doug Collins, R-Ga.
#ONTHISDAY
2016: Justice Antonin Scalia, the influential conservative and provocative member of the U.S. Supreme Court, was found dead at a private residence in the Big Bend area of West Texas; he was 79.
1943: During World War II, the U.S. Marine Corps Women's Reserve was officially established.
1861: Abraham Lincoln was officially declared winner of the 1860 presidential election as electors cast their ballots.
Fox News First is compiled by Fox News' Bryan Robinson. Fox News' Amy Lieu contributed to this newsletter. Thank you for joining us! Have a good day! We'll see you in your inbox first thing Wednesday morning.