Rudy the bulldog's run at Westminster Kennel Club's agility contest goes viral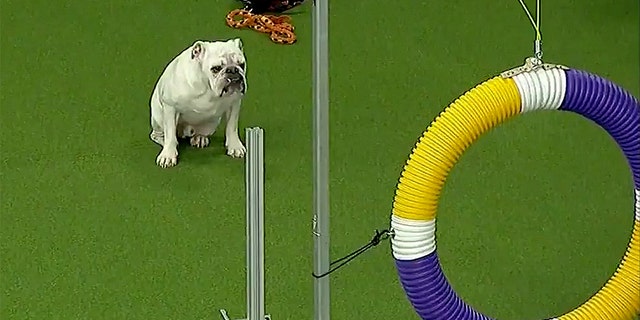 An agile bulldog? A pup of the same breed has recently proven that athleticism can come in the most unexpected forms.
Rudy the bulldog charmed the audience at the Westminster Kennel Club agility contest in New York City over the weekend after he was spotted flying over jumps and bounding through tunnels.
DOG OWNERS CLAIM 'TOXIC' VITAMIN D LEVELS IN RECALLED HILL'S PET NUTRITION DOG FOOD KILLED THEIR PETS
The so-called "sourmug" canine had a final time of 51.63 seconds at the agility contest, which ushers in the club's annual dog show.
Though Rudy's time was a bit slower than Verb the Border Collie's winning time of 32.05 seconds, according to NJ.com, the canine quickly went viral — finding an abundance of new fans and endless support on Twitter.
"The only time Wally moves like this is when he has something in his mouth he's not supposed to have," one woman wrote of her bulldog.
PET HEDGEHOGS ASSOCIATED WITH SALMONELLA OUTBREAK, 'DON'T KISS OR SNUGGLE' THEM, CDC WARNS
"Rudy the bulldog is my Monday motivation," another wrote.
"I adore bulldogs even when they aren't shredding the agility course at a fancy dog show," a third commented.
The Associated Press contributed to this report.