FOX NEWS FIRST: Trump, Pompeo to discuss missing Saudi activist; Feinstein wants to revisit Kavanaugh if Dems win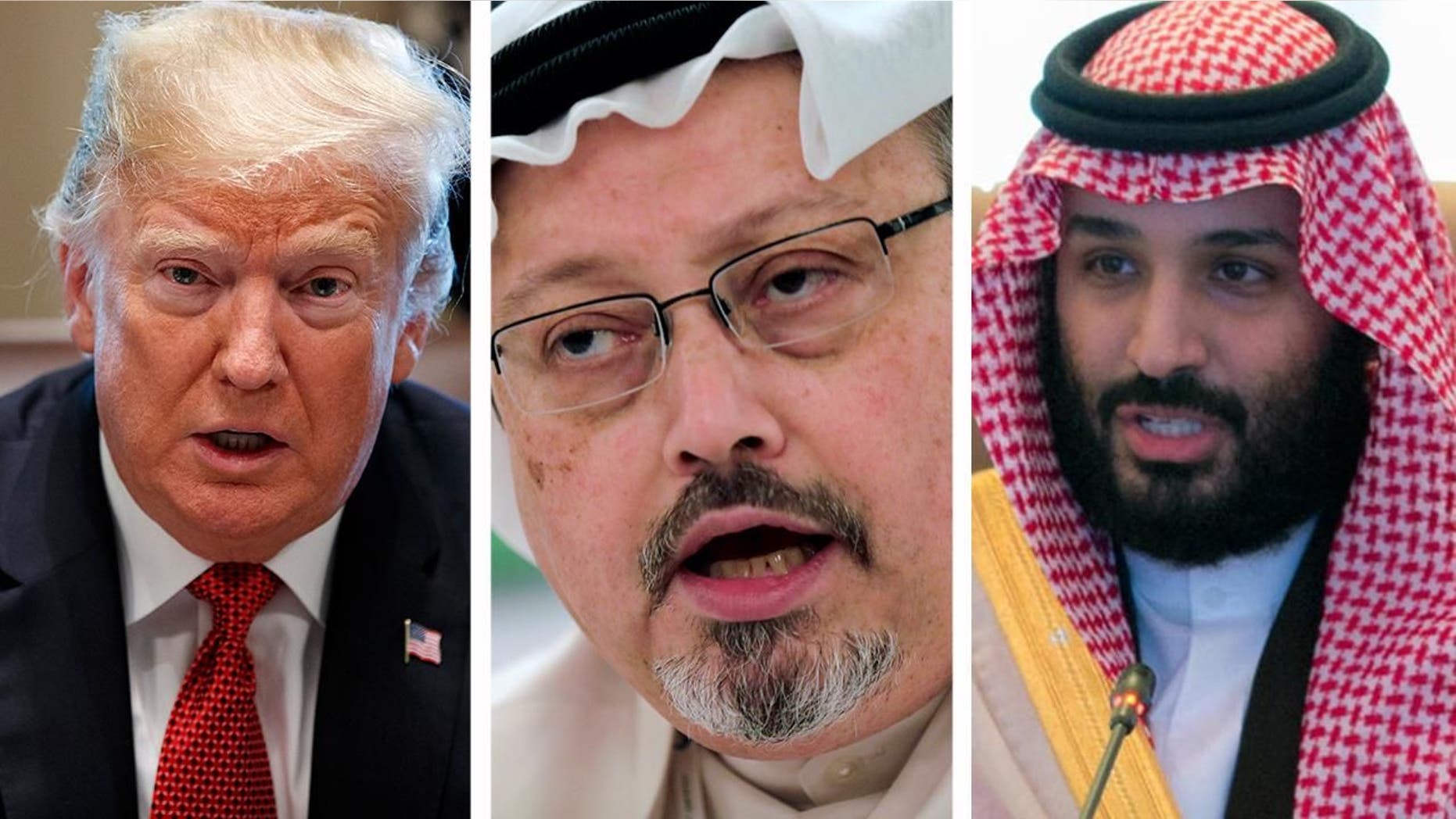 Welcome to FOX News First. Not signed up yet? Click here.
Developing now, Thursday, Oct. 18, 2018
THE LEAD STORY - TRUMP WAITS FOR ANSWERS IN MISSING ACTIVIST MYSTERY: President Trump said he wants answers in the disappearance and presumed death of Saudi activist Jamal Khashoggi, but is resisting the idea of the FBI conducting its own investigation ... Trump said he would receive a full briefing from Secretary of State Mike Pompeo after he returned the United States on Wednesday. Pompeo traveled to Riyadh and Ankara, where he had talks with Saudi and Turkish leaders about Khashoggi's disappearance and their separate investigations. Turkish crime-scene investigators searched the home of the Saudi consul general in Istanbul on Wednesday.
"I want to find out what happened, where is the fault," Mr. Trump said. Asked about a recording described by the Turkish newspaper Yeni Safak that allegedly could reveal details of Khashoggi's death, Trump said, "We've asked for it, if it exists." At another point, he said, "I'm not sure yet that it exists." The president has repeatedly urged caution and stressed the United States must know all the facts in the missing activist's disappearance before taking potential action. Saudi and Turkish leaders have denied knowing what happened to Khashoggi. Several media outlets reported Monday that the Saudi government may reveal publicly that rogue intelligence operatives murdered Khashoggi by mistake inside the kingdom's consulate in Istanbul during an interrogation that went wrong earlier this month. That public statement has yet to happen.
The U.S. has several business interests with Saudi Arabia and sees the country as a key ally in the war on terror and in neutralizing Iran. Trump insisted he is not trying to provide "cover" for the Saudis in Khashoggi case.
PLUGGING THE LEAKS: The top Treasury Department employee who was charged Wednesday with leaking confidential financial documents pertaining to former Trump officials was apprehended with a flash drive containing the allegedly pilfered information in her hand, prosecutors said in court papers ... Natalie Mayflower Sours Edwards, 40, a senior official at the department's Financial Crimes Enforcement Network (FinCEN), is accused of illegally giving a reporter bank reports documenting several suspicious financial transactions, known as Suspicious Activity Reports ("SARs"), from October 2017 to the present. The financial transactions involved Trump campaign chief Paul Manafort, campaign official Richard Gates, accused Russian agent Maria Butina and the Russian Embassy, federal law enforcement officials said Wednesday.
Edwards' arrest late Tuesday came on the heels of other high-profile, leak-related prosecutions under the Trump administration, which has pledged to go on the offensive against leakers that the president has called "traitors and cowards." She was released to the custody of her parents and has been charged with unlawful disclosure and conspiracy. Each charge carries a maximum sentence of five years and a $250,000 fine. She is due back in court Nov. 2.
'REMEMBER KAVANAUGH': Sen. Dianne Feinstein, D-Calif., said Wednesday that if Democrats took control of the Senate following November's midterm elections, she would be in favor of reopening an investigation into the sexual misconduct allegations made against Supreme Court Justice Brett Kavanaugh ... I'd be in favor of opening an investigation into the allegations," Feinstein, the ranking minority member of the Senate Judiciary Committee, said during a debate in San Francisco with her challenger, state Sen. Kevin de León. A fellow Democrat, de León emerged from California's hectic jungle primary system to challenge one of the Senate's longest tenured members for her seat.
Feinstein was criticized for her handling of the allegations against Kavanaugh. She has come under more fire from both Republicans and her fellow Democrats since the Kavanaugh confirmation after it was revealed that one of Kavanaugh's accusers, Christine Blasey Ford, had reached out to the lawmaker with her allegations and asked that they remain confidential.
JUDGE 'SHOCKED' AT STATE DEPARTMENT COVER FOR HILLARY: In a combative hearing last week in Washington, D.C., a federal judge accused career State Department officials of lying and signing "clearly false" affidavits to derail a series of lawsuits seeking information about former Secretary of State Hillary Clinton's private email server and her handling of the 2012 terrorist attack on the U.S. Consulate in Benghazi, Libya ... U.S. District Court Judge Royce Lamberth said he was "shocked" and "dumbfounded" when he learned that FBI had granted immunity to former Clinton chief of staff Cheryl Mills during its investigation into the use of Clinton's server, according to a court transcript of his remarks.
The transparency group Judicial Watch initially sued the State Department in 2014, seeking information about the response to the Benghazi attack after the government didn't respond to a Freedom of Information Act (FOIA) request. Other parallel lawsuits by Judicial Watch are probing issues like Clinton's server, whose existence was revealed during the course of the litigation. The State Department had immediately moved to dismiss Judicial Watch's first lawsuit. Lamberth denied the request  -- and he said he was happy he did, charging that State Department officials had intentionally misled him because other key documents, including those on Clinton's email server, had not in fact been produced.
'THIS IS JUST INSANE': The liberal group American Bridge 21st Century announced Wednesday night that it had fired one of its operatives a day after he was arrested and accused of battery against the female campaign manager for Nevada GOP gubernatorial candidate Adam Laxalt ... In a statement, American Bridge said that Mike Stark had been relieved of his duties "effective immediately." Stark, 50, was arrested by Las Vegas city marshals Tuesday evening after 31-year-old Kristin Davison said he grabbed and twisted her arm, refusing to let go. He has a record of arrests while working for American Bridge. "Politics is a little bit aggressive these days, but this is just insane," Davison told FOX News earlier Wednesday. "I've never seen anything like it." American Bridge was founded in November 2010 by David Brock, who also founded liberal watchdog group Media Matters. The group's largest donor is liberal billionaire George Soros, who contributed more than $2 million between 2015 and 2016.
FOX NATION'S DAILY LINEUP REVEALED: FOX Nation, the new on-demand, subscription-based streaming service for Fox News super fans that will debut later this fall, unveiled a highly anticipated batch of daily short-form programming and its initial schedule on Wednesday ... FOX Nation will begin each weekday at 7 a.m. ET with "Primetime Highlights," a program co-hosted by Rob Schmitt and Carley Shimkus that will examine key moments from FOX News Channel's previous-night lineup. That'll give subscribers a chance to catch up on anything they missed from "Tucker Carlson Tonight," "Hannity," "The Ingraham Angle" and "FOX News @ Night with Shannon Bream." "FOX & Friends' After the Show Show" will hit the service at 9 a.m., followed by Tomi Lahren's "First Thoughts" and a live program hosted by FNC senior judicial analyst Judge Napolitano each becoming available at 9:30 a.m. ET.
FOX Nation will unveil a daily slate of on-demand programming by noon each weekday including "Deep Dive," which will focus on a hot-button topic with political commentators such "The Next Revolution" host Steve Hilton and Wall Street Journal editorial page editor Paul Gigot. Click here to find out the rest of FOX Nation's initial programming schedule.
AS SEEN ON FOX NEWS
DISSECTING THE ANGRY LEFT -  "The left is angry at America. They say it all the time ... Anyone who considers America a distinct, physical place with a [common] language and cultural values... won't feel comfortable in the Democratic Party."  – Tucker Carlson, on "Tucker Carlson Tonight," blasting the Democratic Party for many of its politicians' rhetoric and some of its supporters' violent acts against Republicans. WATCH

THE 2018 MIDTERMS
FOX News Poll: President Trump, health care drive midterm elections. 
Voters can decide abortion, marijuana, immigration issues: 10 ballot measures to watch.
2018 Midterms: Stay with FOX News for full coverage and analysis.
TRENDING
Buffalo Wild Wings releases pumpkin spice chicken wings, angers Twitter.
This athlete just signed the richest sports contract in history.
Mom recorded chasing 14-year-old son who took her BMW, whipping him with belt.
THE SWAMP
White House counsel Don McGahn resigns.
Bloomberg on possible Trump challenge: 'You never know until you try.'
Biden: 'I hope' Democrats don't impeach Trump.
McConnell hints GOP will try ObamaCare repeal again next year.
ACROSS THE NATION
University bars prof who sought to teach 'unauthorized' course protesting Susan Collins.
Louis Farrakhan won't be suspended by Twitter despite anti-Semitic tweet.
Marine veteran, 80, receives Medal of Honor for Vietnam bravery.
MINDING YOUR BUSINESS
Truck driver shortage is 'real': Here's how the Trump team plans to fix it.
Kennedy: Does Trump's 'Nickel Plan' go far enough?
Novartis boosts outlook, announces $2.1B Endocyte deal.
Fed minutes: Strong economy supports rate hikes.
The 10 best cities for jobs right now.
STU VARNEY AT THE WHITE HOUSE
Trump threatens pullout from postal treaty favoring Chinese shippers.
Trump's regulation rollback is sparking U.S. growth: Larry Kudlow.
U.S. is the largest oil, gas producer 'on face of the planet': Ryan Zinke.
Vocational training may solve skilled-worker shortage: Small Business Administration's Linda McMahon.
FOX NEWS OPINION
Tammy Bruce: Elizabeth Warren and her little DNA story.
John James: Forget about the 'blue wave,' let's talk about the undercurrent.
Arvin Patel: America's national treasure is at stake in the trade war with China
HOLLYWOOD SQUARED
Weinstein case's lead detective told witness to delete 'data of personal nature': report.
Netflix's 'Orange Is the New Black' to end in 2019 after season seven.
ICYMI: George Lopez got in a fight with an alleged Trump supporter at a Hooters.
DID YOU HEAR ABOUT THIS?
Pompeii discovery rewrites Vesuvius eruption's history.
Catastrophic 'Tornado Alley' may be moving east.
Ohio police capture video of deer duking it out, say they decided to let ''take its course.'
STAY TUNED
FOX Nation is coming! - Sign up now and find out more about its exciting launch!
On Facebook:
Check out 'FOX News Update,' our Facebook-exclusive news program!
On FOX News: 
 
FOX & Friends, 6 a.m. ET: Special guests include: Eric Trump; Rep. Brian Mast, R-Fla.; New Jersey Republican Senate candidate Bob Hugin; actor Zachery Ty Bryan.
Special Report, 6 p.m. ET: Special guests include: Gerónimo Gutiérrez Fernandez, Mexico ambassador to the U.S.
Hannity, 9 p.m. ET: Don't miss Sean Hannity's exclusive one-hour interview with Rush Limbaugh!
FOX News @ Night, 11 p.m. ET: Gen. Jack Keane.
On FOX Business:
Mornings with Maria, 6 a.m. ET: Special guests include: Morgan Ortagus, national security analyst; Christopher Bedford, editor-in-chief of the Daily Caller; Phil Orlando, Federated Investors chief equity market strategist; Stephanie Pomboy, president of Macromavens; Bryan Lanza, Republican strategist.
Varney & Co., 9 a.m. ET: Rep. Francis Rooney, R-Fla.; Chris Hopper, head of North America for Riot Games; Kayleigh McEnany, RNC spokeswoman; Stew Leonard, president and CEO of Stew Leonard's.
Cavuto: Coast to Coast, Noon ET: Ed Lazear, former chairman of President Bush's Council of Economic Advisers; Stuart Eizenstat. former deputy treasury secretary.
Countdown to the Closing Bell with Liz Claman, 3 p.m. ET: Michael Pillsbury, director of the Center on Chinese Strategy at the Hudson Institute; Stan Collender, "The Budget Guy."
Kennedy Live, 9 p.m. ET: Special guests include: Rep. Matt Gaetz, R-Fla.; Republican pollster Kristen Soltis Anderson; Lawrence Jones, CampusReform.org editor-in-chief.
On FOX News Radio:
The FOX News Rundown podcast: There's less than 20 days until midterm elections. Three congressional candidates from the Southwestern United States join the podcast to discuss their tight races and predictions for Election Day. One of the key Senate contests in November is in Tennessee, and it's a tight race between Republican Rep. Marsha Blackburn and her opponent former Tennessee Gov. Phil Bredesen. Rep. Blackburn discusses the state of the race. Plus, commentary by Judge Andrew Napolitano.
Want the FOX News Rundown sent straight to your mobile device? Subscribe through Apple Podcasts, Google Play, and Stitcher.
The Brian Kilmeade Show, 9 a.m. ET: The latest developments on missing activist Jamal Khashoggi, the midterms and top headlines of the day will be the topics of debate with the following guests: U.S. Rep. Rodney Davis, R-Ill.; Steve Doocy and Rich Lowry, editor of the National Review.
#OnThisDay
 
1931: Inventor Thomas Alva Edison dies in West Orange, N.J. at age 84.
1892: The first long-distance telephone line between New York and Chicago is officially opened (it could only handle one call at a time).
1648: Boston shoemakers are authorized to form a guild to protect their interests; it's the first American labor organization on record.
FOX News First is compiled by FOX News' Bryan Robinson. Thank you for joining us! Enjoy your day! We'll see you in your inbox first thing Friday morning.