Pompeii discovery rewrites Vesuvius eruption's history
A scrawled piece of text on a wall in Pompeii is rewriting the history of the famous ancient eruption of Mount Vesuvius.
The Roman city of Pompeii was devastated following the eruption of Mount Vesuvius in 79 A.D. Pompeii was quickly buried by volcanic ash, killing about 2,000 of the city's residents, according to History.com.
However, the newly-discovered charcoal inscription suggests that the eruption occurred in October of 79 A.D., two months later than previously thought.
MOUNT VESUVIUS CAUSED VICTIMS' HEADS TO EXPLODE, BLOOD TO BOIL: STUDY
In a Facebook post, officials at the famous archaeological site explained that the text was found on the wall of a room in Pompeii's Regio V district. The house was undergoing refurbishment at the time of the eruption, according to archaeologists.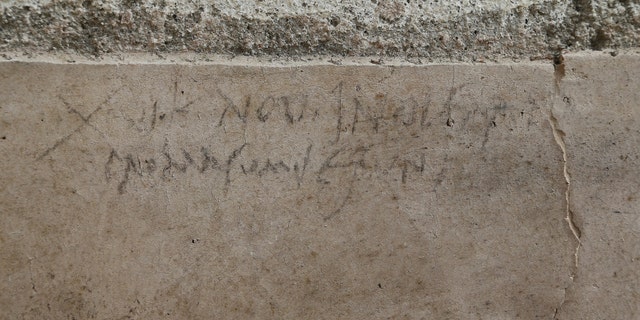 The inscription refers to "the sixteenth day prior to the Calends of November," the equivalent date of Oct. 17. This supports the idea that the eruption occurred a week later on Oct. 24, according to officials, rather than Aug. 24, as had previously been thought.
Contemporary writing, such as the eyewitness account of Pliny the Younger (whose uncle Pliny the Elder died in the disaster) had led historians to believe that the eruption occurred on Aug. 24. However, the BBC notes that Pliny's account was written 20 years after the city's destruction and the original text did not survive. Pliny's account has itself been translated and transcribed multiple times, with numerous dates cited. This, combined with differences between ancient and modern counting systems, may have led to confusion over the actual date of the Vesuvius eruption, according to the BBC.
DRAMATIC VOLCANO DEATH: HUGE FLYING STONE CRUSHED MAN IN POMPEII, ARCHAEOLOGISTS DISCOVER
Citing Italian media, Sky News reports that harvest food and autumnal fruit have also been found in the ruins of Pompeii.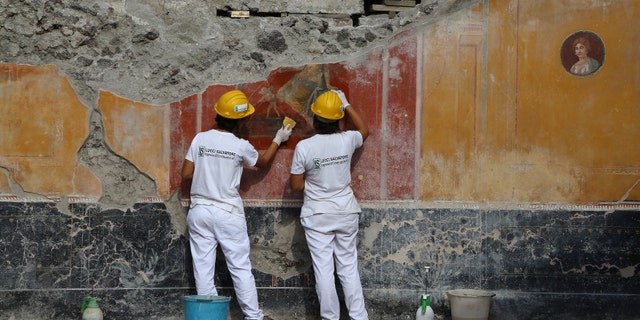 The site of the ancient city remained untouched for over 1,500 years until its rediscovery in the 18th century. During the 19th century, archaeologists used plaster to take casts from the vacuums that surrounded skeletons found in the compacted layer of ash. Left behind by the decay of organic remains, the vacuums offer an eerie snapshot of the victims' final moments. National Geographic notes the plaster casts' lifelike poses show some victims, for example, crawling, or seated with head in hands.
The charcoal inscription is just the latest fascinating find at Pompeii. Earlier this year, images of a man's skeleton, apparently crushed by a rock during the ancient eruption of Mount Vesuvius, went viral after their discovery.
EXTRAORDINARY POMPEII DISCOVERY: RACEHORSE REMAINS FOUND AMONG ANCIENT CITY'S RUINS
Archaeologists also recently unearthed the final resting place of an ancient racehorse among the ruins of Pompeii.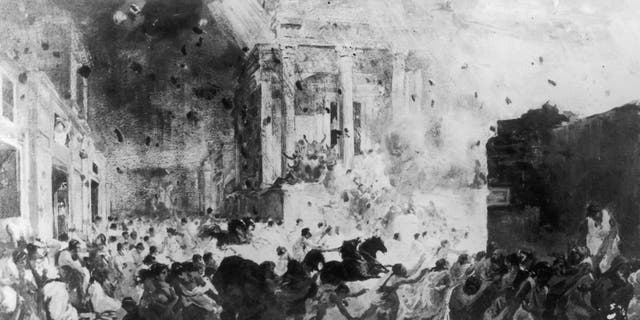 A new study reveals that when Mount Vesuvius erupted the intense heat caused victims' skulls to explode and their blood to boil.
Fox News' Chris Ciaccia and The Associated Press contributed to this article.
Follow James Rogers on Twitter @jamesjrogers