FOX NEWS FIRST: Trump accuses Dems of welcoming caravan before midterms; Rosie O'Donnell wants troops to oust Trump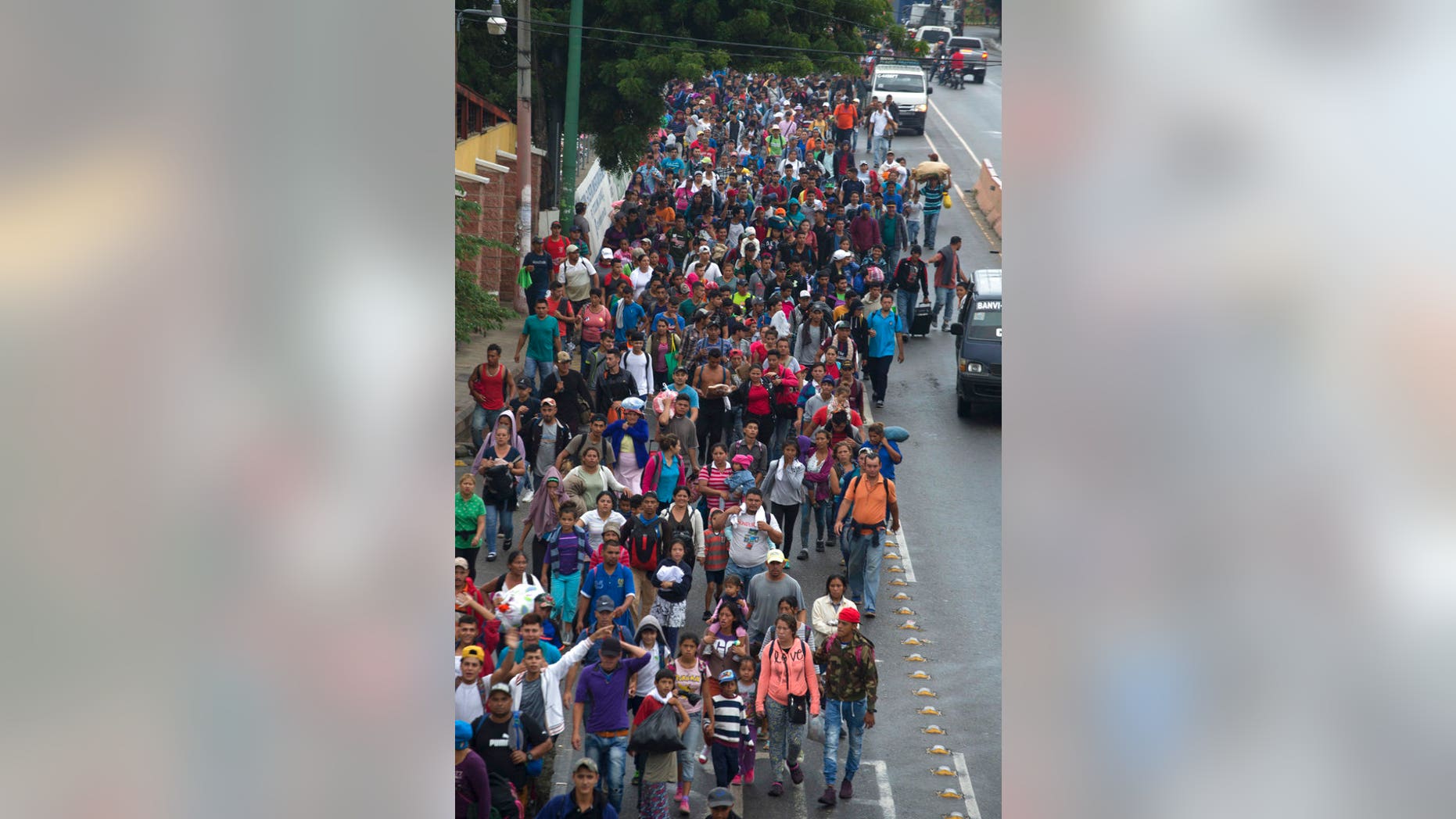 Welcome to FOX News First. Not signed up yet? Click here.
 
Developing now, Friday, Oct. 19, 2018
THE LEAD STORY - PLAN IN PLACE FOR A CARAVAN OF THOUSANDS: U.S. and Mexican officials have agreed on a plan to handle the approaching migrant caravan making their way up from Central America, a senior administration official told FOX News on Thursday ... Under the deal, which was developed over the course of several months, Mexico requested that the United Nations High Commissioner for Refugees (UNHCR) establish shelters along its southern border with Central America, the official said. If an individual manages to evade the new system and travels through Mexico to eventually cross the border into the U.S., Mexico will now allow those persons to be returned to Mexico, the official told FOX News. At the established shelters, U.N. officials will vet the refugees to decide which ones have legitimate claims for refugee status, the official told FOX News.
At a campaign rally in Montana on Thursday night, President Trump accused Democrats of supporting the caravan of migrants because they "figure everybody coming in is going to vote Democrat." The caravan, which started in Honduras last week, is currently bound for the U.S. As of Thursday, a migrant shelter located on the Guatemalan side of the border with Mexico said that hundreds of the caravan's migrants had reached the area, according to The Associated Press.  Earlier Thursday, the caravan drew the ire of President Trump, who threatened via Twitter military force and a closure of the U.S. southern border.
TRUMP CONTINUES WAIT AND SEE APPROACH ON SAUDIS: President Trump on Thursday said it "certainly looks" like missing activist and writer Jamal Khashoggi is dead ... Before departing for a campaign rally in Montana, Trump was asked if Khashoggi was dead. He replied: "It certainly looks that way. Very sad." Khashoggi's whereabouts have been unknown since entered the Saudi Consulate in Turkey on Oct 2. The president didn't elaborate on his conclusion but he said the consequences for Saudi Arabia "will have to be very severe" if they are ultimately found responsible for Khashoggi's presumed death.
Secretary of State Mike Pompeo told reporters that he suggested that Trump allow Saudi officials more time to complete an investigation into Khashoggi's disappearance. Trump's remarks come after Treasury Secretary Steven Mnuchin announced on Twitter that he would not be attending a conference in Saudi Arabia next week.
ROSENSTEIN TO BE GRILLED IN SECRET: The top lawmakers on the House Judiciary and Oversight and Government Reform Committees plan to interview Deputy Attorney General Rod Rosenstein next week about reports that he once suggested wearing a "wire" to secretly record President Trump and discussed the possibility of invoking the 25th Amendment to remove the president from office ... Judiciary Chairman Bob Goodlatte, R-Va., and Oversight and Government Reform Committee Chairman Trey Gowdy, R-S.C., announced late Thursday that they and the top Democrats on both committees would interview Rosenstein on Oct. 24. Members of the conservative House Freedom Caucus will be left out of the meeting. Goodlatte and Gowdy added that the interview will be held in a secure room and that a transcript will be released after the intelligence community reviews it for classified information.
The Rosenstein interview was announced hours after Freedom Caucus chairman Mark Meadows, R-N.C., called on Rosenstein to resign after the deputy attorney general declined an invitation to testify earlier this month.
THE UNCIVIL LEFT - NOW IT'S ROSIE'S TURN: Rosie O'Donnell, a longtime, notorious critic of President Trump, said Thursday she wants to have U.S. armed forces remove him from the White House ... "I want to send the military to the White House to get him," O'Donnell said on MSNBC, as host Nicolle Wallace discussed Trump's threats to have the military "close" the U.S.-Mexico border amid reports a massive migrant caravan is en route to the area. For years, O'Donnell and Trump have partaken in a bitter, back-and-forth feud.
FOX NEWS EXCLUSIVE - RUSH LIMBAUGH MAKES MIDTERM PREDICTIONS: Rush Limbaugh, in an exclusive interview with FOX News' Sean Hannity, predicted Republicans will hold both houses of Congress next month – defying the Washington wisdom that Nancy Pelosi is in line for speaker ... "We hold the House and increase the Senate," the conservative talk radio host predicted in an interview Thursday night on "Hannity." He added, "I think the Democrat Party deserves to lose in the biggest single electoral landslide defeat in my lifetime because of the actions they've taken just in the last month." The party out of power in the White House historically picks up seats in the first post-presidential midterms. And polling has suggested 2018 will be no different. Limbaugh is skeptical. "I don't trust it. It hasn't been right consistently enough for me," he said. "People doing these surveys desperately want Trump gone. I don't know how they can take that out of their work."
ARE YOU IN IT TO WIN IT? - Who wants to be a billionaire (or something close to it)? Despite insanely long odds — one in 302.5 million — someone with an unparalleled gift for picking numbers — or an astonishing amount of good luck— very well could match all six Mega Millions numbers on Friday, and win a jackpot that currently stands at a mind-blowing $970 million ... Officials raised the estimated jackpot Thursday for the second time because of strong sales ahead of Friday night's drawing for what would be the second-largest lottery jackpot in U.S. history. The largest U.S. jackpot was about $1.6 billion, for a 2016 Powerball contest, and it was shared by the holders of three winning tickets. No one has matched all six numbers and won the Mega Millions grand prize since July 24.
AS SEEN ON FOX NEWS
THE SHIFT HAS HIT THE FAN -  "It is human nature to shift blame, but it's second nature to this president to shift so much blame. The shift has really hit the fan -- the president is shifting so fast."  – Neil Cavuto, in his "Common Sense" monologue on "Your World with Neil Cavuto," warning President Trump that it is not politically or civically advantageous to habitually shift blame when things don't go his way. WATCH

THE 2018 MIDTERMS
Trump praises 'tough cookie' Montana rep who 'body slammed' reporter last year, urges voters to 'never forget Benghazi.'
GOP using Nancy Pelosi as campaign tool in key midterm Senate races.
'Fantastic' Beto O'Rouke gets endorsement from former Mexican President Vicente Fox.
2018 Midterms: Stay with FOX News for full coverage and analysis.
TRENDING
Michigan pizza delivery guy drives more than 200 miles to deliver pie to dying man.
Florida woman discovers devastating story behind message in a bottle. 
'Halloween' moviegoers warned not to wear Michael Myers masks to AMC theaters.
THE SWAMP
GSA denies Democratic claims that Trump intervened to stop FBI HQ move.
Accused Treasury leaker had 'co-conspirator' in plot to spill dirt on Trump officials: court files.
Ex-FBI agent sentenced for leaking classified documents to reporter.
ACROSS THE NATION
U.S. Navy helicopter crashes on USS Ronald Reagan flight deck, sailors hurt.
FBI agents raid San Juan government offices as part of investigation into fraud, corruption.
ICE's most wanted fugitive captured in Louisiana.
Justice Dept. opens probe into child sex abuse in Pennsylvania clergy.
MINDING YOUR BUSINESS
The U.S. deficit has skyrocketed to $779B. Why?
China's 3Q GDP growth slowest since 2009.
Trump was right to cut taxes, but Fed criticism is 'awkward': Alan Greenspan.
U.S. sanctions on Saudi Arabia would roil stocks: David Stockman.
Major Facebook shareholders want Mark Zuckerberg out as chairman.
How Trump's 'nickel plan' could boost the economy.
These are America's most expensive states.
FOX NEWS OPINION
Marc Thiessen: What Trump needs to do now with Saudi Arabia.
Kay Coles James: America's armed forces are putting themselves at greater risk than ever – it's time we do better by them.
Dr. Marc Siegel: Mystery muscle-weakening disease is frightening, but here's why we shouldn't fear it.
HOLLYWOOD SQUARED
Michael Moore 'deeply moved' after meeting with Pope Francis.
Elle magazine slammed for lying about Kim Kardashian, Kanye West breakup to promote voter registration.
Rihanna, in support of Colin Kaepernick, declines Super Bowl performance: report.
DID YOU HEAR ABOUT THIS?
Flesh-eating piranha-like fish's 150-million-year-old remains discovered in Germany.
Mysterious Roman villa reveals its secrets.
'Largest living thing,' an 80,000-year-old Utah forest, is dying, scientists warn. 

STAY TUNED
FOX Nation is coming! - Sign up now and find out more about its exciting launch!
On Facebook:
Check out 'FOX News Update,' our Facebook-exclusive news program!
On FOX News: 
 
FOX & Friends, 6 a.m. ET: Special guests will include: Sean Spicer, former White House press secretary under President Trump; Lawrence Jones, CampusReform.org editor-in-chief; Diamond & Silk; Geraldo Rivera; "Breakfast with Friends" in Montana; and Mitch Albom on his new book, "The Next Person You Meet in Heaven: The Sequel to The Five People You Meet in Heaven."
On FOX Business:
Mornings with Maria, 6 a.m. ET: Special guests include: Rep. Roger Williams, R-Texas; Rep. Dave Brat, R-Va.; Mark Luschini, Janney Montgomery Scott chief investment strategist; Nick Johnston, editor-in-chief of Axios; Tim Ryan, chairman and senior partner of PwC U.S.
Varney & Co., 9 a.m. ET: Christian Whiton, former State Department senior adviser under President George W. Bush and President Trump; Rep. Andy Biggs, R-Ariz.; Robert W. Jordan, former U.S. ambassador to Saudi Arabia.
Cavuto: Coast to Coast, Noon ET: Elliott Abrams, former deputy national security adviser under President George W. Bush.
On FOX News Radio:
The FOX News Rundown podcast: Facebook is building a "war room" ahead of the of the midterm elections in an effort to protect millions of users from foreign meddling. Nathaniel Gleicher, head of cyber security policy at Facebook, joins the podcast to discuss their initiatives. October is National Bullying Prevention Month, and Julie Hertzog, director of the National Bullying Prevention Center at the Parent Advocacy Coalition for Educational Rights (PACER) offers advice on how to speak to bullied children and discusses the different ways to support bullying prevention. Don't miss the good news with FOX News' Tonya J. Powers. Plus, commentary by Tom Shillue, host of FOX News talk radio's "The Tom Shillue Show."
Want the FOX News Rundown sent straight to your mobile device? Subscribe through Apple Podcasts, Google Play, and Stitcher.
The Brian Kilmeade Show, 9 a.m. ET: The midterms, the migrant caravan and the latest on the disappearance of Saudi activist Jamal Khashoggi will be the main topics of debate with the following guests: Chris Wallace, Geraldo Rivera, and former CIA Chief of Station Daniel Hoffman.
On FOX News Weekend:
Cavuto Live, Saturday, 10 a.m. ET: House Foreign Affairs Committee member Rep. Tulsi Gabbard, D-Hawaii, member of the House Foreign Affairs Committee, on the impact of activist Jamal Khashoggi's disappearance on U.S.-Saudi Arabia relations. Wayne Newton on President Trump and former Vice President Biden holding competing rallies Nevada this weekend. Nevada Republican gubernatorial candidate Adam Laxalt on the upcoming election and campaigning with President Trump on Saturday.
FOX News Sunday, Sunday, 2 p.m. and 7 p.m. ET: Special guests include: U.S. Sen. Rand Paul, R-Ky.
#OnThisDay
 
1987: The stock market crashes as the Dow Jones Industrial Average plunges 508 points, or 22.6 percent in value (its biggest daily percentage loss), to close at 1,738.74 in what came to be known as "Black Monday."
1982: Automaker John Z. DeLorean is arrested by federal agents in Los Angeles, accused of conspiring to sell $24 million of cocaine to salvage his business. (DeLorean would be acquitted at trial on grounds of entrapment.)
1953: The Ray Bradbury novel "Fahrenheit 451," set in a dystopian future where books are banned and burned by the government, is first published by Ballantine Books.
FOX News First is compiled by FOX News' Bryan Robinson. Thank you for joining us! Enjoy your day and weekend! We'll see you in your inbox first thing Monday morning.