House committees to interview Rosenstein behind closed doors about 'wire' comment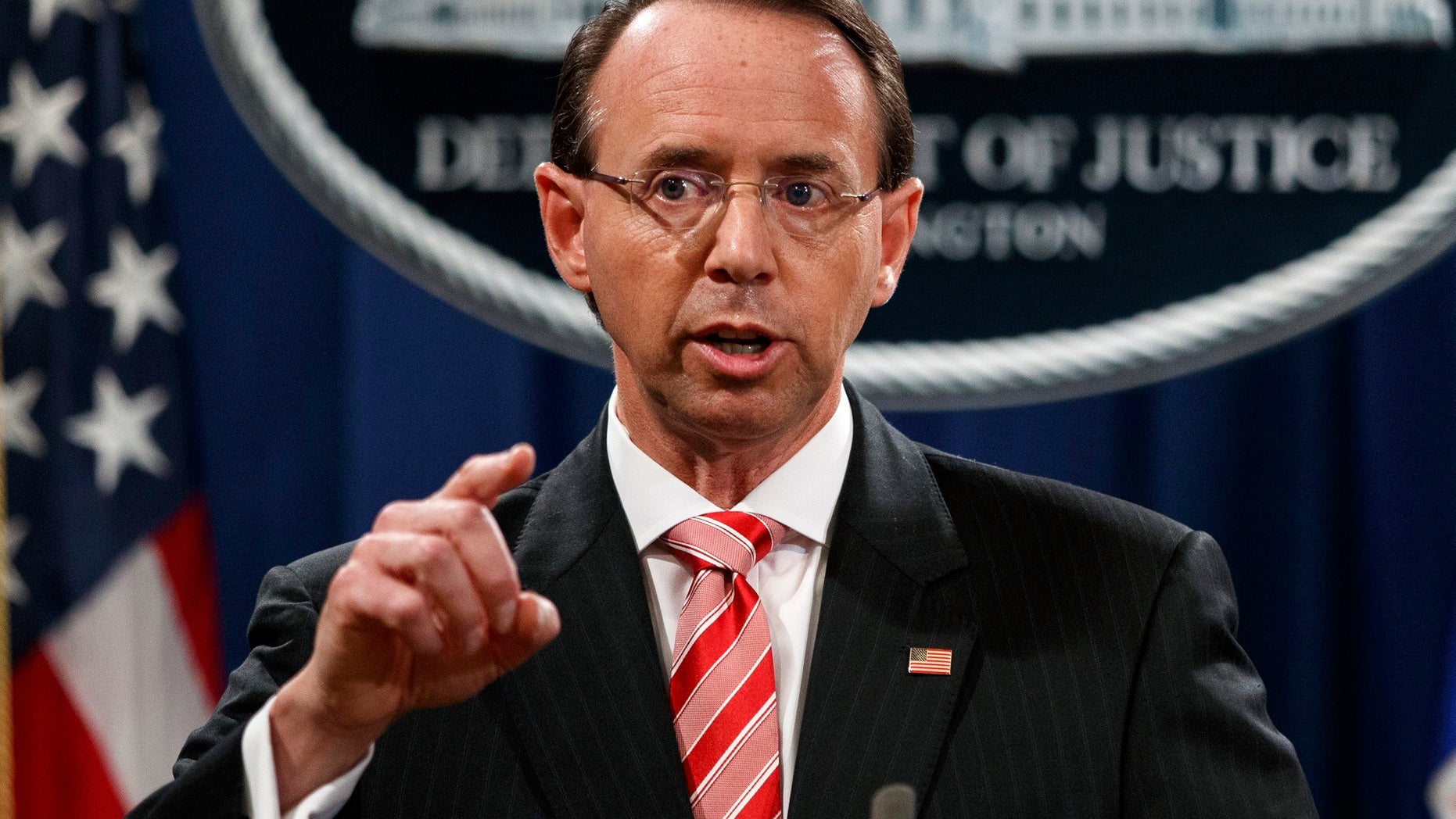 The top lawmakers on the House Judiciary and Oversight and Government Reform Committees plan to interview Deputy Attorney General Rod Rosenstein next week about reports that he once suggested wearing a "wire" to secretly record President Trump and discussed the possibility of invoking the 25th Amendment to remove the president from office.
Judiciary Chairman Bob Goodlatte, R-Va., and Oversight and Government Reform Committee Chairman Trey Gowdy, R-S.C., announced late Thursday that they and the top Democrats on both committees would interview Rosenstein on Oct. 24. Members of the conservative House Freedom Caucus will be left out of the meeting.
Goodlatte and Gowdy added that the interview will be held in a secure room and that a transcript will be released after the intelligence community reviews it for classified information.
Goodlatte said last month that "there are many questions we have for Mr. Rosenstein, including questions about allegations made against him in a recent news article. We need to get to the bottom of these very serious claims."
MEADOWS CALLS ON ROSENSTEIN TO STEP DOWN AMID QUESTIONS OVER 'WIRE' COMMENTS
The Rosenstein interview was announced hours after Freedom Caucus chairman Mark Meadows, R-N.C., called on Rosenstein to resign after the deputy attorney general declined an invitation to testify earlier this month. Meadows wrote on Twitter that Rosenstein "has not cooperated with Congress, failed to be transparent about his actions, and shown a lack of candor in the way he's characterized a number of events."
Rosenstein's comments were initially reported last month by The New York Times as part of a description of an alleged discussion between Rosenstein and senior FBI officials in May 2017, one day before Rosenstein appointed Special Counsel Robert Mueller to lead the Russia investigation. Fox News, citing a source who was in the room at the time, said Rosenstein's "wire" comment was seen as sarcastic.
Rosenstein, for his part, denied the Times report, saying: "I never pursued or authorized recording the President and any suggestion that I have ever advocated for the removal of the President is absolutely false."
However, former FBI General Counsel James A. Baker told congressional investigators during a closed-door deposition earlier this month that two senior FBI officials at the time told him they believed Rosenstein was "serious." Lawmakers said Baker did not back away from those claims when he gave a closed-door deposition to the House Judiciary Committee on Thursday.
The "wire" controversy fueled speculation weeks ago that the deputy attorney general might be fired or quit. But after Trump and Rosenstein met for 45 minutes aboard Air Force One last week, Trump said the conversation was "great," and he has no plans to fire Rosenstein.
Democrats have called the meeting with Rosenstein part of a Republican effort to undermine special counsel Robert Mueller's investigation into possible coordination between Russia and the Trump campaign during the 2016 presidential election. Because of Sessions' recusal, Rosenstein appointed Mueller as special counsel and oversees that investigation.
Fox News' Alex Pappas and Catherine Herridge and The Associated Press contributed to this report.