FBI agents raid San Juan government offices as part of investigation into fraud, corruption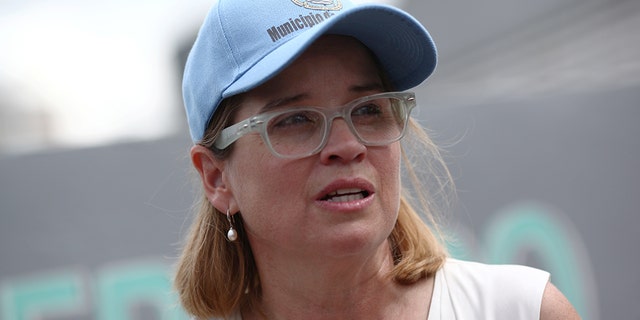 NEWYou can now listen to Fox News articles!
FBI agents this week raided the municipal offices in San Juan, Puerto Rico – rooting through documents and seizing digital records as part of a widespread investigation into fraud and obstruction of justice charges tied to the city government.
San Juan's purchasing division was the target of the raid. And while FBI special agent Douglas Leff did not implicate Mayor Carmen Yulin Cruz in the raid, he did tell local media that "we are going to follow the investigation where it leads us."
Cruz tweeted Tuesday that she has instructed city officials to cooperate with federal authorities and said, "If someone has done something wrong, they should undergo due process and face the consequences of their actions."
On Tuesday, more than two dozen agents entered the city's Municipal Tower carrying briefcases, cameras and electronic equipment, Puerto Rican news agency El Nuevo Dia first reported.
Federal agents raided the third, fourth, 14th and 15th floors of the building, looking for documents related to corruption inside San Juan's purchasing and contracting departments.
The raid was sparked by an anonymous tip called into the comptroller's office over how the mayor's office awards government contracts – specifically, a $4.7 million deal with construction company BR Solutions.
El Nuevo Dia claims the company is owned by a businessman who has made questionable political donations to several Puerto Rican politicians.
The raid comes a month after President Trump hinted at corruption in the U.S. territory and caused an uproar after questioning the number of people who died as a result of Hurricane Maria.
The bad blood between the two leaders often plays out on social media. Trump has called out Cruz's management style while Cruz has hammered Trump on his response after Maria.
Earlier this year, local news outlets reported Cruz's administration was being investigated for allegedly obstructing critical supplies from reaching victims of Hurricane Maria- a category-4 storm that leveled much of the tiny U.S. territory more than a year ago.
The FBI reportedly launched the investigation following a February lawsuit filed by Yadira Molina, the former director of procurement. Molina claims she was retaliated against for reporting "alleged irregular acts" to the local comptroller.
The report says Molina claims she was punished for reporting on the allegedly rigged system and that she was blocked from her right "to report wrongdoing in her capacity as a private citizen, not as a public employee."
Shortly after Cruz became mayor, Molina claims a supply company was granted "preferred supplier" status which paid them more than three times what regular suppliers made. She also alleges that other city officials engaged in a corrupt scheme to steer business the preferred supplier's way.
Concerns about Cruz are not new. There has been a growing backlash from frustrated residents who say they feel forgotten and charge the mayor's personal political ambitions are coming at the expense of the very people she's supposed to be representing.
"On February 21, Molina sued the city council after reporting alleged acts of corruption in the shopping division in the town hall under the administration of Mayor Carmen Yulin Cruz Soto," according to El Vocero de Puerto Rico.
Multiple calls to the Department of Justice's San Juan field office were not returned.