FOX NEWS FIRST: Clinton Foundation will reportedly keep Weinstein's donations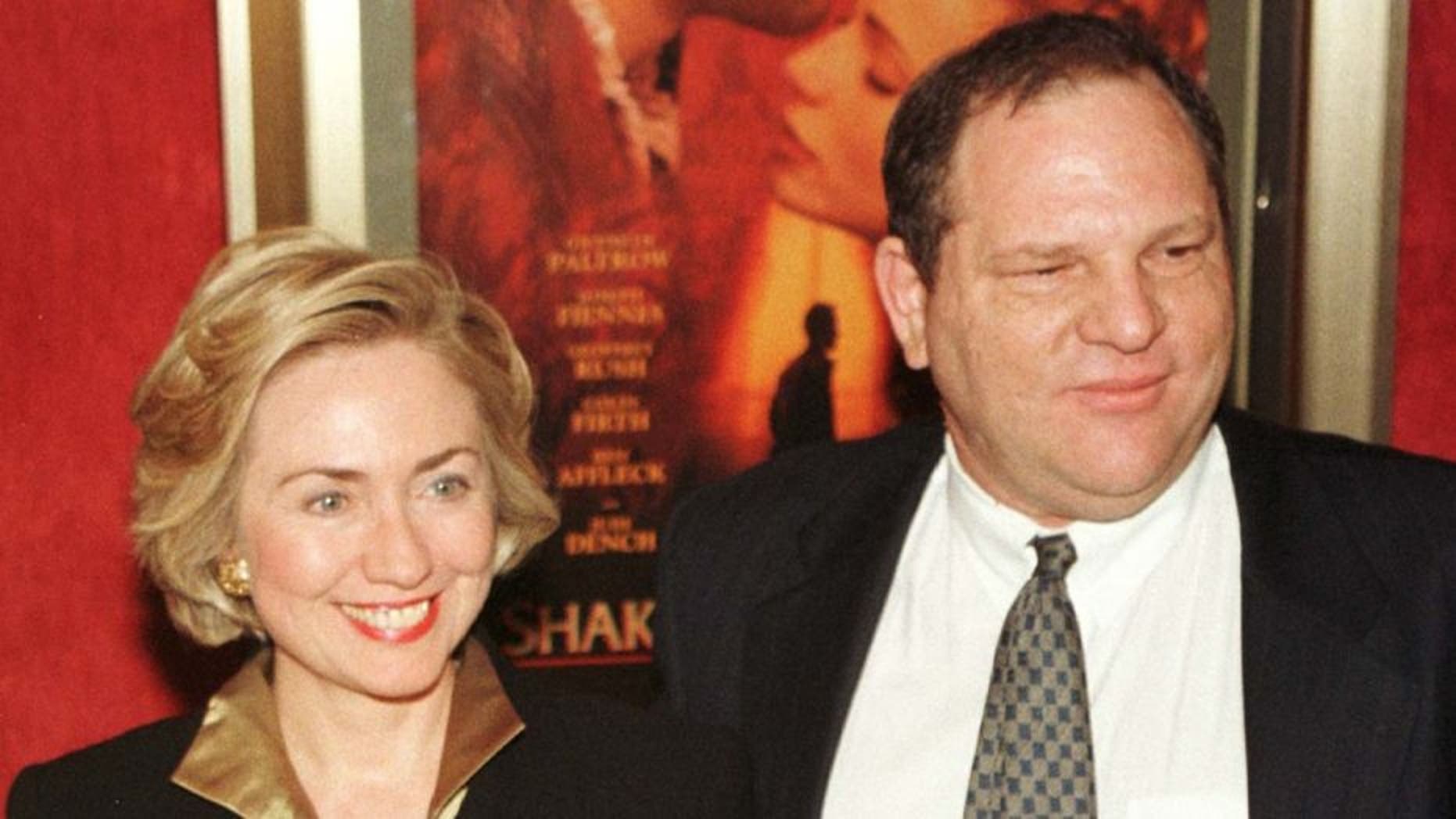 TOP OF THE MORNING
It's Monday, Oct. 16, 2017. Welcome to Fox News First, your first stop for today's news. To get your early morning news fix emailed directly to your inbox, click here.
Here's your Fox News First 5 - the first five things you need to know today:
Report: The Clinton Foundation will not return Harvey Weinstein donations
The Weinstein sex scandal continues to grow
President Trump, Senate Majority Leader McConnell to have closely-watched agenda-setting meeting
Amb. Nikki Haley: Trump administration hopes to remain in the Iran nuclear deal
Colin Kaepernick files grievance accusing NFL owners of collusion
Let's take a closer look at these stories ...
THE LEAD STORY: The Clinton Foundation reportedly will not return as much as $250,000 in donations from disgraced Hollywood mogul Harvey Weinstein following multiple accusations of sexual harassment and rape ... The foundation said donations, ranging from $100,000 to $250,000, have already been spent on projects, The Daily Mail reported. The move to keep the money was expected following tweets from the foundation's spokesman Craig Minassian. "Suggesting @ClintonFdn return funds from our 330,000+ donors ignores the fact that donations have been used to help people across the world," Minassian tweeted.
The calls to return Weinstein's money were prompted after multiple actresses accused the Hollywood executive of sexual assault and rape, forcing numerous politicians and organization to grapple with the dilemma. When asked about Weinstein's donations last week, Hillary Clinton said "there's no one to give it back to" and that she would give any Weinstein contributions to charity. Former first daughter Chelsea Clinton avoided answering questions about Weinstein's donations outside a Clinton Global Initiative University event at Northeastern University over the weekend.
WEINSTEIN SCANDAL ESCALATES: The sex scandal surrounding disgraced Hollywood mogul continues to grow as several more women have come forward with new allegations ... The new accusations made public over the weekend involved the following: British actress Lysette Anthony says Weinstein raped her in the hallway of her London home in the late 1980s while another unnamed accuser says she was raped by the mogul in 1992, according to Britain's The Sunday Times and The BBC; in addition, British police are investigating three allegations of sexual assault against Weinstein, all made by the same woman, who says she was assaulted in London in 2010, 2011 and 2015; and the NYPD is investigating a woman's claim that Weinstein forced her to perform oral sex on him inside his Tribeca office in 2004, The New York Post reported.
TRUCE BETWEEN TRUMP AND MCCONNELL? Senate Majority Leader Mitch McConnell is set to sit down with President Donald Trump in a White House meeting that could help patch their relationship, which fractured over the summer when the two leaders took shots at each other over health care reform and the effectiveness of Congress ... Back in August, Trump said he was "very disappointed in Mitch," after McConnell said Trump had "excessive expectations" about the legislative process. The meeting comes as conservative groups demand McConnell step down from his leadership role.
THE U.S. HOPES TO STAY IN IRAN NUCLEAR DEAL: U.S. Ambassador to the United Nations on said the Trump administration hopes to remain in the nuclear deal with Iran but strengthen it so the "American people feel safer" ... "I think right now you are going to see us stay in the deal," Amb. Nikki Haley said on NBC's "Meet The Press." "What we hope is that we can improve the situation," she continued. "And that's the goal. … It's not that we're getting out of the deal. We're just trying to make the situation better so that the American people feel safer." Haley's comments come days after President Trump announced he will decertify the 2015 Iran nuclear deal. She was one of the voices inside the administration pushing Trump not to certify the 2015 deal brokered by former President Obama and other nations – including Britain, France, Germany, China and Russia – so that it could weigh a "proportionate" response to Tehran and to send a clear message to North Korea over its nuclear ambitions. Secretary of State Rex Tillerson also said the administration will stay put but wants the pact to reflect US goals in the region.
A HAIL MARY PASS FROM KAEPERNICK: Unemployed quarterback Colin Kaepernick, who sparked backlash by starting the trend of NFL players kneeling during the national anthem, has filed a grievance accusing NFL owners of colluding against him under the latest collective bargaining agreement, according to a report ...  Bleacher Report's Mike Freeman said in a series of tweets that the controversial athlete has hired attorney Mark Geragos "who has represented numerous high profile clients." Geragos said in a statement that he filed the grievance "only after pursuing every possible avenue with all NFL teams and their executives." Kaepernick threw for 2,241 yards, 16 touchdowns and four interceptions for the San Francisco 49ers during the 2016 season. However, since becoming a free agent, Kaepernick has had difficulty finding a job over the league-wide demonstrations during the national anthem that protest social injustice.
THE WEEKEND THAT WAS
GREAT EXPECTATIONS IN 2018: "There is violence in political discourse in America, especially in the last year. But you know who owns that violence? ... It's the left. ... 2018 is going to be a pleasure to watch." – Sebastian Gorka, former deputy assistant to the president, on "Fox & Friends Weekend," predicting GOP congressional victories in 2018. WATCH
"HEALTH CARE ARSON": "He's really setting the entire health care system on fire because the president is upset that the United States Congress won't pass a repeal bill that is supported by 17 percent of the American public." – Democratic Sen. Chris Murphy, on "Fox News Sunday," discussing President Trump's move cut off federal payments to insurers in key blow to ObamaCare. WATCH
MINDING YOUR BUSINESS
Sunday Morning Futures: Mnuchin: Tax reform is Trump's 'top priority.'
Sunday Morning Futures: Netanyahu commends Trump's Iran deal.
Fed's Rosengren sees three to four rate hikes next year.
Food services firm Aramark to buy Avendra, AmeriPride in $2.35 billion deal.
NEW IN FOX NEWS OPINION
New book 'One Nation After Trump' lacks message powerful enough to lure Obama-Trump voters back to Democrats.
Trump is not threatening the First Amendment, ignorant Americans are.
Banning 'To Kill a Mockingbird' teaches students the wrong lesson - to fear mere words.
Todd Starnes: Shame! Iowa marching band walks off field during national anthem.
HOLLYWOOD SQUARED
Macklemore leads crowd chanting 'F--k Donald Trump' at Arizona concert.
Blade Runner falls below box office expectations to horror flick Death Day.
Mayim Bialik targeted for victim blaming, responds to backlash on Twitter.
Sophie Turner and Joe Jonas announce their engagement.
DID YOU HEAR ABOUT THIS?
Party City's 'Wall' costume outrages Twitter users.
This 'no bra day' Breast Cancer Awareness campaign made people very angry.
Florida man arrested after police mistook Krispy Kreme glaze for meth awarded $37,500 settlement.
4,000-year-old bow, arrow and lunch box found in Swiss Alps.
STAY TUNED
On Fox News:
Fox & Friends, 6 a.m. ET: Afghan war veteran and author Michael Waltz dissects Bowe Bergdahl's expected guilty plea in his desertion case; Larry Sabato gives early 2018 midterm election predictions; New York Post columnist Michael Goodwin explains why Trump doesn't owe Obama anything.
Tucker Carlson Tonight, 8 p.m. ET: Tucker will have the very latest on authorities' efforts to build a criminal case against Harvey Weinstein.
On Fox Business:
Mornings with Maria, 6 a.m. ET: ICYMI: Maria's interview with Israeli Prime Minister Benjamin Netanyahu; MoviePass CEO Mitch Lowe on the economics of his company, the state of Netflix, Redbox and the streaming wars; former Reagan economic adviser Art Laffer on selling Trump's tax reform plan; and Rep. Marsha Blackburn takes on Trump's actions on ObamaCare, Iran and more.
Varney & Co., 9 a.m. ET: Country music legend Dolly Parton gives the inside story on her first children's album; Rep. Lee Zeldin sizes up Trump's decertification of the Iran nuclear deal.
#OnThisDay
1995: The "Million Man March" takes place in Washington, DC.
1964: China detonates its first atomic bomb, becoming the world's fifth nuclear power.
1962: President John F. Kennedy is informed that there are missile bases in Cuba, beginning the Cuban missile crisis.
1955: Mrs. Jules Lederer replaces Ruth Crowley in newspapers, using the name Ann Landers.
Thank you for joining us on Fox News First! Enjoy your day, and we'll see you in your inbox first thing Tuesday morning.