FOX NEWS FIRST: Email urging deputies to defend Florida sheriff uncovered; Hope Hicks to testify on Russia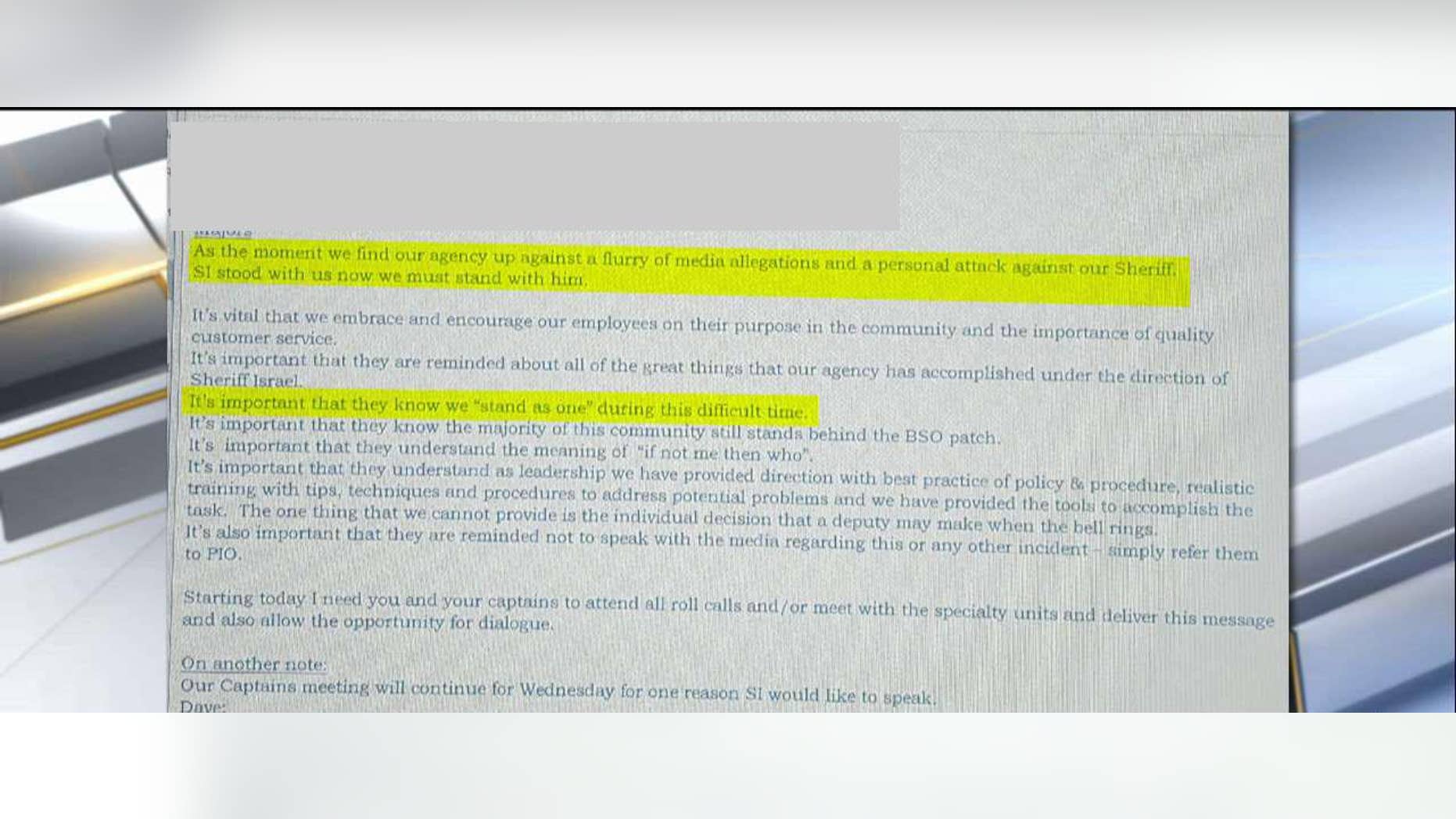 Welcome to Fox News First. Not signed up yet? Click here.
Developing now, Tuesday, Feb. 27, 2018
Fox News Exclusive: Laura Ingraham reveals Broward County internal email urging employees to defend the sheriff for his response to the Parkland, Fla. school shooting
EMS teams were 'delayed' in getting into the Parkland, Fla. high school to tend to the wounded after the shooting rampage, sources tell Fox News
Georgia's lieutenant governor warns Delta over its decision to sever ties with the NRA over the Florida school shooting massacre
The U.S. Supreme Court rejects the Trump administration's bid to bypass lower appeals courts and have the justices decide the fate of the Obama-era DACA program
White House communications director Hope Hicks is scheduled to appear before the House Intelligence Committee Tuesday as part of its investigation on Russia
A stylist accusing Ryan Seacrest of sexual misconduct publicly details her allegations for the first time
THE LEAD STORY - EMAIL REVEALED:  In an "Ingraham Angle" exclusive Monday night, Laura Ingraham revealed a purported internal email from the Broward County Sheriff's Office that directed employees to defend embattled Sheriff Scott Israel ... Ingraham said the email was given to her by a source and that their veracity was "confirmed" by a second source. It urges all staff members to vigorously support Israel as he "find[s himself] up against a flurry of media allegations." Israel is facing growing calls for his suspension and resignation after it was revealed his officers failed to enter Marjory Stoneman Douglas High School when the Feb. 14 mass shooting was taking place. In a series of bizarre responses, Israel has defended himself, insisting he has provided "amazing leadership." Ingraham said the emails continue a pattern of defensive public relations by the department at Israel's lead. "The focus should be on getting to the bottom of what happened," Ingraham said. "[It] shouldn't be about saving [Israel's] job."
EMS FRUSTRATION: There was a delay in Emergency Medical Service getting into Marjory Stoneman Douglas High School in the critical moments after suspect Nikolas Cruz allegedly opened fire and killed 17 and wounded 14 others, three high-ranking Florida officials close to the law enforcement response told Fox News ... Two separate sources told Fox News some of the EMS teams who requested to enter the school were told they could not. One source said it was the Broward County Sheriff's Office – which was the commanding office – that ordered some of the EMS crews not to go into the school when they requested to enter. Multiple high-ranking sources told Fox News police officers and deputies were bringing victims out to EMS workers to be treated instead of allowing EMS inside. One fire official said that "sometimes" that's just how it would happen, but at least one emergency responder wondered if the response was detrimental to the victims.
ULTIMATUM TO DELTA: Georgia's lieutenant governor warned Delta that he will block any tax legislation that would benefit the airline unless it reverses its decision to sever ties with the National Rifle Association ... Delta, the Atlanta-based airline, and state lawmakers have weighed reinstating this year a once lucrative fuel tax break that has since expired. But Lt. Gov. Casey Cagle, who is a Republican gubernatorial candidate, blasted the airline's decision to end the relationship with the NRA in the wake of the Parkland, Fla. high school shooting and threatened to block the bill. "I will kill any tax legislation that benefits @Delta unless the company changes its position and fully reinstates its relationship with the @NRA," Cagle tweeted. "Corporations cannot attack conservatives and expect us not to fight back."
NO DACA SUPREME COURT CHALLENGE ...FOR NOW: The Supreme Court has rejected the Trump administration's bid to bypass a federal appeals court and get the justices to intervene in the fate of the DACA program that protects hundreds of thousands of young immigrants from deportation ... The court's decision means an injunction preventing the Trump administration from ending the program will remain in place as the case works its way through the lower courts. It also means a March 5 deadline President Trump set for Congress to take action on immigration reform appears to be nullified.
HOPE'S TURN: White House communications director Hope Hicks is scheduled to testify before the House Intelligence Committee Tuesday as part of the panel's investigation into Russia's interference in the 2016 presidential election ... Hicks was initially scheduled to testify last month, but her  testimony was delayed when arose over whether she would cooperate. "We hope she will be fully cooperative," said Rep. Adam Schiff, D- Calif., the top Democrat on the committee. "But at this point I don't know what I can expect except that she will come in soon and that she will be fully cooperative. "
RYAN SEACREST ALLEGATIONS MADE PUBLIC: The stylist who claimed that one of ABC's biggest stars, Ryan Seacrest, abused and harassed her while they worked at E! News made the details of her complaint public for the first time Monday, claiming he groped her and gave her a bear hug wearing only his underwear, among other accusations ... In an interview with Variety, Suzie Hardy, a single mother, detailed getting a dream job as the host's personal stylist at E! News in 2007, only to be fired in 2013 after making graphic complaints of harassment known to HR. As previously reported, Hardy took her complaints directly to the network, which didn't move forward with any punishment against Seacrest after a third party investigator deemed there wasn't enough evidence.
AS SEEN ON FOX NEWS
NO INTERNATIONAL MAN OF MYSTERY: "He's not Jason Bourne, he's not James Bond." – Rep. Trey Gowdy, on "The Story with Martha MacCallum," saying the FBI didn't need to go to great lengths to or rely on a questionable dossier to get a FISA surveillance warrant of former Trump campaign adviser Carter Page. WATCH
NO LONGER WELCOME: "There's no way this individual should continue in this job. He needs to go, and he needs to go now." –  Dan Bongino, on "Fox & Friends," calling on Broward County Sheriff Scott Israel to resign. WATCH
THE SWAMP
Hillary Clinton to speak at Yale graduation event.
Dem-olition Derby: Glut of candidates has party at war with itself.
Supreme Court divided, Gorsuch mum in case that could deal blow to unions.
ACROSS THE NATION
North Carolina man murdered on Facebook Live was outing suspected drug dealers.
Atheist group wants Bible verse mural scrubbed from Ohio city hall.
Bobsledder Lauren Gibbs fires back at critics who slammed her photos with Ivanka Trump.
MINDING YOUR BUSINESS
Fed's Powell arrives on Capitol Hill with Wall Street watching.
Comcast challenges Murdoch with $31 billion offer for pay-TV group Sky.
Warren Buffett on Berkshire and doing business with gun owners | Buffett buying an airline?
FedEx keeps NRA in discount program.

FOX NEWS OPINION
Cal Thomas: If deterrence worked during the Cold War -- it can work to protect school children.
Would universities stand up for pro-gun students' free speech rights?
Is bipartisanship dead? Not by a long shot.
HOLLYWOOD SQUARED
Stacey Dash to run for Congress in California.
Heather Locklear arrested for domestic violence, attacking police officers.
Bill Cosby's daughter Ensa dead at 44.
DID YOU HEAR ABOUT THIS?
Artists turn Guy Fieri's face into home decor.
New species of shark discovered has ancestors older than dinosaurs.
Ancient Egyptian cemetery found with 40 mummies and a message 'from the afterlife.'
STAY TUNED
On Fox News:
Fox & Friends, 6 a.m. ET: Texas Gov. Greg Abbott discusses school safety; Meet Daniel Alarik, an Army veteran described as "America's grittiest entrepreneur" whose patriotic commercial is taking the internet by storm; and the White House gives North Korea an ultimatum for holding talks. Will Pyongyang listen?
Tucker Carlson Tonight, 8 p.m. ET: Tucker takes a closer look at the 10 worst colleges for free speech.
The Ingraham Angle, 10 p.m. ET: Don't miss a debate between Laura Ingraham and Univision anchor Jorge Ramos.
Fox News @ Night, 11 p.m. ET: An Oklahoma mother and daughter tell Shannon Bream how they fought off an armed robber in their family-owned liquor store.
On Fox Business:
Mornings with Maria, 6 a.m. ET: Guests include: Rep. Louie Gohmert; Missy Robertson, "Princess In Camo" co-author; Ken Paxton, Texas attorney general; Brad Schimel, Wisconsin attorney general; Howard Schultz, Starbucks executive chairman.
Varney & Co., 9 a.m. ET: Eric Fanning: Aerospace Industries Association CEO; Colo. Gov. John Hickenlooper; Ky. Gov. Matt Bevin; Rep. David Schweikert.
Cavuto: Coast to Coast, Noon ET: Rep. Henry Cuellar.
On Fox News Radio:
The Fox News Rundown podcast: An officer that was assigned to protect Marjory Stoneman Douglas High School in Parkland. Fla. is accused of cowardice. Bob Pavone, retired police chief of Cortlandt, NY Bob Pavone, explains what happens during high-stress situations. Last Friday, President Trump added to the sanctions on North Korea, suggesting all options are on the table. Korea expert Gordon Chang weighs in on the relations between North Korea and the rest of the international community, now that the Winter Olympics are over. Plus, commentary by Fox News Radio talk show host Tom Shillue.
Want the Fox News Rundown sent straight to your mobile device? Subscribe through Apple Podcasts, Google Play, and Stitcher.
The Brian Kilmeade Show, 9 a.m. ET: Former Trump campaign chair Corey Lewandowski on Democrats' rebuttal memo and the state of the Russia investigation; Allen West on the latest developments in the Florida school shooting massacre and Russia's order for a "humanitarian pause" amid a failed cease-fire in Syria; Rep. Steve Russell, who just got back from a trip to Niger, on the state of Syria and North Korea.
#OnThisDay
1991: Operation Desert Storm comes to a conclusion as President George H.W. Bush declares that "Kuwait is liberated, Iraq's army is defeated," and announces that the allies would suspend combat operations at midnight, Eastern time.
1968: At the conclusion of a CBS News special report on the Vietnam War, Walter Cronkite delivers a commentary in which he says that the conflict appears "mired in stalemate."
1911: Inventor Charles F. Kettering demonstrates his electric automobile starter in Detroit by starting a Cadillac's motor with just the press of a switch, instead of hand-cranking.
Fox News First is compiled by Fox News' Bryan Robinson. Thank you for joining us! Enjoy your Tuesday! We'll see you in your inbox first thing Wednesday morning.