Blind 14-year-old inspires with dance on 'America's Got Talent'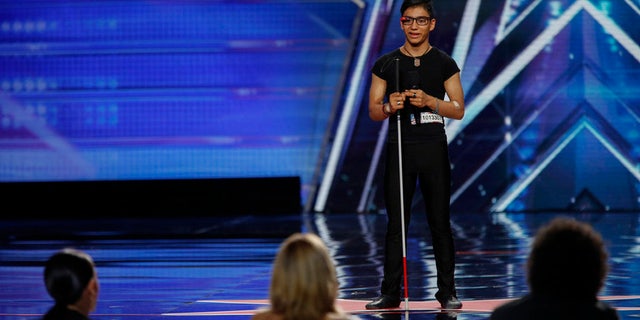 NEWYou can now listen to Fox News articles!
No matter what, always follow your dream.
That was the message 14-year-old blind dancer Ben Yonattan embodied when he took the stage on "America's Got Talent" on Tuesday.
The teen, who was adopted from Guatemala, wears special glasses that provide him with a very limited range of vision
"What I see is basically looking through a straw," Yonattan said. "It feels scary. You don't know where things are. You might fall."
But that doesn't mean he lets his disability prevent him from achieving his dreams.
"But I had something inside me say 'dance, don't stop dancing'," he continued. "I am here to show that you can follow your dream, no matter what, because it comes from your heart."
The Season 10 contestant did a contemporary dance and received a standing ovation from the crowd as well as judges Howie Mandel, former Spice Girl Mel B, Howard Stern and Heidi Klum.
"I'm so glad you graced our stage today … You are unstoppable," Mel B told Yonattan after his inspiring dance.
Stern called the teen's dance a "top-notch performance" and a great audition.
"I'm inspired by you. I think you are terrific," the shock jock host added.
Klum and Mandel could only add to the praise, calling Yonattan's attitude "inspiring."
I love that you are here, and the message you are providing," Klum said. "I think it's amazing what you showed today."
Like us on Facebook
Follow us on Twitter & Instagram