FOX NEWS FIRST: North Korea remains open to talks with U.S.; Lawmakers trade barbs over 'Spygate'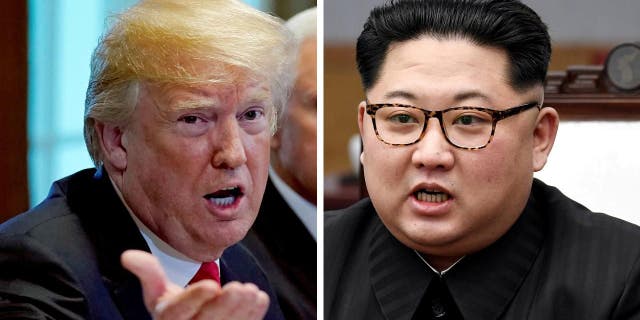 NEWYou can now listen to Fox News articles!
Welcome to Fox News First. Not signed up yet? Click here.
Developing now, Friday, May 25, 2018
North Korea reportedly says it remains open to talks with the U.S., despite President Trump's decision to cancel his scheduled summit with Kim Jong Un
D.C. lawmakers trade barbs over 'Spygate' after the FBI and Justice Department hold a pair of briefings on the Russia investigation with top members of Congress
Former President Barack Obama raises eyebrows at a conference by seemingly joking that his administration was scandal-free
Disgraced Hollywood mogul Harvey Weinstein is reportedly expected to surrender to New York authorities Friday over sexual misconduct charges
THE LEAD STORY - NORTH KOREA ATTEMPTS TO SAVE FACE: Following President Trump's decision to cancel a highly anticipated summit with North Korean dictator Kim Jong Un, an official from the rogue nation said it remained open to talks with the U.S., South Korea's Yonhap News Agency reported ... "We express our willingness to sit down face-to-face with the U.S. and resolve issues anytime and in any format," North Korean Vice Foreign Minister Kim Kye-gwan said Friday, according to the outlet, citing the Korean Central News Agency (KCNA). Trump's move to call off talks in Singapore scheduled for June 12 highlights the tension between the two countries and further emphasizes the need for a meeting, the official reportedly explained. Word from the Hermit Kingdom came hours after Trump penned a letter to the dictator saying that talks right now would be "inappropriate" considering "the tremendous anger and open hostility displayed" in recent comments from Pyongyang.
SEETHING OVER 'SPYGATE': The FBI and Justice Department on Thursday held a pair of high-level briefings for lawmakers in an effort to ease Republican pressure over the Russia investigation, amid President Trump's outcry over revelations that a confidential informant made contact with several of his advisers during the 2016 presidential campaign ... The White House-brokered briefings were expanded at the 11th hour to include an afternoon session for bipartisan members of Congress, but that gesture did little to muffle criticism from Democrats who said the sessions played into the hands of those trying to undermine Special Counsel Robert Mueller's probe. By the time both sessions were concluded Thursday afternoon, each side appeared to be digging in.
"Nothing we heard today has changed our view that there is no evidence to support any allegation that the FBI or any intelligence agency placed a spy in the Trump campaign or otherwise failed to follow appropriate procedures and protocols," Rep. Adam Schiff, D-Calif., the top Democrat on the House Intelligence Committee, said after the meeting. Meanwhile, House Speaker Paul Ryan, R-Wis., defended the House panel's requests for records from the DOJ about the Russia investigation, following several weeks of a contentious back-and-forth between House Intelligence Committee Chairman Devin Nunes, R-Calif., and DOJ officials.
'SCANDAL-FREE' OBAMA? - Former President Barack Obama seemingly joked to an audience at a Las Vegas tech conference Wednesday that his eight-year presidency was scandal-free ... "I didn't have scandals, which seems like it shouldn't be something you brag about," Obama said, according to Newsweek. The 44th president was reportedly referencing the scandal-plagued Trump administration, saying that "if you look at the history of the modern presidency, coming out of the modern presidency without anybody going to jail is really good. It's a big deal." The former president echoed similar sentiments in February in a closed-door speech at MIT.
HANDCUFFS FOR HARVEY: Disgraced movie mogul Harvey Weinstein is planning to turn himself in to the Manhattan District Attorney's office on Friday, an NYPD source confirmed to Fox News ... Weinstein is expected to face charges connected to an investigation opened by the NYPD and the Manhattan DA into claims of alleged sexual misconduct, the New York Daily News reported. He is anticipated to surrender to authorities prior to being brought to the Manhattan Supreme Court, law enforcement sources told the New York Post. Allegations against Weinstein first came out in a bombshell report in October and now he reportedly is looking at charges over claims from former actress Lucia Evans, the Daily News added.
AS SEEN ON FOX NEWS
MEDIA GLOATS OVER CANCELED SUMMIT: "A loss for the president is more important than a success for America, or even world peace. The sudden prospect of peace was frankly more than they could stand." – Laura Ingraham, in her monologue on "The Ingraham Angle," arguing that the real embarrassment over the cancellation of the US.-North Korea summit did not rest with President Trump, but with the American mainstream media. WATCH
SPY GAMES: "[Former Director of National Intelligence James] Clapper's aversion to 'spying' is like the director of Food and Drug Administration having an aversion to broccoli." – David Avella, the chairman of conservative organization GOPAC, on "Hannity," sounding off on James Clapper's dislike of the term "spying." WATCH
#PROUDAMERICAN
Trump awards Medal of Honor to Navy SEAL for controversial mission in Afghanistan.
231 years ago this week, work began on the most important document in American history.
SeaWorld and Busch Gardens offer veterans free admission until July 4.
TRENDING
George Soros spends big in California's DA races in bid to reshape criminal justice system.
Wall Street Journal: How a weakened ESPN became consumed by politics.
Trooper with same name as officer falsely accused of sexual assault fights Shaun King's posts.
Terrifying new nuclear threat is here.
THE SWAMP
Bernie Sanders political group sees second departure, sparking concerns about racial tensions.
Pompeo angrily blasts Democratic Sen. Udall during hearing.
What is 'Right to Try'? A look at the drug law Trump supports.
Democratic gubernatorial candidate in Iowa accused of sexual misconduct drops out.
ACROSS THE NATION
Newest Hawaii volcanic ash plume rises to about 10,000 feet.
Man opens fire inside Oklahoma restaurant before 'armed citizen' shoots, kills him, police say.
Rachel Dolezal hit with felony theft charge in welfare fraud case.
MS-13 suspect who allegedly killed man, burned body entered US as 'unaccompanied alien child.
MINDING YOUR BUSINESS
Dodd-Frank rollback will save bank 'tens of millions.'
Samsung ordered to pay Apple $539M for patent infringement.
General Data Protection Regulation takes effect: What you need to know.
Google, Apple could also face 'Amazon taxes.'
Here's how much ObamaCare premiums will rise in 2019.
FOX NEWS OPINION
Newt Gingrich: Midterm elections provide a surprising Republican opportunity.
Daryl Austin: Chip and Joanna Gaines, I'm sorry I slammed your family values.
Brad Todd: Kneeling NFL players should choose a different form of protest.
HOLLYWOOD SQUARED
Morgan Freeman apologizes after multiple women accuse actor of sexual harassment.
'Star Wars' spinoff movie to tackle Boba Fett character.
Kevin Federline's child support request sparks look back at other payment cases.
DID YOU HEAR ABOUT THIS?
Mysterious medium-size black holes may lurk at the centers of small galaxies.
North Dakota man's monster 15-pound walleye catch breaks state's decades-old record.
Feds order California brewery to stop making cannabis beer.
STAY TUNED
On Fox News:
Fox & Friends, 6 a.m. ET: Sen. Lindsey Graham weighs in on the DOJ briefing on Russia and Trump's withdrawal from the North Korea summit. Andrew Pollack, whose daughter was killed in the Parkland, Fla., massacre, announces his 8-point plan to make schools safer. Diamond & Silk and Anthony Scaramucci weigh in the top headlines of the day. And Lee Greenwood kicks off the All-American Summer concert series as he performs live from the Intrepid for New York City's 30th annual Fleet Week!
On Fox Business:
Mornings with Maria, 6 a.m. ET: Guests include: Richard Cea, head of UBS Insightshares ETF; Michelle Boockoff-Bajdek, head of marketing solutions for the Weather Company; Ed Rollins, chairman of the Great America PAC.
Varney & Co., 9 a.m. ET: Gen. Jack Keane; Adm. Robert Natter, Bob Massi, host of "The Property Man"; Peggy Grande, former executive assistant to Ronald Reagan and author of "The President Will See You Now."
Cavuto: Coast to Coast, Noon ET: Sean Spicer, former White House press secretary under President Trump; Ken Starr, former independent counsel; John Bozella, Global Automakers CEO.
On Fox News Radio:
The Fox News Rundown podcast: Memorial Day weekend is here, and as millions of Americans celebrate the unofficial start of summer, it is also a time to pause and reflect. Actor Joe Mantegna joins the podcast to discuss the National Memorial Day Concert in Washington, D.C., and remembering the fallen. We will also hear from various members of the Fox News family, who will share how they will be spending the holiday weekend. Plus, commentary by Van Hipp, former deputy assistant secretary of the U.S. Army.
Want the Fox News Rundown sent straight to your mobile device? Subscribe through Apple Podcasts, Google Play, and Stitcher.
On Fox News Weekend:
Saturday:
Cavuto Live, 10 a.m. ET: Former Independent Counsel Ken Starr on the latest developments in "Spygate." Rep. Ron DeSantis on why President Trump's decision to pull out of the North Korea summit could make the world safer. Evelyn Rodriguez, whose daughter was killed by MS-13, looks back on President Trump's meeting with her and others this week as he reiterates his plan to wide out the notorious gang.
America's News Headquarters, Noon ET: Leland Vittert will co-host a special Memorial Day weekend show at the Marine Corps Museum near? Quantico, Va. Leland will talk with Marines who are using virtual reality to simulate and train for combat zones in real time, face off against a military-trained dog, and talk with officers training at the Marines' premiere military base.
Sunday:
America's News Headquarters, Noon ET: Elizabeth Prann will co-host a special Memorial Day weekend show from the Poppy Memorial on the National Mall. Viewers will get a tour of famous military gravesites at Arlington National Cemetery and more.
Legends & Lies: The Civil War, 8 p.m. ET: "William Tecumseh Sherman: Total War" – The famed Union Army general of the Civil War burns Atlanta and marches to the sea, leading to President Lincoln's reelection and Robert E. Lee's surrender at Appomattox.
The Next Revolution, 9 p.m. ET: A culture shift in America? Steve Hilton examines whether the Left is losing its firm grip on Hollywood and the pop culture scene.
Life, Liberty & Levin, Sunday, 10 p.m. ET: This week, host Mark Levin interviews Dr. Peter Pry, executive director of the U.S. Nuclear Strategy Forum. They will discuss our country's nuclear weapons capability, U.S. enemies around the world, protecting the future of America and how the Trump administration is handling these threats.
Memorial Day:
Your World, 4 p.m. ET: Trish Regan hosts a Memorial Day special focusing on the impact of D.C. on your money and the economy and what it all means for the 2018 midterm elections.
The Five, 5 p.m. ET: The Five will answer your fan mail questions this Memorial Day. What are The Five's favorite barbecue foods and summer traditions? Tune into The Five: Memorial Day Fan Mail Special for the answers!
Tucker Carlson Tonight, 8 p.m. ET: A supersized edition of Tucker's "Final Exam" segments features some of the fiercest face-offs in the history of the greatest news quiz of the century.
Hannity, 9 p.m. ET: Sean Hannity's opening monologue is the signature piece of the nightly broadcast. This one-hour special will feature some of the most informative and interesting Hannity monologues from the past few weeks. The special will include Hannity's take on the Mueller investigation, James Comey's book tour, Trump's accomplishments that the mainstream media ignores, Louis Farrakhan's background and his connection to Democrats, why the "Roseanne" reboot is resonating so well with viewers and Kanye West standing up for Candace Owens.
The Ingraham Angle, 10 p.m. ET: Six weeks after launching its "Defending the First" series, The Ingraham Angle looks back at some of these interviews with thought leaders, commentators and everyday Americans coming under increasing attack for their conservative beliefs.
#OnThisDay
1992: Jay Leno makes his debut as host of NBC's "Tonight Show," succeeding Johnny Carson.
1986: An estimated 7 million Americans participate in "Hands Across America" to raise money for the nation's hungry and homeless.
1961: President John F. Kennedy tells Congress: "I believe that this nation should commit itself to achieving the goal, before this decade is out, of landing a man on the moon and returning him safely to the Earth."
Fox News First is compiled by Fox News' Bryan Robinson. Thank you for joining us! Enjoy your Friday and Memorial Day weekend! We'll see you in your inbox first thing Tuesday morning.