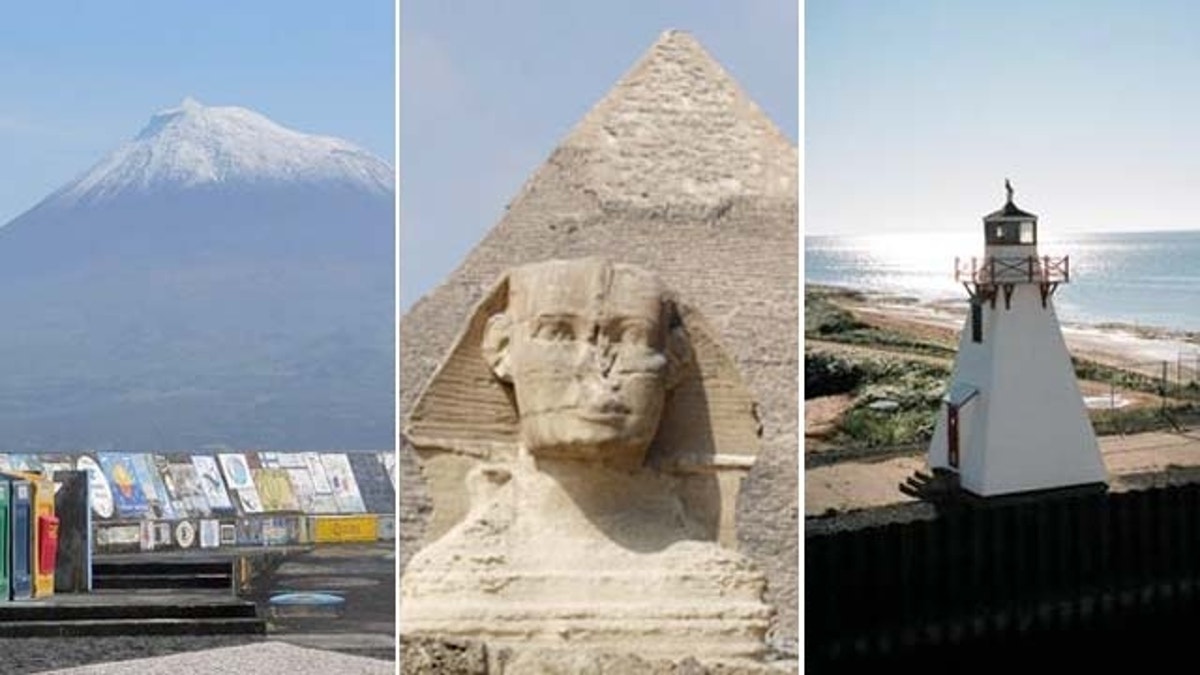 Many sites put together their "best" travel lists for the coming year, but few do so with such a keen eye toward savings as we do. Here at Budget Travel, it's about more than just buzz (although that helps, too). Our editors comb through piles of data, news, currency charts, and industry trends to find our nominees for the world's new best-value destinations—then passionately debate which of the candidates will make the final list.
As always, this year's winners have far more going for them than mere markdowns: Some are perennial, family-friendly favorites (San Diego, San Antonio); some are bucket-list standbys made suddenly affordable (Egypt, Athens); and some are overlooked underdogs ready for their turn in the global spotlight. What do they all have in common? The best time to see them is right now.
SEE THE TOP BUDGET TRAVEL DESTINATIONS FOR 2012
Azores
Why in 2012: This chain of nine volcanic islands lies 930 miles off the coast of Lisbon, but the distance hasn't spared Azores, an autonomous region of Portugal, from the mainland's economic troubles—which means big bargains for American travelers. Hotel rates across Portugal have slid since 2010, with five-star hotel rooms averaging a mere $112 per night, and the Azores, which are dotted with baroque churches, black-sand beaches, and crater lakes, are no exception. To lure visitors, Boston-based charter airline Azores Express is offering deeply discounted hotel-and-air packages through fall 2012 (508/677-0555, from $719). And while island-hopping had traditionally required a long ferry ride or a chartered fishing boat, last November, state-owned SATA Airlines shortened the trip when it increased inter-island flights (sata.pt).
Best Time to Visit: Azores weather is mild year-round, but outdoor enthusiasts will dig October, when temperatures typically hit 70 degrees and daylight lasts 11 hours. Since the month also marks the start of Azores's low season, which runs through May, hotels deals are easy to find then.
Where to Stay: The coastal Bahia Palace Hotel on the island of São Miguel is steps from Baia de Água d'Alto beach and has a freshwater swimming pool and 101 rooms, all with ocean-view balconies (hotelbahiapalace.com, from $104).
Price Check: In September, Azores-based SATA Airlines has nonstop tickets from Boston starting at $688 round-trip.
Egypt
Why in 2012: Although (as of press time) the travel warning put in place by the United States after the Arab Spring has been downgraded to an alert for sporadic unrest, Egypt—where tourism accounts for 11 percent of the economy—is hurting for visitors, even at the nation's most famous destinations. Traveler numbers have plummeted by more than a third since 2010, and travel operators and hoteliers are cutting serious deals to encourage a turnaround. TUI, Europe's largest tour company, slashed $600 off the price of a recent Egyptian excursion, and average daily hotel rates have fallen 25 percent countrywide, dipping to about $107. There are deals at both the Great Pyramids of Giza, where room rates have slid 45 percent since 2010, and in the Red Sea resorts of Sharm El Sheikh, where prices slumped 26 percent to $104.
Best Time to Visit: Summer delivers 90-plus-degree temperatures and winter brings tourist throngs, but the shoulder seasons (March to May; September to November) promise fewer, and less-sweaty, crowds.
Where to Stay: The five-star Savoy Sharm El Sheikh, at the foothills of the Sinai Mountains and steps away from Sharm El Sheikh's powdery, pristine White Knight Beach, is an accessible oasis. savoy-sharm.com, from $143.
Price Check: Stopovers are a must when traveling to Egypt, as direct flights are pricey year-round (we're talking $1,000 plus). Dutch carrier KLM offers decent one-stop fares in March: Trips from New York to Cairo start at $815; tickets from Chicago go for $786; and prices from Los Angeles hover around $996 with two stops.
San Diego
Why in 2012: With miles of picturesque Pacific coastline (perfect for surfing), only 10 inches of rain per year (ideal golf weather), and family-friendly attractions (Sea World, the San Diego Zoo, a LEGO-Land theme park), it's easy to see why San Diego is one of America's top 10 most-visited cities. And unlike northern neighbors Los Angeles and San Francisco, the SoCal city is offering bargains on everything from hotels—the average nightly room rate is $128—to rental cars, which are 3 percent cheaper than they were in 2010. Another reason to book a trip now: Hotel prices are expected to continue dropping through 2012 before spiking again in 2013, thanks to an ongoing construction boom.
Best Time to Visit: The rainiest months are November through March, but even then you won't get soaked—the highest average precipitation (in January) is only 2.3 inches. If you're a museum lover, visit in February, when San Diego Museum Month kicks off. Forty area attractions, such as the modern LUX Art Institute and the Birch Aquarium, will offer half-priced admission fees (sandiegomuseumcouncil.org, discount card free). Prime beach season runs from April to October, when the temperatures rarely dip below 69 degrees.
Where to Stay: One of the city's newest boutique additions, Little Italy's Porto Vista exudes a laid-back, European vibe (portovistasd.com, from $119). Most rooms have black-and-white, floor-to-ceiling photographs that evoke 1960s Italy—think glammed-up fashion models and young men on scooters—and the surrounding neighborhood is lined with sausage shops and old-school pizza joints.
Price Check: February fares to San Diego are $156 from Portland (one stop on Spirit), $151 from Denver (nonstop on Frontier), and $339 from New York (nonstop on JetBlue).
SEE MORE POPULAR CONTENT:
8 Most Complicated Countries to Visit
10 Most Interesting Beaches in the World
12 Best Places You've Never Heard of
8 Most Common Air-Travel Snafus (And How to Beat Them)
Maritime Canada
Why in 2012: The provinces lining Canada's eastern seaboard have always had plenty to offer the outdoorsy traveler—from scenic kayak rides around Prince Edward Island to whale watching in the Bay of Fundy to wilderness hikes in the glacier-specked Torngat Mountains. But the region's biggest attraction this year only comes around once in a lifetime: the 100th anniversary of the Titanic's sinking off the coast of Newfoundland. There's a full calendar of events in Halifax to commemorate the tragedy this April, including a town parade, concerts, and a film festival; the city's Maritime Museum of the Atlantic is also expanding its permanent Titanic exhibit this year. Along with two other Atlantic coast cities (Charlottetown and Fredericton), Halifax once again made Hotels.com's list of cheapest Canadian cities in 2011, with rates averaging $145. And if you want the full Titanic experience—only with a happier ending—consider one of Carnival Cruise Lines' new four- and five-day voyages from Boston to Halifax, Nova Scotia, and St. John, New Brunswick, on the Glory, launching in June; departures from New York will follow in the fall (carnival.com, from $73 per night).
Best Time to Visit: Hurricane season officially spans June through November, but since September and October are the highest-risk months, you can feel safe traveling here in June, when humidity is low and temperatures peak between 65 and 77 degrees.
Where to Stay: The Halliburton Hotel occupies a trio of 19th-century town houses near Halifax's waterfront (thehalliburton.com, from $122). Each of its 29 rooms is decorated differently; some even have wood-burning fireplaces.
Price Check: Cities on the Eastern Seaboard are the best jumping-off points for your Canadian journey. In June, nonstop flights to Halifax begin at $612 from New York (Continental and United), and $629 from Philadelphia and Boston (US Airways). West-coasters have to book one-stop tickets, like one from Portland that goes for $692 (Air Canada).
Why in 2012: Belize tends to be overshadowed by its neighbors: Mexico, Guatemala, and Costa Rica, which in 2010 saw twice the visitor arrivals that Belize did. Yet this English-speaking nation has plenty to recommend it, including a bounty of exotic birds, stunning Mayan ruins, and the world's second-largest barrier reef. On top of all that, Belize is also one of the region's biggest bargains. In 2011, the dollar appreciated 1.3 percent against the native currency; as of September, the exchange rate was nearly two to one. The savings should last until December 2012, which marks the end of the 5,126-year era of the Maya calendar and the culmination of a year's worth of festivals and sporting events—and a likely spike in hotel prices and crowds.
Best Time to Visit: High season is dry season in Belize, roughly February to April. (While the country is hot and humid year-round, northern areas stay much drier than their southern counterparts.) Arrive in late May to find the sweet spot for beach-ready weather, early-shoulder-season discounts, and thinning crowds.
Where to Stay: Avoid San Pedro, where hotel prices are up 6 percent from 2010, and head south to the less-touristy Placencia Peninsula, where crystal-clear lagoons and 16 miles of sandy beaches coexist with the world's first-ever jaguar preserve. The seaside Maya Beach Hotel is owned by an expat couple (she's American, he's Australian) who set up guests with fishing trips, scuba dives, cave tours, and massages. mayabeachhotel.com, from $89.
Price Check: In May, direct flights from Miami start at $444 (American); from Houston, $745 (Continental). For cheaper fares, grab a seat on a one-stop flight; from Los Angeles, fares begin at $523 (Continental).
San Antonio
Why in 2012: America's seventh-largest city is best known for its 19th-century missions (remember the Alamo?), but San Antonio is staking a claim on the future with new construction: a massive expansion of San Antonio's popular River Walk (thesanantonioriverwalk.com, pedestrian access free). As part of the $358.3 million River Improvements Project redevelopment plan, this network of paths along the San Antonio River nearly doubled in length in June, adding eight miles of walk-and-bike routes and a slew of shops and cafes. The latest phase of the project was perfectly timed with the introduction of the city's first bike-rental program, B-Cycle, which launched in early 2011 (bcycle.com, daily rental $10). Best of all, room rates are down 5 percent from last year—the average four-star room goes for $100 per night—and the city's S.A.V.E. (San Antonio Vacation Experience) program promotes additional hotel deals year-round (visitsanantonio.com).
Best Time to Visit: April promises prime weather—the average high is 79 degrees and there's little rain—but springtime also means massive crowds, who descend on San Antonio for events like Fiesta, a Tex-Mex-style Mardi Gras. For a quieter trip, try September. It's a bit rainier and hotter (expect highs in the 90s), but worth it for the extra elbow room.
Where to Stay: The nearly two-year-old Hotel Havana, the brainchild of Texan tastemaker and hotelier Liz Lambert, is set in a revamped 1914 building and decorated with Turkish rugs and vintage Cuban artwork (havanasanantonio.com, from $115).
Price Check: Direct flights are plentiful and affordable in September, when fares start at $314 from Phoenix (US Airways), $320 from New York (United), $268 from Denver (United), and $321 from Chicago (American).
Why in 2012: With new airport terminals sprouting up from Warsaw to Gdansk, a hotel-construction boom that's drawing marquee brands like Hilton and Westin, and a growing economy (the Polish GDP has shot up 4 percent since last year), Poland is ready for its close-up. Its cameo will come in June, when the UEFA Euro 2012 soccer tournament descends on stadiums across the country (and Ukraine—the two nations are cohosts)—but you don't have to be a sports fan to reap the benefits. South Africa, which hosted the World Cup in 2010, saw post-game price drops as high as 20 percent when premium rates vanished, and the same trend is expected in Poland, where five-star hotels are already among the cheapest in the world (in Warsaw, they average $135 per night).
Best Time to Visit: The warmest weather, with averages in the low 70s, arrives from May to October—and so do vacationers, who sweep in around July and August to hit the Baltic beaches. Book a trip around September, when the crowds and soccer tournaments will have disappeared, leaving tranquility and low prices in their wake.
Where to Stay: Soon after opening in 1913, the opulent Polonia Palace was a hangout for celebrities, artists, and politicians (President Eisenhower stayed there in 1945). Nearly 100 years later, after undergoing a renovation, the spot—Warsaw's sole hotel to escape WWII unscathed—is prized for its clean, modern rooms and central location. poloniapalace.com, from $123.
Price Check: Winter nonstops can be had for as little as $628 from New York to Warsaw (LOT Air), but for just a bit more cash (and one connection), you can enjoy September's much milder weather. A recent search turned up one-stop flights from New York for $756 (Continental) and from Chicago for $528 (LOT Air), or for $1,010 from Los Angeles (Air New Zealand).
Taipei
Why in 2012: The arrival in Taiwan of the first mainland Chinese tourists last June (not counting supervised tours) marked a turning point for this onetime Chinese territory—a sign that a longtime political stalemate might finally be thawing. It also brought an influx of tourism revenue and a renewed interest in this Pacific island's assets. The cosmopolitan capital city has an emerging culinary scene (world-famous chef Joël Robuchon opened a Taipei restaurant in November 2009) and plenty of snazzy new construction, while the surrounding countryside offers lush hot springs, majestic mountains, and golden-sand beaches. To cater to the new visitors, Taiwan's government launched the new TaiwanTourist Bus Travel Service, which runs cheap day trips to several island attractions, such as an excursion to Taiwan's alpine Sun Moon Lake that includes a cable-car ride, a boat tour, and electric-scooter rental (taiwantrip.com.tw, day trips from $11). And while a recent bump in U.S. visitors to Asia has caused hotel prices elsewhere on the continent to jump 4 percent—rates in South Korea, Malaysia, Hong Kong, and Singapore have all spiked—Taipei's rooms are 11 percent cheaper than they were in 2010, with an average rate of $144 per night.
Best Time to Visit: May through August are Taipei's wettest months, with rainfall averaging eight inches; summer is sweltering and humid. October and November are much more pleasant, with less than four inches of rainfall and average high temperatures in the mid-70s.
Where to Stay: Every room in the Tango Taipei XinYi—which sits near the world's second-tallest building, the nearly 1,700-foot Taipei 101 Tower—has two 42-inch plasma TVs (one for the bedroom, one for the bathroom) and a Jacuzzi tub (tango-hotels.com, from $137).
Price Check: At press time, tickets to Taipei weren't available beyond October 2012 (when direct flights from San Francisco start at $1,145 on Taiwan's EVA Airways). But if 2011 prices are any indication, fall trips will come relatively cheap. This November, Malaysia Airlines offered nonstop fares from Los Angeles for $1,057 and one-stops from Chicago were going for $1,087 on Cathay Pacific.
Kansas City
Why in 2012: Thanks to arts-centric developments both large-scale and grassroots, this Midwestern city is fast becoming a hotbed of high culture. In September, the $326 million Moshe Safdie–designed Kauffman Center for the Performing Arts opened to host the Kansas City Ballet, the Lyric Opera, and the Kansas City Symphony, along with one-off performances of all stripes. The center's arrival has only helped to bolster the already-vibrant Crossroads Arts District—a funky enclave of 70-plus galleries in renovated warehouses, interspersed with boutiques and restaurants—that surrounds it. Thankfully, Kansas City's prices haven't caught up to its highbrow reputation. Both hotels and rental cars are cheaper than they were in 2010, with rooms going for about $137 per night (a 3 percent drop) and cars averaging $55 per day.
Best Time to Visit: September is technically high season here—annual events like the Plaza Art Fair and the Barbecue Blaze Off are in full swing then—but you'll be able to find good deals (and great weather) toward the end of the month. Skip July, when Kansas City is at its hottest and most crowded—especially this year, when it'll host the MLB All-Star Game.
Where to Stay: Opened in 2007, the Q bills itself as Kansas City's first green hotel. Eco-friendly touches are everywhere, from the fair-trade Guatemalan coffee in the lobby's cafe to the complimentary hybrid shuttle that chauffeurs guests around town. theqhotel.com, from $139.
Price Check: September savings abound, with nonstop fares from Denver and Houston starting at $158 (US Airways) and $205 (American), respectively. For $243, you can fly direct from Chicago on American, and a straight shot from New York will run you $289 (Continental and United).
Athens
Why in 2012: Greece's economy is faltering—it's in the clutches of a massive debt crisis and on the brink of bankruptcy—but travel deals are going strong, especially in the country's capital. According to the 2011 Mercer Cost of Living Survey (which ranks living expenses across cities by measuring prices of staples like food, transport, and entertainment), Athens is the world's 53rd most expensive city—down 13 spots from 2010. While hotel prices fell 4 percent across Greece from 2010 (an average room now goes for $150 per night), in Athens rates sunk 15 percent to $125. Despite the recession, the city is beefing up infrastructure with Greece's biggest-ever subway project, an expansion of the Athens Metro (www.oasa.gr, single rides from $1.89). New subway lines and stations—some stocked with ancient artifacts excavated during construction—will make roaming the city simple, and a full-day pass only costs $5.40.
Best Time to Visit: April and May are clear winners, with pleasant temperatures (highs range from 68 to 77 degrees), low humidity, and little rain. Just steer clear of April 15, 2012, when Easter festivities will likely inspire price hikes and a run on accommodations.
Where to Stay: With its soaring ceilings, rooftop restaurant, and stunning Acropolis views, it's not surprising that the boutique 11-room Magna Grecia—housed in a refurbished, 19th-century building in central Athens—was a two-time World Luxury Hotel Awards finalist (magnagreciahotel.com, from $107).
Price Check: Airfare to Greece is, understandably, more unpredictable now than ever, and it's imperative to pay attention to which days you travel. On April 16, a nonstop Athens-bound flight from New York costs $1,166 (Turkish Airlines), but four days later the price shoots up by $139—on the same airline! Stopover flights are your best bet if you're coming from Boston ($1,285) or Washington, D.C. ($1,271, both on Delta), or Miami ($1,363 on American Airlines).